It takes a teacher to engineer the classroom for creativity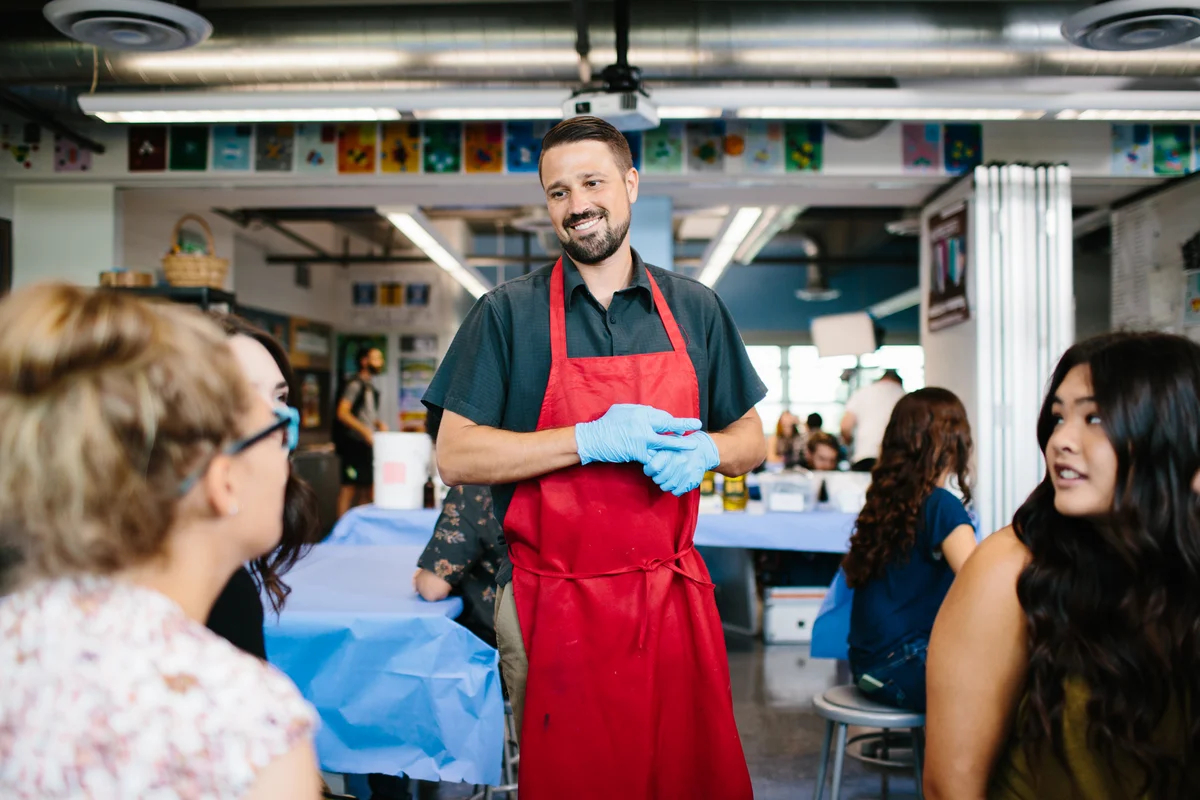 Editor's Note: As part of our ongoing celebration of World Teachers' Day, we'll be sharing stories that demonstrate the creative power of teachers worldwide, building towards a global online gathering of educators on December 3: Education on Air. Register today. And join the movement by sharing what teachers mean to you with #ItTakesATeacher
For Matt Martin, a chemistry teacher at San Diego's High Tech High, teaching has always been about  sharing his passion for science and discovery. Matt knew early in life that teaching would be the best way he could inspire others to experiment, solve problems and explore their natural curiosity. Matt shared with us how he fuels students' excitement for science by emphasizing experiential projects and self-reliance in problem solving.
It takes a teacher to incubate mad scientists
Matt sets his classroom apart by emphasizing the engineering design process (EDP), which is the central theme for his curriculum this year. This project-based approach to learning gives students room to fail and encourages them to analyze their results, regardless of the outcome. For his annual Mad Scientist project students designed and conducted their own experiments, such as building their own fireworks and igniting substances underwater. By discouraging duplicate projects and sourcing project ideas from the students, Matt brings creativity to the forefront. "You get to see all kinds of things changing color, growing -- even creating colored fire," he says.
While every teacher aims to engage and encourage their students, Matt's teaching style enables students to learn through experimentation, problem solving and critical analysis. He emphasizes self-reliance while giving students the tools to problem solve themselves. "I learned how to persevere through my mistakes & grow confident as a student from the freedom given in Matt's class." said Savand, one of Matt's senior students.
"I'm in awe of science and I love spreading that knowledge," Matt says. By combining principles of engineering, an emphasis on student collaboration, and his contagious love of science, Matt created something larger: genuinely creative and curious students.
It takes a teacher to take smart risks
Matt looks to his school director, Robert, who functions as principal, for inspiration and guidance. "Robert really tries to cut through the nonsense and do what's best for students," Matt said. "He always encourages us and supports us in taking risks."
This ethos of taking smart risks was put to the test when Matt and his students came up with a bold idea. They wanted to evolve one of their classroom projects —  making soap out of lye —  into a full-fledged business. Undaunted by the challenge of starting a company, Matt's  students began researching different ways to get their business online. After weeks spent huddling around Chromebooks and poring over Google Docs of potential vendors, Wicked Soap Company was born. With help from some real-world scholars, John Cahalin and Elyse Burden, Wicked Soap Company has grown into a self-sustaining enterprise. "I've loved the opportunity to work with my classmates to run a business," said Sophie, a sophomore student in Matt's class. "Matt helps make chemistry fun."
Matt's students making soap
The engineering and design principles Matt instills in his students reflect his love for making new things. When Matt and his wife moved into a new home this summer, he embarked on a home improvement project, leveling ground and importing bricks and tile to build a patio in the backyard. "I like to create and work with my hands," Matt said. "If I find something I've never done before, I'll experiment and try it out."
Matt loves when his students come to him with creative ideas, and works with them to turn these concepts into tangible results. When one of his students wanted to see if the class could make bath bombs, Matt helped the students iterate and discover the best way to create them. His ability to turn students' ideas into teachable lessons sets Matt apart from his peers.