It takes a teacher to change the world one "big, messy problem" at a time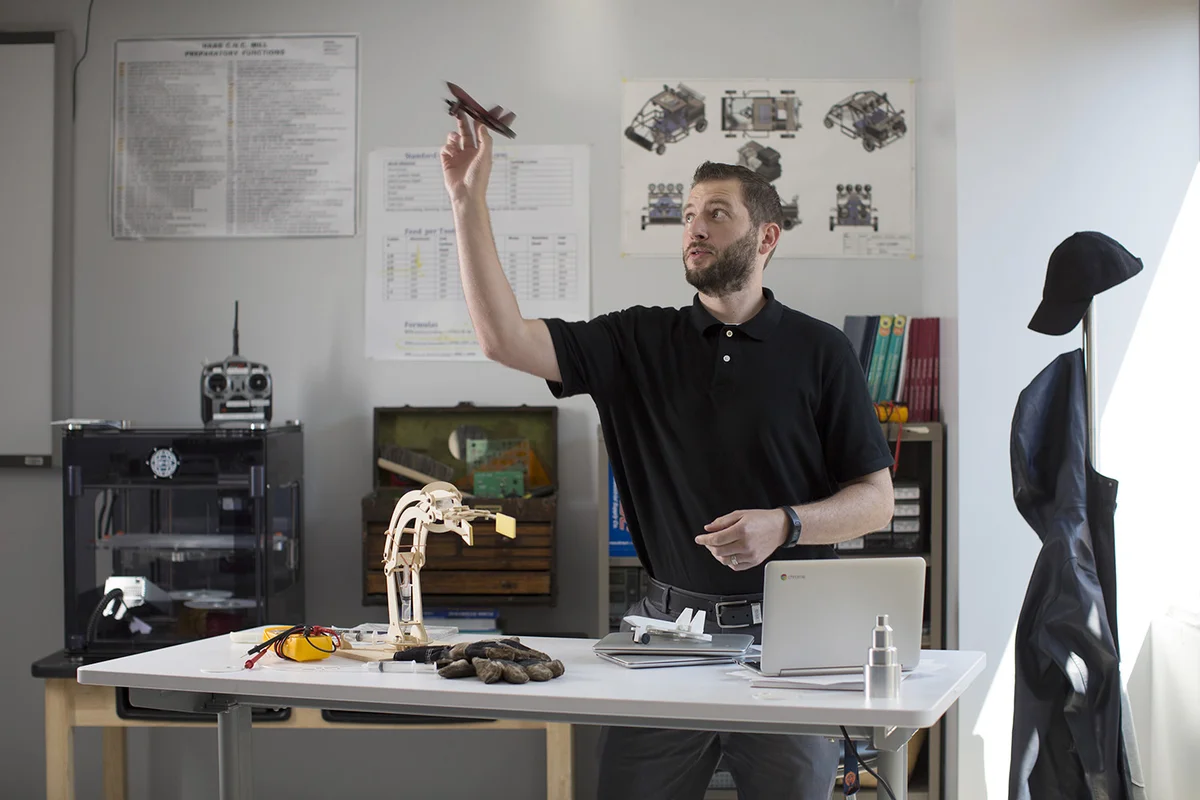 Editor's Note: Over the next few months, we'll be shining light on the creative power of teachers worldwide. We'll share a series of teacher stories, building towards a global online gathering of educators on December 3: Education on Air. Join the movement by sharing what teachers mean to you with #ItTakesATeacher
High school engineering teacher Frank Holthouse's classroom would appeal to any sci-fi fan with a knack for tinkering. His students at Leyden High School are inventing things, using 3D printers and building robots using motors and sensors. His mission as a teacher is to help students learn how to apply engineering concepts and skills to solve real-life problems. We talked with Holthouse to hear how he helps his students give back to the community and acts as a mentor after his students graduate.
It takes a teacher to help students create solutions with social impact
Holthouse likes to find what he calls "big, messy problems" for students to solve. "If I give my students a task or a problem that's not relevant to their lives, they won't get much out of the experience," he says. Many of the best issues he finds for his students to solve come through the local community. For instance, when the village board needed to replace the signs in the city parks, they called Holthouse. His students got to work immediately using software to design new signs for the parks. Says one of his 11th grade students, Uriel, "Mr. Holthouse encourages us to be persistent and have the confidence to solve problems on our own."
Mr. Holthouse encourages us to be persistent and have the confidence to solve problems on our own.
There's no shortage of problems for Holthouse's students to solve. One of the all-time favorite projects for the students has been creating prosthetic hands for children in need. The students work in groups using Google Docs on Chromebooks to share the design and measurements for the hands. They print the prosthetics in class using 3D printers. The biggest payoff, says Holthouse, is when the students get to meet the children who will be wearing the hands. "I loved this project because we were able to apply what we had learned in class to make a positive impact in the life a little girl," says Hilda, a 12th grade engineering student at Leyden High School."
It takes a teacher to create 'aha' moments
While Holthouse's classroom is hands-on, he describes his teaching style as hands-off. "I see my role more like that of a coach or facilitator," he says, explaining that he empowers students to work through problems on their own and figure out creative solutions. "I love seeing that 'aha' moment when a student has finally solved a difficult problem or grasped a new concept."
Holthouse is also a member of an advisory council that helps students find careers after high school. Through this program, a few of his students have even found jobs with companies who offered to pay for their college education. One of his students, Fabian Bartos, was even named to the 30 under 30 list by the Society of Manufacturing Engineers — a major accomplishment for a high school student. X's work included designing and 3D printing a fully functional violin, which the student then learned to play.
"While teaching wasn't the first career I had in mind — originally, I wanted to be a musician — the technical side of music led me to engineering and inspired me to teach," says Holthouse. Over the past few weeks, we've seen firsthand that there's more than one path to becoming a teacher. Many of the educators we've spoken to, like Holthouse, come from unconventional backgrounds and they bring their passions and diverse interests into the classroom, inspiring students to think outside-the-box.
We invite you to join this movement by sharing what teachers mean to you with #ItTakesATeacher and seeing your own and others' stories re-shared at google.com/edu/teacher. To hear from Frank live, join us for Education on Air December 3rd.