It takes a teacher to create a family-like community at school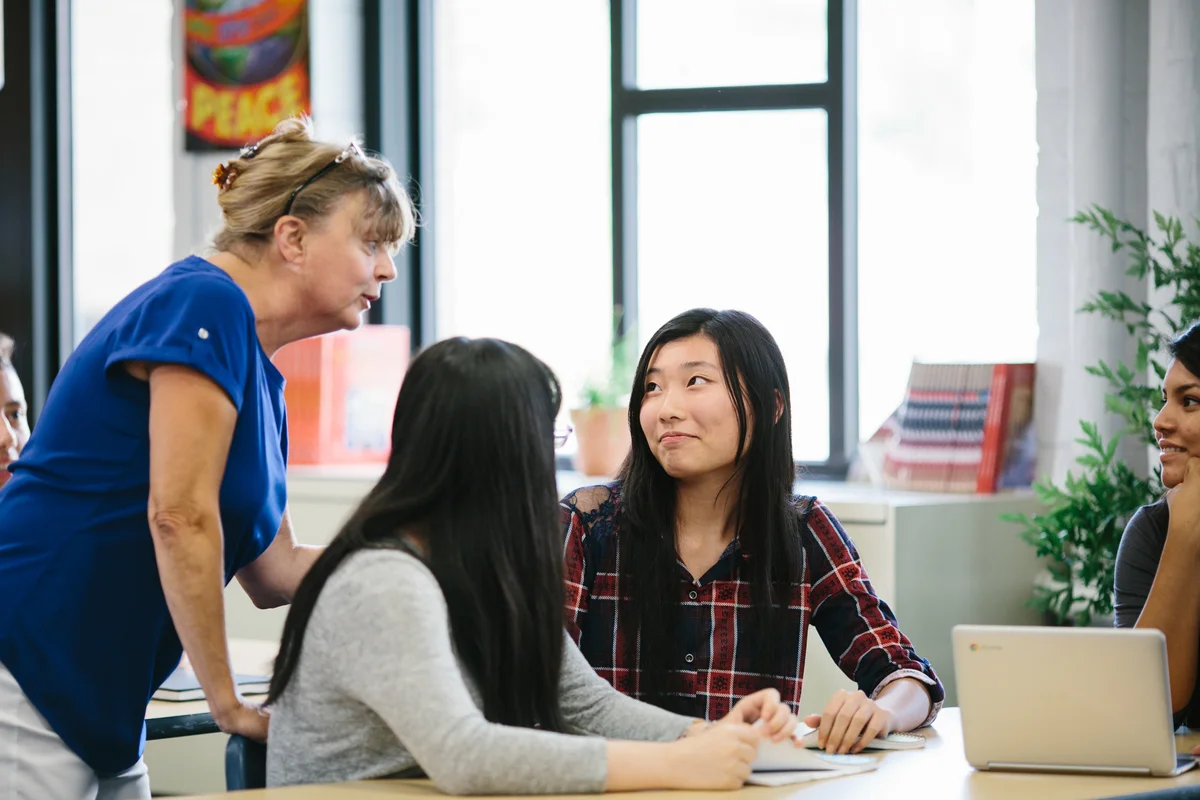 Editor's Note: Over the next few months, we'll be shining light on the creative power of teachers worldwide. We'll share a series of teacher stories, building towards a global online gathering of educators on December 3: Education on Air. Join the movement by sharing what teachers mean to you with #ItTakesATeacher.
Beatriz Porro's mom was a teacher in Argentina, but she never thought she'd follow in her mother's footsteps until she saw the impact teaching had on students' lives. Today, after 27 years of inspiring children in the classroom, Porro continues to create strong connections with students, empowering them to reach their potential. She teaches Spanish 3, Spanish V AP Language and Culture and Spanish VI AP Literature and Culture at East Leyden High School in Illinois. We talked to Porro to hear how she creates a community in and outside the classroom:
It takes a teacher to listen and empower students to speak up
For Porro, teaching isn't just a way to pay the bills and keep the heat running. It's her passion. In her classroom students have equal input into the curriculum, are comfortable coming to Porro for help and know she'll always push them to achieve more. "Students see that I love teaching them, and they know they can tell me when they're having trouble with an assignment or concept," she says.
After a career spanning three decades, Porro is retiring this year, and principal Jason Markey wanted to know her secret for connecting with students. Her answer: listening. Some teachers simply instruct and don't take the time to understand what students are interested in learning or what topics they're struggling with. Porro believes listening to students is the key to engaging them in the classroom and encouraging them to study and pass the AP exam. She asks students for ideas and modifies the curriculum based on their feedback, designing classes that everybody can get excited about.
For example, Hilda, a senior at East Leyden who previously lived in Mexico, suggested that her class discuss their thoughts about the book Letters from Hernan Cortes, and share their ideas with her former classmates in Mexico. The two classes are planning to talk via Skype about Cortes' conquests and why the U.S. celebrates Columbus Day. Porro welcomed the opportunity to give her students a culturally-rich perspective of Hernan Cortes. Hilda and her classmates are also interested in talking about the U.S. election and Donald Trump's relations with Mexico. Porro and East Leyden's principal recognize that these are going to be controversial discussions, but engaging with students in Mexico will give them with a new point of view of Mexico's history and a different perspective on U.S. politics.
"I love the fact that we can express our perspective toward both current and past events that affect our community today," says Hilda. "The best conversations were initiated by someone in the class bringing up a controversial thought and Señora Porro encouraging us to continue the conversation by stating our point of view towards that specific topic."
Porro ensures that students have a well-rounded Spanish education and learn about current events in addition to history and culture. Once a week, students in her Spanish 3 class find an article from one of 28 Spanish-speaking newspapers and present what they've read to the class. This exposes them to international news that impacts the U.S. and other Spanish-speaking countries.  
It takes a teacher to support students in their personal and school lives
Some students don't have the support they need at home, so Porro opens her arms to students whether they need help with Spanish literature or personal troubles. "Last week two students who are going through tough times came to me and said they needed to talk. They didn't have an adult to confide in, and I was there for them," she says. Earlier this year, assistant  principal Karen Ritter wrote Porro a letter telling her that many students see her as their second mom.
"Señora Porro has a passionate, understanding, open, warm heart that welcomes all people regardless of who they are," says Ronahy, a freshman in college who took three classes with Porro. "She makes students feel like they're part of her own family. She is always there to vent to when you need someone to listen. I was very fortunate to have a teacher that accepted me and really loved the presence of her students."
It takes a teacher to create authentic cultural experiences beyond the classroom
Porro gives students the opportunity to experience rich Latin American culture by hosting class dinners and creating a reciprocal relationship outside school hours. The day before the AP exam, Porro invited her 16 students and the school principal to her house to study and enjoy a home-cooked Argentinian BBQ. When Porro gets the AP exam results in July, she rewards her students by treating them to dinner at a local Mexican restaurant.
Porro tells her students that when they graduate college, they can return the favor. Earlier this month, one of Porro's former students who is now in college invited Porro and her husband for a home-cooked meal at her parents' house. The student's mom cooked mole to show her appreciation for the support shown to her daughter through high school and into college.
"Señora Porro encourages us to find the connection between the didactic material and how we interact with each other as a society," Hilda says. "She always has the objective to not only teach Spanish literature and culture but also to teach life lessons."
To connect with and learn from teachers like Beatriz, join us for Education on Air on December 3rd.
We also invite you to join this movement by sharing what teachers mean to you with #ItTakesATeacher and seeing your own and others' stories re-shared at google.com/edu/teacher.