It takes a teacher to encourage students to draw inspiration from the world around them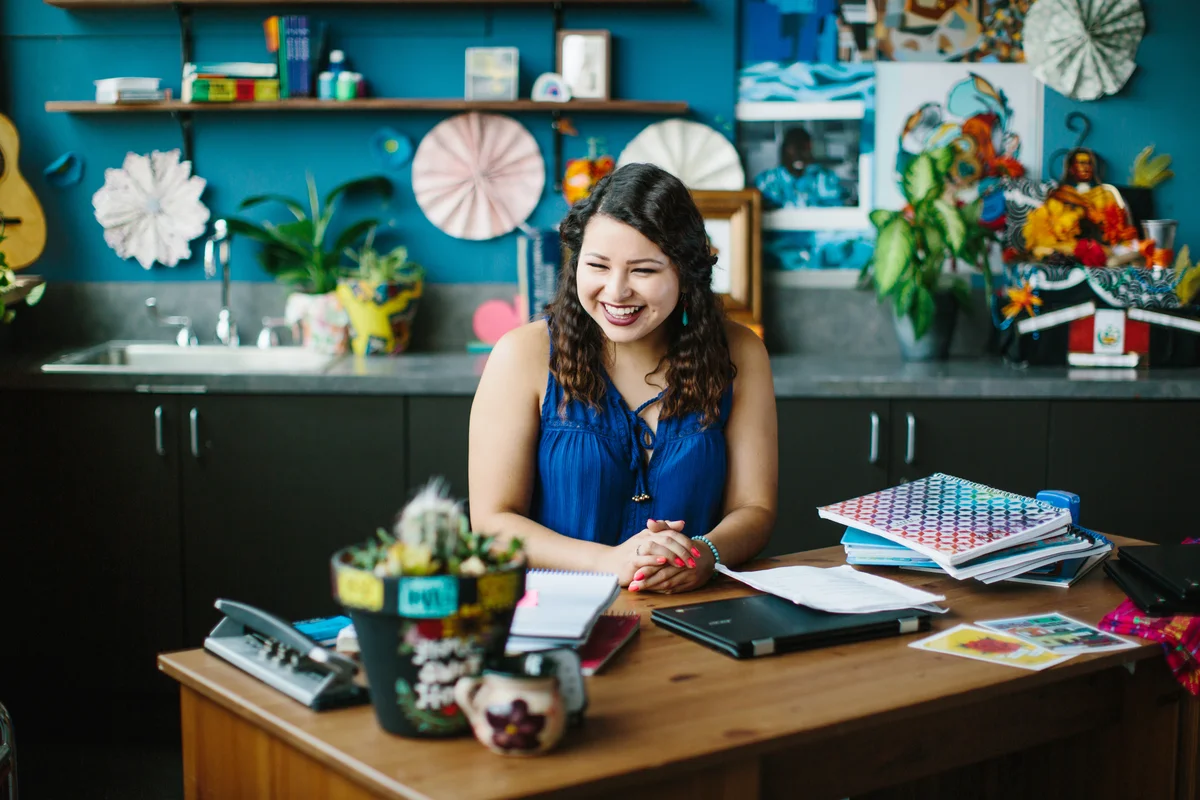 Editor's Note: As part of our ongoing celebration of World Teachers' Day, we'll be sharing stories that demonstrate the creative power of teachers worldwide, building towards a global online gathering of educators on December 3: Education on Air. Register today. And join the movement by sharing what teachers mean to you with #ItTakesATeacher
For Arlene Parra, who teaches Spanish to 9th and 10th graders at High Tech High Media Arts in San Diego, inspiration for classroom projects is everywhere – on the street, at home and on campus. "You have to be open to the world you live in, and the world your students live in," she says.
Teaching in a school where about half of students are Latino, Parra is committed to helping students connect with their culture through language and the arts. "I grew up speaking both English and Spanish, but didn't speak a lot of Spanish at home – it was something I reclaimed by studying it in college," says Parra, who is Chicana and a native of nearby Chula Vista, California. Now, she works with students who want fluency to be able to connect more with their families and communities. Parra shared with us how she ties the curricula to current events and builds lessons around the pop culture and music that students are passionate about.   
It takes a teacher to use the outside world for inspiration
As a relatively new teacher – previously an apprentice, she was hired on as a full-time Spanish instructor just two weeks before the start of the school term – Parra is keen to flex her creative muscles. Her students come from different grades, backgrounds and levels of fluency, which means she needs to create tailored curricula for each class.
Parra looks for inspiration outside the classroom to find projects that will help students learn to use Spanish in their daily lives. While reading the local newspaper, she came up with the idea to have her class produce a Spanish language paper that focuses on the upcoming local and national elections. The newspaper will be handed out to people celebrating Dia de Los Muertos, the traditional Mexican holiday honoring the dead, on Nov. 2.
"It's the perfect project for a Spanish class because there's a place for everyone," Parra says – beginners and advanced students alike. "We'll have opinion pieces and crossword puzzles." She's even working on getting local journalists to speak to her students about political coverage and satire, which will build upon the election theme.
Students like Nolan, one 10th grader, love Parra's ability to weave culture into her lessons. "I mean, on the first day of school she played the guitar and sang mariachi for us," Nolan says. "She loves the culture and is able to showcase the beauty of it in new clever ways every day."
It takes a teacher to engage students with technology, pop culture and music
The school's project-based learning environment and technology let Parra experiment with ideas that demand independent thinking and research. In mid-September, to highlight Mexican Independence Day, Parra led students in researching Mexican artists. Each student chose a person to highlight and used Chromebooks and Google Slides to make a presentation. "I had 50 students working on this at once – it was amazing," she says.
Parra also uses music to engage students. During a brief stint as an apprentice humanities teacher last year, Parra noticed how often students listened to music during their breaks. She realized she could build a lesson around this passion that so many of her students shared. "The popular songs that students listen to were a great segue to starting conversations in the classroom about social movements, like Black Lives Matter," says Parra. She created a series of posters with song lyrics that spoke to social change and asked groups to write their own songs highlighting a social issue.
"This is what I love about being here," says Parra of the charter school's philosophy, which encourages students to work independently and choose their own paths for learning. "I can give kids so much freedom."
"What makes Ms.Parra a fantastic teacher is her personality and the way she explains things so it makes it way easier to understand," says Bryce, a 9th grade Spanish student. "Ms.Parra is also one of the most sweetest, funniest, and most caring teachers I know. I'm really glad I got her as my teacher and I can't wait for more projects ahead."
To connect with and learn from teachers like Arlene, join us for Education on Air on December 3rd.