Learn what you can do #withClassroom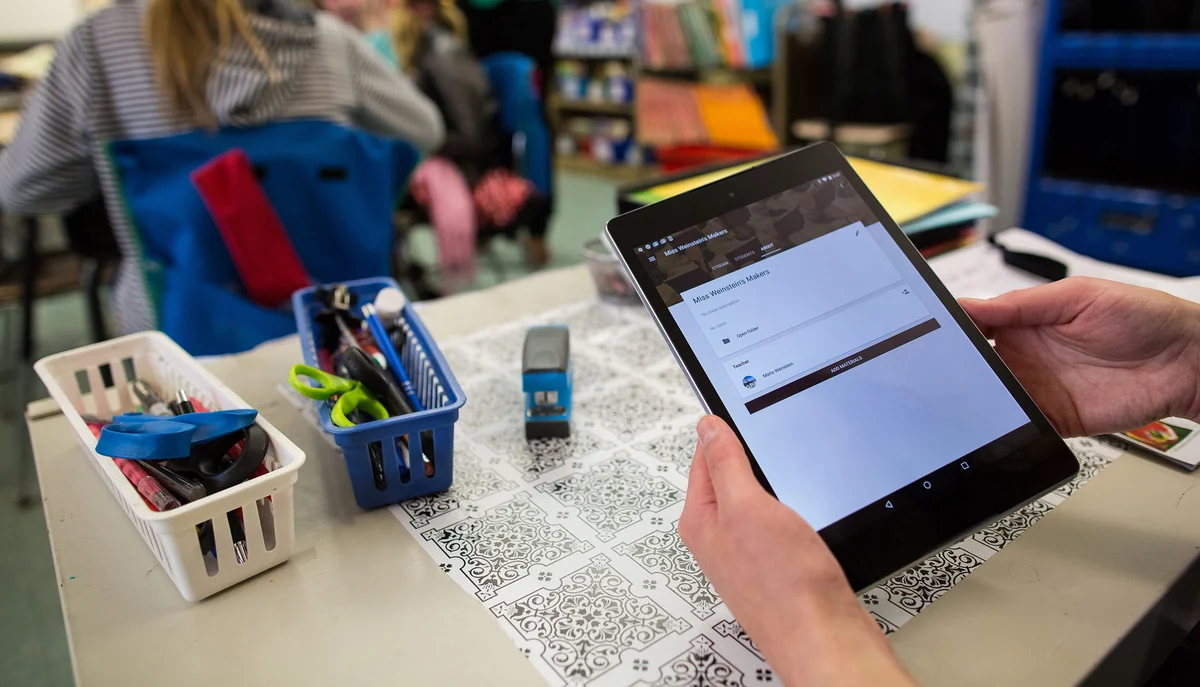 Editor's note: This week our Google for Education team will be joining educators and edtech enthusiasts at SXSW EDU in Austin, Texas. Join us as we talk G Suite for Education and Classroom integrations during our SXSW EDU sessions. Follow along on The Keyword, Twitter and Facebook for the latest news and updates.
A few years ago, we launched the Classroom API to make it easier for developers to integrate their applications #withClassroom, and to help teachers and students easily use Classroom with the apps they love. These applications enable educators to customize teaching and learning, bringing endless possibilities to their classrooms. Today, hear from teachers about how they use some of the many Classroom integrations available to engage and excite students.
Work with Workbench
Project-based learning (PBL) is a powerful way to teach core concepts, but can be time consuming to plan.
Workbench
lets teachers create, browse, and modify PBL projects, and assign the projects to students all in one platform. Kyle Nunn, a STEAM teacher at Parsons Junior High School in Redding, California, uses the Workbench integration with Google Classroom to search existing projects on the platform and quickly assign to students in Classroom, making his planning process faster and easier.
Through a hands-on project, his students use code to steer robots through a maze. Workbench guides students through the step-by-step project, resulting in more autonomous learning for them. Teachers like Kyle can track student progress and are automatically notified when students complete projects. "The result was a streamlined experience which leveraged several different technologies to achieve a highly engaging, standards-aligned, and robust programming project," continued Nunn. Implementing project-based learning isn't a daunting project with Workbench and Classroom.


Be a Quizizz wiz
Gamified learning can be fun for both students and teachers alike. For example,
Quizizz
, a platform where teachers can create, modify, share and assign interactive quizzes, is a great gamification tool regardless of subject or grade level. Since integrating with Classroom, we've seen teachers use Quizizz in amazing and creative ways.
Norm Peckham, an Educational Technology Trainer for the Mesa Public Schools Educational Technology Department in Mesa, Arizona had each student in his social studies class write a quiz question from the unit they were studying and submit them in Forms. He and his co-teacher then uploaded the questions to Quizziz, and assigned it to the class that same day. Once the students took their own quiz, their grades uploaded automatically to Classroom. "It was so easy and the students were amazed that they were taking a quiz that they just made themselves!" said Peckham.

The grade integration between Quizizz and Classroom wasn't the only time saver for Bria Stacy, a teacher at Knott County Central High School in Hindman, Kentucky. Teachers at her school are required to report student progress data, and manually grading and tracking was time intensive. Quizizz automatically generates reports to track both individual progress and class-wide understanding. Being able to track, report and analyze progress more efficiently allowed her to spend more time teaching. "You can't go wrong [with Quizizz] and it works so well with Classroom. Best of all, it collects all the data you need and saves it as reports," said Stacy.


Classroom integrations support the needs of teachers and students, and expand what's possible with Classroom. Explore more apps that integrate with Classroom and follow @googleforedu on Facebook and Twitter to learn more about what you can do #withClassroom.