Chromebooks get an education refresh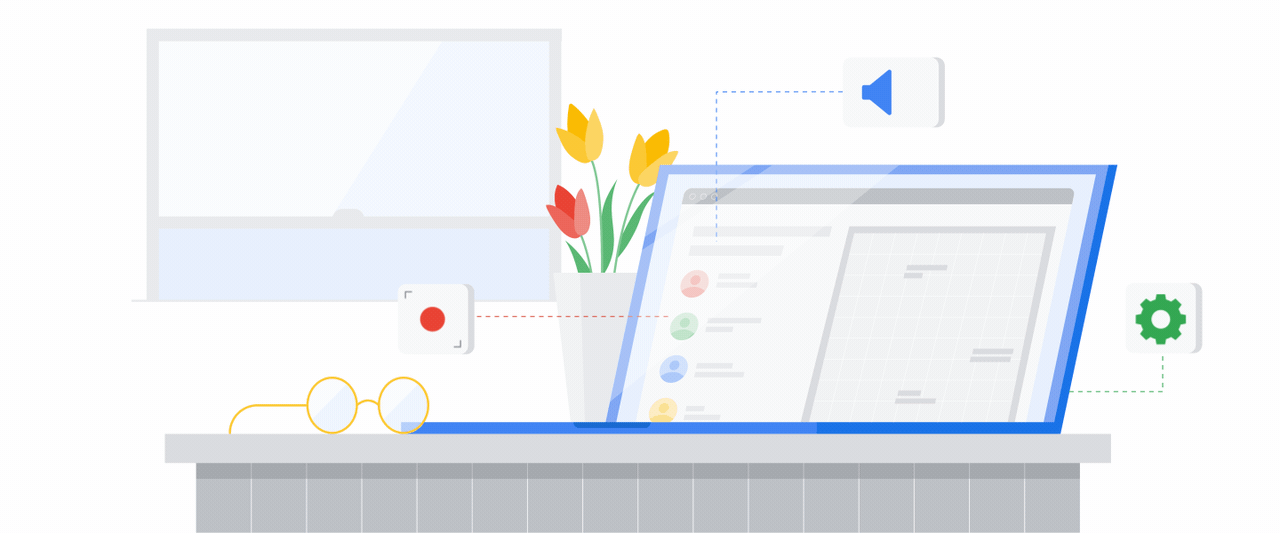 Chromebooks — which last year were largely used as classroom tools for writing reports and working on projects — are now the main way many students go to school. As distance learning takes place around the world, educators and students have had to quickly adapt to teaching and learning through Chromebooks. And along the way we've updated features and tools to make learning from anywhere easier. 
This year, we have 40 new devices and accessibility improvements coming so that every student can learn the way they want to. 
Tools to help educators teach from anywhere 
Teachers have long recorded lessons to help students do homework and study for tests, but in the past year it's become downright critical for virtual learning. Which is why we've built a screen recording tool right into Chrome OS that is coming in the latest Chromebook update in March. With this tool, teachers and students can record lessons and reports in the classroom and at home. 
Easier ways for leaders to manage technology
Chrome Education Upgrade unlocks access to Google Admin Console, making it possible for schools to centrally manage massive fleets of Chromebooks. Now, there are over 500 Chrome policies in Google Admin Console, including new ones like Zero Touch Enrollment, which make it easier to deploy and manage Chromebooks at scale — even remotely.
As schools buy hundreds or even thousands of Chromebooks for teachers and students, it's overwhelming to find the best device to purchase. To make it easier we've created a resource to help you find the right Chromebook for whatever you're looking for — whether it's in-class learning, virtual learning or devices for faculty and staff.
Updates that equip every student, everywhere  
We're launching over 40 new Chromebooks. Many of them include convertible Chromebooks that function like a laptop and a tablet, and come with a  stylus, touchscreen, and dual-cameras for students to take notes, edit videos, create podcasts, draw, publish digital books and record screencasts. Every new Chromebook is equipped to deliver exceptional Google Meet and Zoom experiences — right out of the box. We also have devices that can better support students with limited access to the internet, or in countries with strong mobile broadband networks. These devices, called Always Connected devices, have an LTE connectivity option that allows you to connect via your preferred cellular network.
Making education products that work for all students, also means creating accessibility features. And it turns out these features are helpful to everyone — including people with disabilities. ChromeVox, our full-featured screen reader, has new features including improved tutorials, the ability to search ChromeVox menus, and smooth voice switching that automatically changes the screen reader's voice based on the language of the text. 
We are also making significant audio, video and reliability improvements to Meet on Chromebooks so it continues to work smoothly for everyone. 
How we're setting the bar higher
As many students are learning from home, it has become even more important for parents and guardians to help support their child's learning, while also making sure they're safe online. We're making it possible for families to add a Google Workspace for Education account to their child's personal Google Account managed with Family Link. This lets children still log into the apps and websites they need with a school account, while making sure parents can still set guidelines for device and app usage. 
We'll continue to listen and evolve Google for Education products so they benefit educators, leaders and students. To learn more about all of the upcoming improvements to Chromebooks and Chrome OS, subscribe to our Chrome Enterprise Release notes.