Mobile apps, mobile teachers with Classroom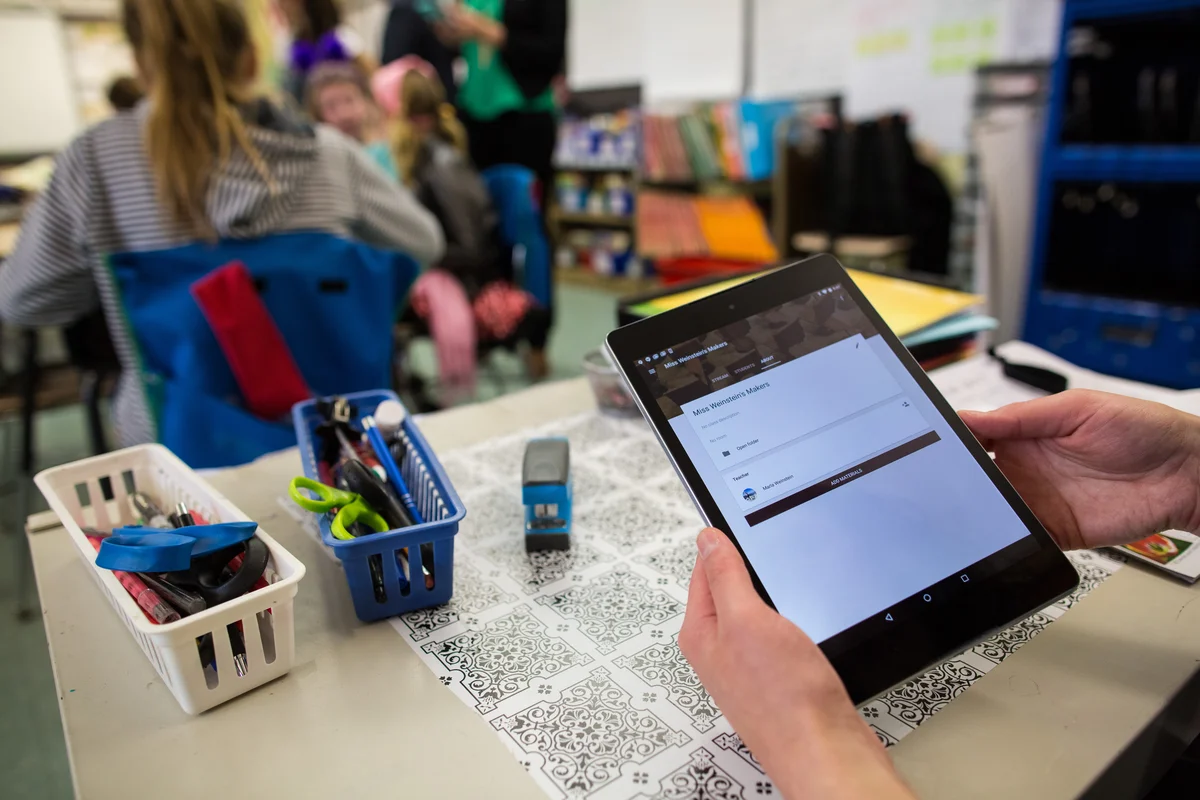 Educators rarely sit down. They're walking around their classrooms to check in with students, guiding small groups, running after school clubs and leading field trips. And when they're on the go, Classroom's Android and iOS applications are there to help. We shared our World Teachers' Day promise to continue to support and celebrate teachers, and that includes creating new features driven by educators' feedback. Today, we're sharing new tools and top tips from educators who teach us new ways to make the most of our mobile apps.
Introducing the student selector
Teachers are always inventing ways to encourage class participation, from popsicle sticks to notecards to assigning numbers to students. And now teachers can use the student selector on Android devices to randomly select students to call on in class. This ensures all students have a fair chance of speaking and sharing answers, and it helps teachers track who has participated and who hasn't.
We built the student selector specifically for mobile devices to take advantage of the portability of a phone or tablet.
Popular Classroom mobile features
We've heard many teachers tell us how much they use the Classroom mobile app when teaching, checking on classes and assignments outside of school, and how it enables them to be agile and respond when it's convenient. For more ways to teach on the go, we asked educators to tell us the top three ways they use the Classroom mobile apps in their classes:
1. Write feedback on work
On both the iOS and Android apps, students and teachers can easily draw and write on attachments. Chrystal Hoe, a tech integration coach, works with Math and English teachers in particular to leverage this feature. "Being able to circle or underline words or mistakes, especially when they're repeated, makes it easy to give feedback to students."
2. Record videos and take photos
Students and teachers can easily record and upload photos and videos to Classroom. Deanna Confredo, a high school social studies teacher, has been using Classroom for three years now to integrate photos and videos into her classes. "Some students prefer to use paper, and the mobile app allows me to collect work digitally while giving them some choice in how they want to complete their work. Students have the Classroom app on their phones, and they take a picture of their written work and upload it. "
Deanna also has her students take photos to tie learning back to their own lives.  "I was teaching how to test claims, so I asked my students to take a picture of a claim they saw - some of them took a picture of the news - and then upload it to Classroom. Then the next day, we talked about how we could test those claims and find evidence to support or refute them."
3. Posting on the go
The mobility of smartphones means that teachers and students can post from wherever they are. Chrystal Hoe has found this to be especially useful for field trips. "We recently had a field trip with a scavenger hunt in a museum. We asked questions through Classroom and asked everyone to post a comment or turn in a picture to the Google Classroom Stream throughout the day. It was handy as we were hopping around town, and fun for everyone to see what everyone else was posting."
The offline data built into our Classroom apps also means that teachers can edit and check classes regardless of location. Rachel Coathup, a head of digital curriculum, often takes advantage of this, especially during the parts of her day when a laptop is not easily accessible. "I find being able to get on my phone and quickly check that my classes are all set up for the following day to be very useful. And if I'm on the train, I can fix any assignments up and easily reuse posts from the different classes I teach."
We love hearing from you
Share how you use smartphones and tablets with your students by tagging us in a tweet, and let us know how we can better support teaching on the go by sending in feedback directly in Classroom.
And if you and your students aren't using the free Classroom mobile apps to enable learning on the go, you can download them now from Google Play Store or App Store.