When parents become teachers: tools to help students at home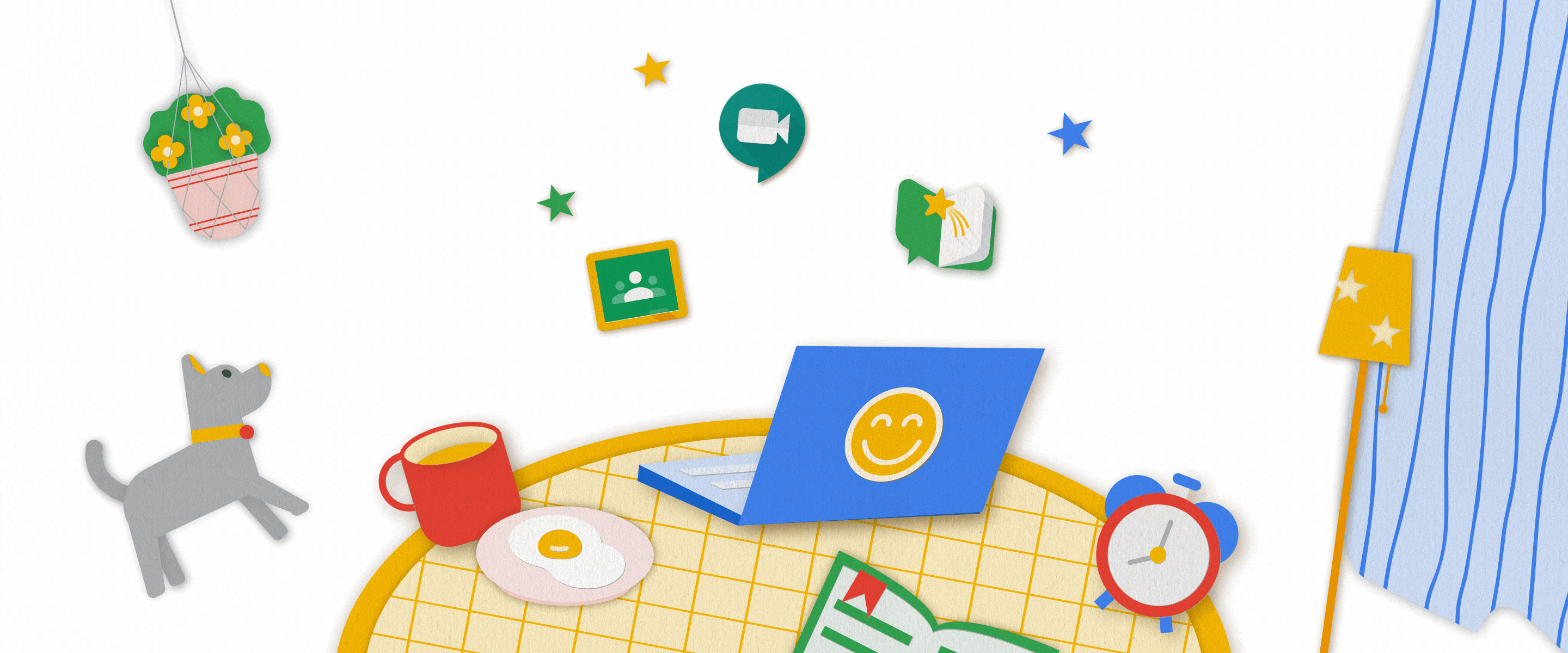 Editor's note: On August 11, 2020 Google for Education kicked off a global back-to-school event, The Anywhere School. Check out the full recap of product launches and our collection of announcements.

For me, life at home now means an office in my garage and three children at home attempting to learn. I'm still adjusting to my children making appearances on my Google Meet meetings, trying to schedule more walking meetings to squeeze in some exercise, and creating a schedule that my children will only loosely follow. Luckily, nobody knows about the chaos that ensues behind the scenes thanks to Google Meet's noise cancellation feature!

With these changes, you may realize that you need a crash course in algebra or Shakespeare, and one on the digital tools your kids are using. The resources below, along with  our Tech Toolkit for Families and Guardians, including a video series, can answer your questions about helping kids with lessons and homework, new products and features to help with staying in touch with teachers, and safeguarding kids when they're online. 
How to help kids with homework and learning from home
When a student turns to Google Search for help with STEM homework this fall, Search will connect them to potential explanations, a step-by-step breakdown for complex math equations and detailed information on the underlying concepts, like the notorious pythagorean theorem. These features help improve comprehension and understanding of core topics. 
Visualizing STEM concepts can be hard without labs or hands-on learning tools. Now, students can see 3D content on Search for nearly 100 STEM concepts across biology, chemistry and more using compatible Android and iOS devices. If students search for "Quantum mechanical model," they can view a 3D atom up close and use augmented reality (AR) to bring it into their space. Check out how to use 3D for STEM concepts. 
3D Quantum mechanical model on Search from our partner Signal Garden.
When they're stuck on a homework problem, students and parents can use Socratic and soon can use Google Lens to take a photo of a problem or equation they need help with. Socratic and Lens provide quick access to helpful results, such as step-by-step guides to solve the problem and detailed explainers to help you better understand key concepts.
Use Google Lens to look up homework questions and get help
Read Along helps kids develop a love of reading. Diya, the in-app reading buddy, uses Google's text-to-speech and speech recognition technology, to offer assistance for children when they struggle, and reward them with stars when they do well. 
Use Read Along to help kids learn to read with the sound of their voice
When using Google Meet, turn on live captions to see English text. When you can't meet teachers in person due to social distancing, you can meet them using video calls. If you're new to Meet, we've created a Guardian's Guide that explains why schools choose Meet, and how you can use it at home. Teachers can also send you guardian summaries in Google Classroom to help you stay connected with your child's work and overall progress.
And for a little help keeping your family on track with virtual learning, try using Family Bell on your smart speakers and smart displays. You can add bell reminders throughout the day that announce when it's time to start an online class, take a break, or settle in for reading time. To get started, simply say "Hey Google, create a Family Bell" or tap on Family Bell in your Assistant settings. Read on for more ways Google can help keep your family on track during the school year. 
How to help kids stay safe online
Family Link helps parents and guardians keep an eye on kids while they're online. You can approve apps and extensions, set time limits, and use content filters to set boundaries for kids. And now, you can add a school account for a Family Link user so you can set ground rules for your child while they do their schoolwork in Google Classroom, Docs, and other websites where you sign in with Google. 
With kids spending so much time online for school and virtual playdates, it's important to talk to them about internet safety. From password security to phishing to behavior on social media, there's a lot to talk about. Be Internet Awesome helps kids be positive digital citizens and stay safe online. It provides free family guides, tips from teachers, and Interland, a really fun game for kids to learn about online safety.
How to learn more about digital learning tools
If your child uses a Chromebook, learn how to set it up on home Wi-Fi,  set controls like blocking access to harmful websites, and get more information on the Chromebook Help support pages. And make sure to check out the Tech Toolkit for Families and Guardians, which has a quick video series on our products and features, best practices for family engagement, and answers to the most frequently-asked technical questions. Guardian Guides offer easy-to-understand overviews of common school tools like Google Classroom, Chromebooks, and G Suite for Education. For more resources, check out Teach from Anywhere.