Pennsylvania schools prepare students for future success with the 4Cs and Google for Education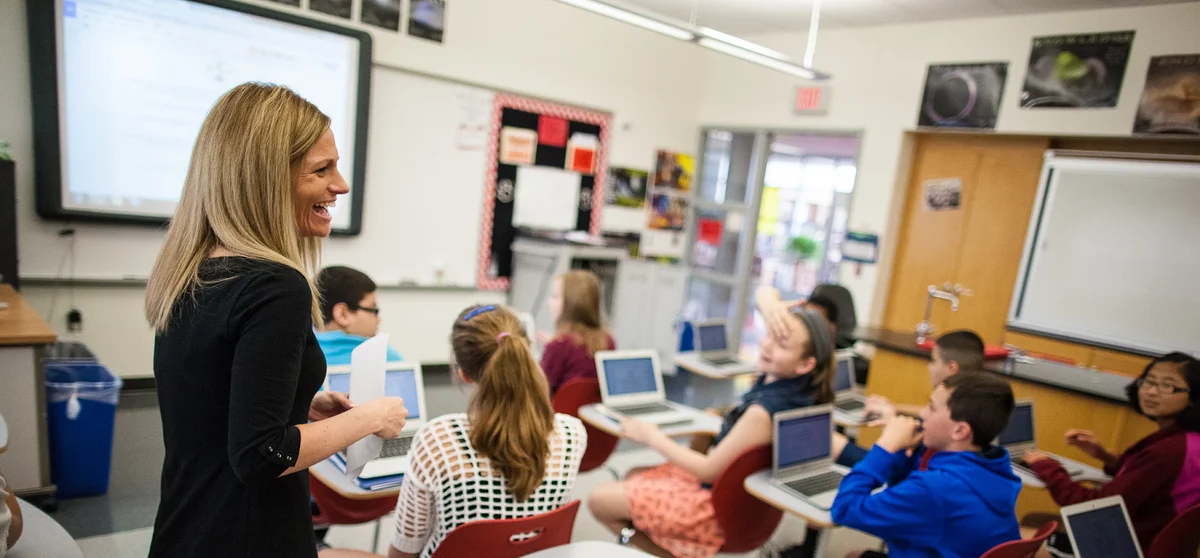 Editor's note: We're going across the country to highlight the great things schools are doing with technology. We talked to educators and administrators in Pennsylvania to hear how they're creating innovative learning environments. Technology is empowering teachers to transform traditional classrooms into collaborative student-driven environments in the historic Keystone State. Pennsylvania is setting the pace for Northeast schools through its success with Google for Education. To learn more about Google solutions for Education, join us for a webinar on January 28th at 3pm ET / 12pm PT.
Education in the 21st century is about more than making sure students pass the class and understand the concepts. It's centered around teaching students skills for the future, commonly known as the 4Cs: creativity, communication, critical thinking and collaboration. Schools in Pennsylvania are using Google for Education tools to provide teachers with the resources they need to bake the 4Cs into their lesson plans and provide students with diverse learning opportunities. We're highlighting a few ways Pennsylvania schools are teaching students 21st century skills:
Fueling creativity and student-driven learning 
With 
Google Classroom
, students at 
Indiana Area School District
 have the tools to receive one-on-one instruction outside of the classroom and create innovative projects that they're passionate about. With 24/7 access to their teachers via Classroom, students can request feedback as they work on an assignment and ask questions that they might not have felt comfortable asking in class. If students prefer face-to-face feedback, they can hop on a Google Hangout with their teacher.
"Google Apps for Education has enabled me to give kids more opportunities to work together and with me. It puts the kids at the center of their education," says Matt Neil, social studies teacher at Indiana Area Senior High School.

Teachers direct students to shared resources to help them improve certain skill sets, so they can expand their creativity. "With Google for Education, students gain autonomy while teachers have the means to pervasively develop new curriculum and learning opportunities," says Rich Kiker, certified Google Education Trainer and founder and CEO of Kiker Learning, a Google for Education professional development implementation partner.

Creating stronger lines of communication among teachers 
Teachers at Pennsbury School District use Google Apps for Education to create a shared resource hub, so they can provide students with more individualized learning opportunities. Teachers communicate about students' learning styles, strengths and areas for improvement and can easily find resources that help them learn best, whether they're visual, auditory or tactile learners.

"As a special educator, I can easily share and edit Google Docs with teachers to best meet the needs of the students," says Jeanne Caputo, teacher and room support provider at Charles Boehm Middle School. "When I don't have time to fully prep teachers in person, Google for Education lets us quickly communicate student goals and plans."

"Greater communication has a direct positive impact on individual and team effectiveness," says Amanda Durham, English teacher at Pennsbury High School. "Diversifying learning experiences, in terms of content or medium, truly enhances curriculum."  
Reinforcing the power of critical thinking 
Middle school students in Wilson School District using Chromebooks in the classroom
The mission at 
Wilson School District
 (
case study
) is to empower students to create their own future. Teachers put this mission into action by teaching students the 4Cs and providing them with technology skills they'll need for future success. Students use devices with Google Apps for Education in a 1:1 environment, so they can engage with technology throughout the school day. These tools give students access to countless ideas, perspectives and methods for solving problems, empowering students to ask questions and take a critical approach to learning.
"In pretty much any career path we choose, it's guaranteed that we will need the knowledge and skills to work with technology," says Sneha Anmalsetty, a junior at Wilson High School. "The 1:1 initiative is guiding us towards becoming better technology users."
Boosting collaboration across grade levels 
At Wilson School District, second grade students are using Google Hangouts to collaborate via a 
virtual shared classroom
 with seventh grade students in New Jersey. The second graders submit science questions using Google Forms that the seventh graders use as inspiration for presentations, videos and other learning tools. Once their research is complete, seventh graders teach virtual classes answering the second graders' questions.
"The creativity, communication, collaboration and critical thinking skills the students in those two classrooms are developing through the use of Google for Education is life-changing," says Dr. Amy Flannery, director of curriculum for Wilson SD. "Google's impact on lesson creation and delivery is radically changing curriculum development."
We've heard great stories from many of you about how you're using technology to do amazing things in your schools, so we're going across the U.S. to see for ourselves! Check out the map below to see where we've been. We'd love to hear what's happening in your state, so please share your story on Twitter or Google+ and tag us (@GoogleForEdu) or include the #GoogleEdu hashtag.