When Octoberitis spooks your students, we're here to help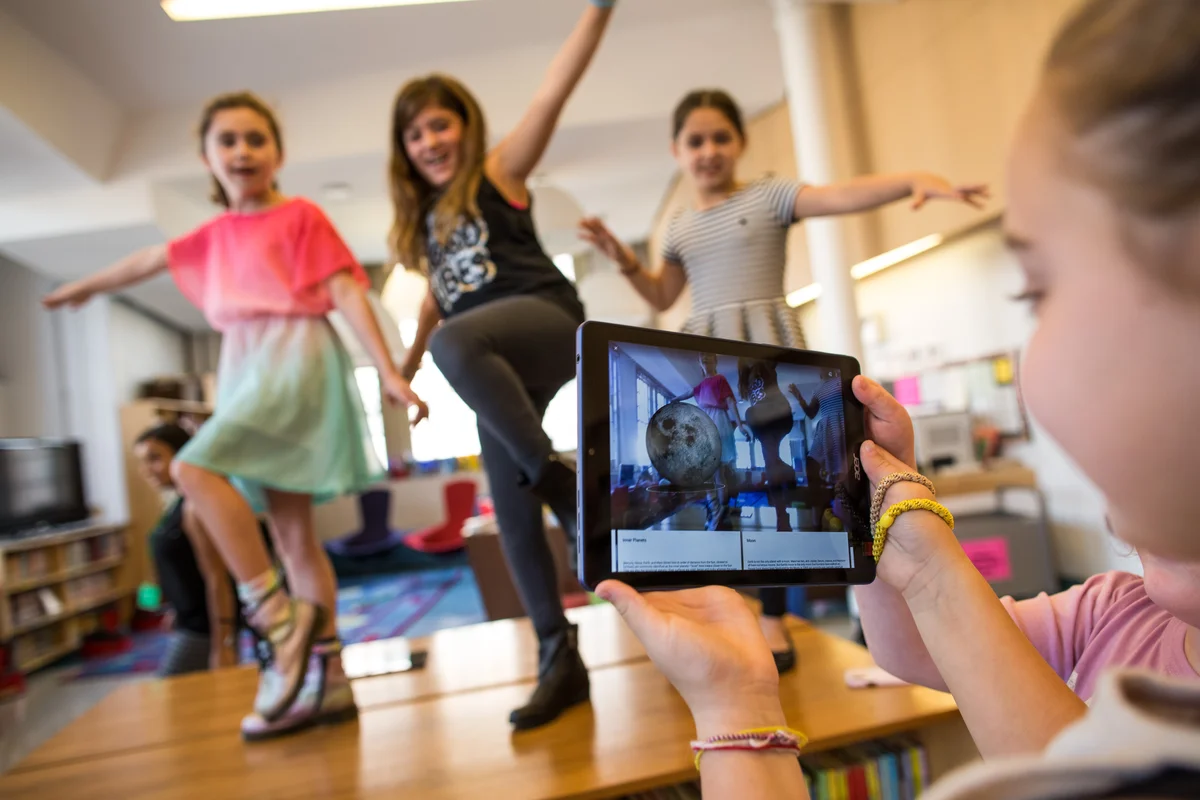 It's October. Pencils—once sharp and eager to write in August—are starting to dull. Students are gazing out the window, and it's not just because of the falling leaves—this happens every October, when the newness of the new school year has worn off.
To fight this Octoberitis, some educators get students moving by doing a gravity experiment in the stairwell, or role play activities during history. While you're experimenting in the classroom, we'll be launching new tools to help you keep the learning spark alive, and make the longer days feel shorter.
And want to know something that's made our October a bit brighter? We're excited to announce that over 40 million students and educators are now using Google Classroom, and 30 million are using Chromebooks, on top of 80 million using G Suite for Education globally.
Bring the outside world into the classroom
Back when we learned with just pen and paper, math class and functions could seem dull. But now, augmented reality can add another dimension to your lesson. With the latest update to the
Acer Chromebook Tab 10
, it became the first ChromeOS device to support
ARCore
, Google's platform for building augmented reality experiences. Developers can build
AR experiences
for classrooms, like
GeoGebra
, an interactive geometry, algebra, statistics and calculus
app
. Students can toggle between 2D screens and AR in the 3D app as teachers guide them in exploring math in new ways.
Using the Acer Chromebook Tab 10, educators can bring everything from a skeleton to the solar system into the classroom with the help of Expeditions AR. With content from partners like Houghton Mifflin Harcourt and Oxford University Press, the world comes to you when you can drop the works of Van Gogh into the middle of your Art History lesson, or a great Kapok tree when studying the rainforest. To unlock the power of AR, ask your IT administrator to enable these Android apps, and make sure your tablets are upgraded to the latest operating system.
To conduct a science experiment, the only equipment you'll need is a Chromebook. Students can complete more than 40 science labs which map to high school biology, chemistry, and physics standards with Labster Chromebook labs. These online labs allow schools to offer unlimited lab practice time without needing to buy any extra equipment. Not only that, but these labs can also be assigned and graded with the Classroom integration, and teachers can track how students are progressing. To get labs at your school, visit labster.com/chromebooklabs.
Collaborate to reach every learner
You spend hours planning and customizing lessons to engage every learner in your class, but it can be difficult for students to follow along in rigorous and fast paced learning environments. To support students and faculty who are deaf or hard of hearing, we built closed captions in Google Slides (only available on Chrome web browsers), which uses machine learning to turn on automated closed captioning when presenting. Captions are currently available for U.S. English language only, but stay tuned as we explore adding more languages. Learn more about accessibility features in G Suite and ChromeOS.
We've launched new Docs updates to make writing a paper in MLA format a smoother process. You can already set left and right indentations as well as set hanging indents via a dialog box. Now, students and faculty can also adjust the margins of headers and footers, and use a vertical ruler to adjust placement of table rows and header and footer margins.
Educators can also give feedback to students in Classroom or Course Kit, our free toolkit that allows instructors to use G Suite within their existing LMS. Using the new grading tool, educators can leverage the comment bank to give feedback on Docs and PDFs. Use G Suite for Education but have a different LMS? Request access  to the Course Kit beta today.
Jamboard - the collaborative whiteboard app - can also help shake things up. We're bringing the jam to the web, where anyone can create and collaborate on jams from individual Chromebooks, no Jamboard hardware required. And with the new View Only mode, teachers can share jam sessions from their lessons that day while restricting edit access. Have a BYOD policy, or enabling Device Off Hours? Jamboard on the web is an easy solution for collaboration.
If you're interested in trying out a Jamboard device in your classroom, you can apply for the new Jamboard Learning Space Transformation program. Continental U.S. based G Suite for Education customers can submit a proposal on how you'll transform your learning space with Jamboard today.
Hopefully these new features and product tips are the antidote you need to the Octoberitis that's bound to hit your classrooms. If not, you have Halloween to look forward to...
Be sure to follow along on Google for Education's Twitter and Facebook pages. We love hearing from you, so please share your tips for the best October yet.