How mentoring startups helped me grow as a Googler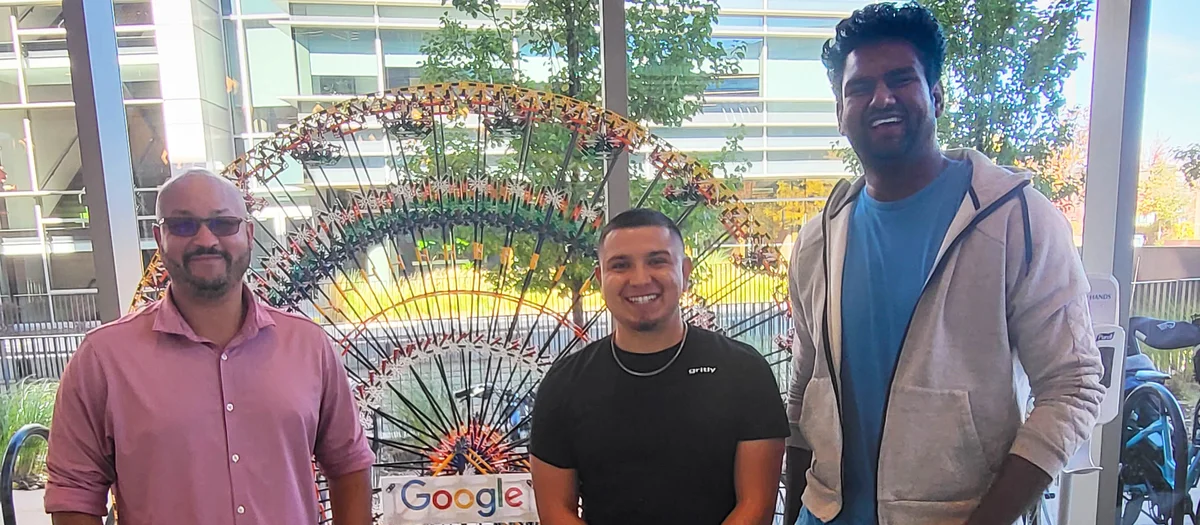 Growing up, I avoided mentorship at all costs. Since I was raised by a single mother and my father has been incarcerated most of my life, I always viewed mentoring programs as an attempt to replace something missing. In hindsight, though, mentorship would have helped me get where I am today in my career more quickly — and avoid some pitfalls along the way.
So when I read about the Google for Startups Founders Academy, I jumped at the chance to participate as a mentor. Launched in 2020, the four-month program connects founders from Black, Latino and veteran-led startups with experienced Googlers, investors and industry experts. Through this program, I could share guidance and resources with those with similar backgrounds as me to help them navigate all the complex aspects of running a startup and growing their business.
After throwing my hat into the ring, I was accepted as a Google for Startups mentor and paired with Gritly, a Colorado-based edtech startup that specializes in tech sales boot camps for underrepresented groups. Gritly founder David Lopez grew up in a low-income, single-parent household and was the first person in his family to go to college. While on a full academic scholarship at the University of Colorado, David realized that a bachelor's degree is actually not a prerequisite for many high-paying roles in the sales sector. Seeing an opportunity to create career pathways in their own communities, David and co-founder Avi set out to provide people from the Black and Latino communities, women, veterans and previously incarcerated individuals with the training and mentorship needed to succeed as entry-level tech sales reps.
As a Black Googler who didn't finish college, I was immediately drawn to the Gritly team and their mission. I knew my startup sales experience and critical thinking skills could help steer David and Avi's product vision and strengthen their unique business model. Although the Founders Academy program only required monthly meetings, I wanted to make myself more available. So I met with David and Avi every week to work through roadblocks, answer questions and celebrate wins. I also attended Gritly's team meetings to get to know the entire group better. And since we're all based in Boulder, Colorado, we were even able to meet in person multiple times.
Over the course of the program, David and Avi pivoted Gritly into a digital portal that hosts more bootcamps and edtech programs for other role-specific training. This shift broadened the startup's potential from a niche player to a fundamental part of the edtech space. We also worked together to refine both their product and pitching strategies to secure several angel investors and fellowships. Most recently, Gritly was selected as one of the first recipients of the Google for Startups Latino Founders Fund, which awarded them with $100,000 in equity-free funding, as well as Cloud credits and ongoing support from Googlers.
When someone asked me what my favorite part about being a Googler was, I would usually say access to the world's brightest minds. Now, after becoming a Google for Startups mentor, the answer is the opportunity to connect the dots. It's a privilege to serve as a facilitator between people around the world solving problems and the Googlers who can support them with knowledge, tools and resources. Mentorship, I've finally learned, isn't a way to make up for something you lack — it's a chance to grow in ways you didn't even realize were possible.