Meet the Korean startup founders building apps for pets and K-pop fans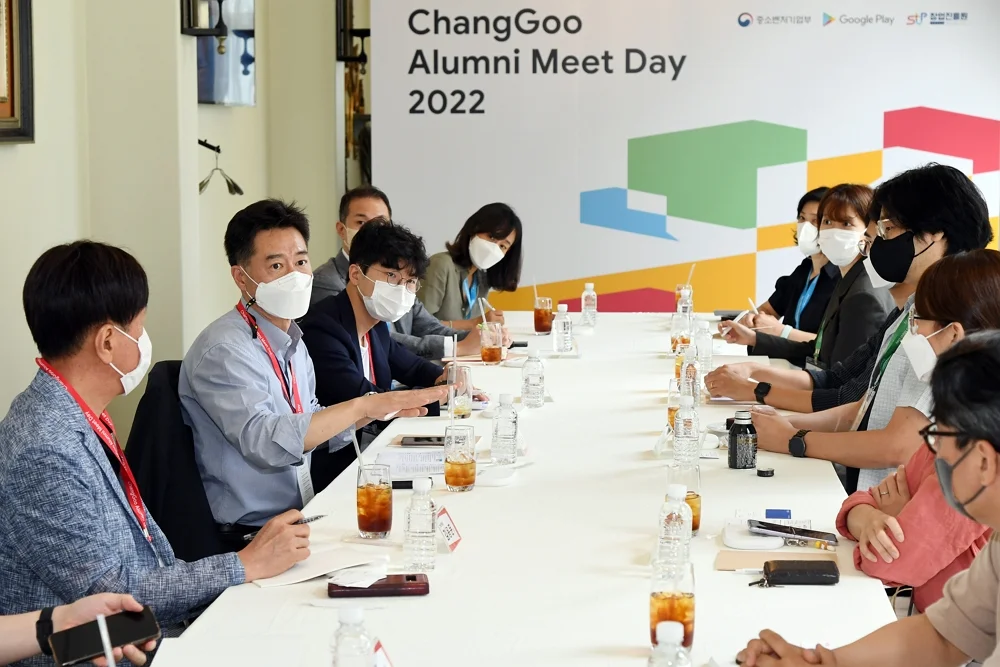 At our annual Google for Korea event today, we showcased some of the most inspiring Korean creators and entrepreneurs. I also had the chance to sit down with the founders of two standout startups: AI FOR PET and Blip. Since their start, both have won over not just the people of Korea, but people all over the world.
Huh Eun-A, founder of AI FOR PET, and Kim Hong-ki, founder of Blip
AI FOR PET, founded by Huh Eun-A, has developed a smartphone app called TTcare that uses artificial intelligence (AI) to assess pets' health. When someone takes a picture of their pet's eyes or skin, the app assesses the image and alerts the owner if their pet is showing any concerning symptoms of eye or skin related disease. AI FOR PET was a part of this year's Google for Startups Cloud Academy and the ChangGoo program.
Blip, founded by Kim Hong-ki, is a content platform for Korean pop (K-pop) fans to keep track of their favorite idols - including their latest updates and tour schedules. Blip, which participated in the 2021 ChangGoo program, has amassed over a million downloads on Google Play, to date. 60% of those downloads are from users outside of Korea.
So, what inspired the beginnings of your startup?
Huh Eun-A: I'm a pet owner, and know very well that like all living things, pets will fall sick at some point in their lives. I want to help fellow pet owners quickly diagnose any illnesses their pets may have, simply by using the TTcare mobile app. My hope is for animal lovers around the world to never be in the dark about their pet's health, and for no pet to ever be without healthcare.
Kim Hong-ki: K-pop artists bring so much positive influence to fans all over the globe. I built Blip to help fans feel closer to their favorite K-Pop artists, and to let them experience the world of K-pop in a new way. My aspiration is for Blip to one day become a verb, and for people to ask the question "Who do you Blip?" instead of "Who do you love?"
What challenges did you face while growing your startup, and how did the ChangGoo program help you?
Kim: Blip's key challenge was growing our user base of K-pop fans, and we wanted to understand how we could do that in a global and sustainable way. Google's ChangGoo program seemed like a good place to start because it's a well-known, highly-sought after accelerator program among Korean startups. And so in 2020, we applied to join the program with a beta version of our app but failed to get selected. That motivated us to work hard to improve the product. The next year, we tried again and were accepted. The entire Blip team was thrilled!
To me, ChangGoo feels like a program created by people who truly want to help startups. The mentors deeply cared about Blip's team and needs, much like supportive K-pop fans. They provided insights and advice that helped us whenever we weren't sure of our next steps.
What made you join the Google for Startups Cloud Academy, and how did the program help you?
Huh: Building out our AI was core to our product. We developed our model by first exposing it to more than a million photos of eyes so it could differentiate between canine and non-canine eyes, and then exposing it to canine eyes with and without diseases. It only took us a year to develop the model by using TensorFlow, Google's open-source AI tool that's accessible to all developers.
But as important as the technology was, we wanted to make sure the app experience itself was high quality, too. So we reached out to the Google for Startups Cloud Academy to help us improve the app performance - and we even got support from the very team who initially developed TensorFlow! Now, we're able to detect canine ocular disease with just a single photo at 90 percent accuracy.
The growth you've seen so far is really amazing! Can you share any upcoming plans for your startup?
Huh: We're training our AI model with cat data, so that cat owners - in addition to dog owners - can use our app. We're also exploring adding capabilities to detect skin and joint conditions in pets. We've recently expanded to the US, and hope that with our technology and reach, we can help demonstrate that Korean startups can build great products for the whole world.
Kim: I'll be focusing on my employees' wellbeing. My aspiration is for Blip employees to love their job as much as our fans love their favorite artists on Blip. After all, the slogan of Blip is "Love what you love more". I want Blip to be a workplace where every employee can do what they love and really enjoy themselves.