AI in the newsroom: What's happening and what's next?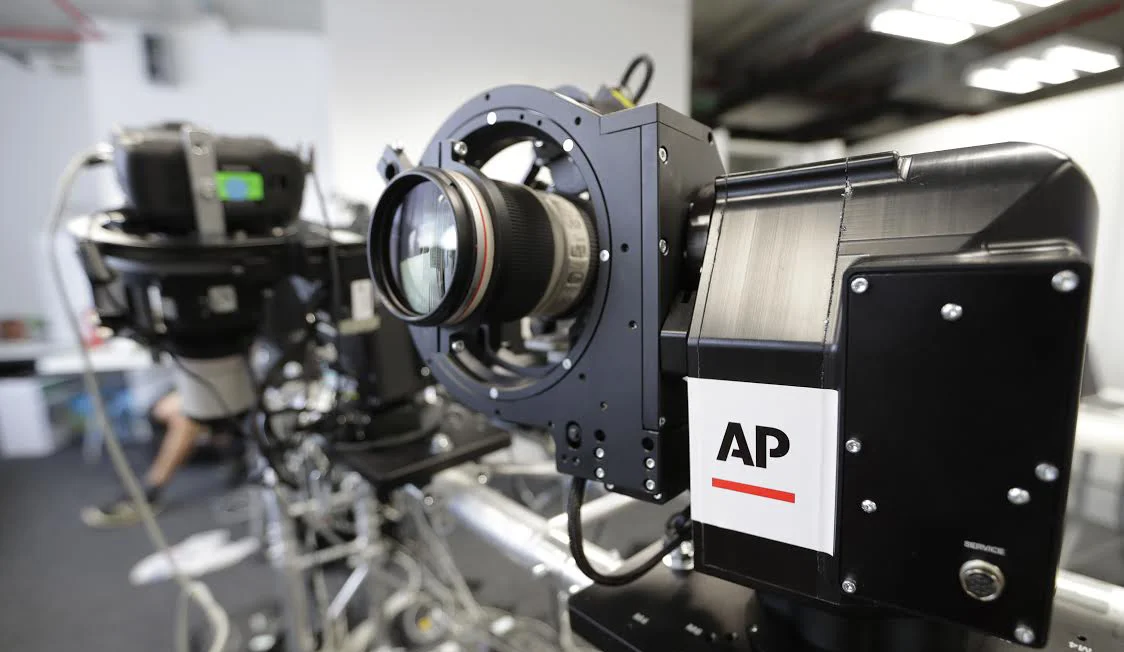 Bringing people together to discuss the forces shaping journalism is central to our mission at the Google News Lab. Earlier this month, we invited Nick Rockwell, the Chief Technology Officer from the New York Times, and Luca D'Aniello, the Chief Technology Officer at the Associated Press, to Google's New York office to talk about the future of artificial intelligence in journalism and the challenges and opportunities it presents for newsrooms.
The event opened with an overview of the AP's recent report, "The Future of Augmented Journalism: a guide for newsrooms in the age of smart machines," which was based on interviews with dozens of journalists, technologists, and academics (and compiled with the help of a robot, of course). As early adopters of this technology, the AP highlighted a number of their earlier experiments:
This image of a boxing match was captured by one of AP's AI-powered cameras.
Deploying more than a dozen AI-powered robotic cameras at the 2016 Summer Olympics to capture angles not easily available to journalists

Using Google's Cloud Vision API to classify and tag photos automatically throughout the report

Increasing news coverage of quarterly earnings reports from 400 to 4,000 companies using automation
The report also addressed key concerns, including risks associated with unchecked algorithms, potential for workflow disruption, and the growing gap in skill sets.
Here are three themes that emerged from the conversation with Rockwell and D'Aniello:
1. AI will increase a news organization's ability to focus on content creation
D'Aniello noted that journalists, often "pressed for resources," are forced to "spend most of their time creating multiple versions of the same content for different outlets." AI can reduce monotonous tasks like these and allow journalists to to spend more of their time on their core expertise: reporting.

For Rockwell, AI could also be leveraged to power new reporting, helping journalists analyze massive data sets to surface untold stories. Rockwell noted that "the big stories will be found in data, and whether we can find them or not will depend on our sophistication using large datasets."

2. AI can help improve the quality of dialogue online and help organizations better understand their readers' needs.
Given the increasing abuse and harassment found in online conversations, many publishers are backing away from allowing comments on articles. For the Times, the Perspective API tool developed by Jigsaw (part of Google's parent company Alphabet), is creating an opportunity to encourage constructive discussions online by using machine learning to increase the efficiency of comment moderation. Previously, the Times could only moderate comments on 10 percent of articles. The Times aspires to use Perspective to enable commenting on all its articles.

The Times is also thinking about using AI to increase the relevance of what they deliver to readers. As Rockwell notes, "Our readers have always looked to us to filter the world, but to do that only through editorial curation is a one-size-fits-all approach. There is a lot we can do to better serve them."

3. Applying journalistic standards is essential to AI's successful implementation in newsrooms
Both panelists agreed that the editorial standards that go into creating quality journalism should be applied to AI-fueled journalism. As Francesco Marconi, the author of the AP report, remarked, "Humans make mistakes. Algorithms make mistakes. All the editorial standards should be applied to the technology."

Here are a few approaches we've seen for how those standards can be applied to the technology:

Pairing up journalists with the tech. At the AP, business journalists trained software to understand how to write an earnings report.

Serving as editorial gatekeepers. News editors should play a role in synthesizing and framing the information AI produces.

Ensuring more inclusive reporting. In 2016, Google.org, USC and the Geena Davis Foundation used machine learning to create a tool that collects data on gender portrayals in media.

What's ahead
What will it take for AI to be a positive force in journalism? The conversation showed that while the path wasn't certain, getting to the right answers would require close collaboration between the technology industry, news organizations, and journalists.

"There is a lot of work to do, but it's about the mindset," D'Aniello said. "Technology was seen as a disruptor of the newsroom, and it was difficult to introduce things. I don't think this is the case anymore. The urgency and the need is perceived at the editorial level."

We look forward to continuing to host more conversations on important topics like this one. Learn more about the Google News Lab on our website.

Header image of robotic camera courtesy of Associated Press.