A day in the life of a local reporter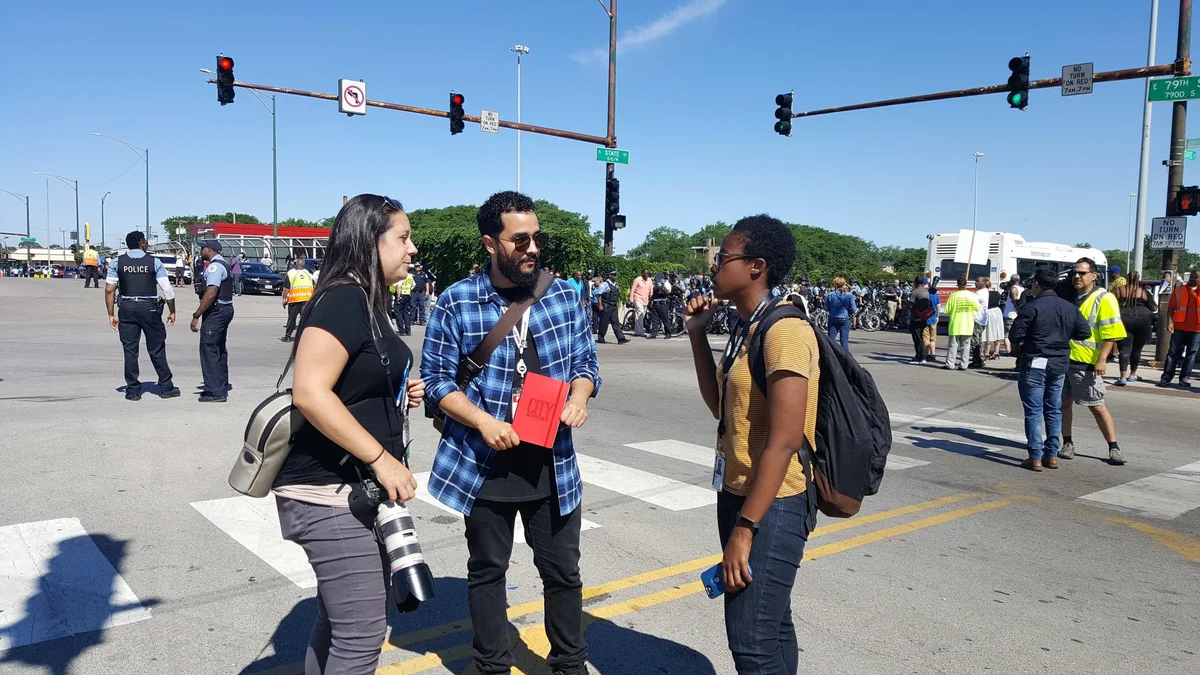 Editor's note: Manny Ramos is a reporter for the Chicago Sun-Times. He joined the Chicago Sun-Times as part of Report for America, an initiative of The GroundTruth Project that works to strengthen local journalism through placing emerging journalists into newsrooms around the country, with support from the Google News Initiative.
I look forward to my half-hour train ride into work every morning.
I can look out the window as it twists and turns itself through neighborhoods with the sun casting its stark lighting on the floor of the train car. I sometimes get lost in thought while following the light as the train wheels rhythmically clank on the tracks.
But the reason I love this ride is that it's a reminder of how neighborhoods can change from block to block. One moment you see abandoned buildings boarded up, and the next moment you see street graffiti appropriated for new brunch spots.
For almost a year now I have been riding this train as I head into the office where I work as a reporter for the Chicago Sun-Times. I am one of 13 journalists with Report for America who have been placed in newsrooms across the country to help bolster hyperlocal community news in areas that are often overlooked.
And for me, that means covering areas like the one I grew up in.
Manny Ramos interviews a resident of North Lawndale.

Vacant land in Englewood on Chicago's Southwest Side. Four residential homes used to be on this plot of land.

Residents on this block in Englewood attempt to beautify boarded-up homes by painting them.

A man points through a vacant lot and talks about who used to live there.

Ramos talks with neighborhood kids in North Lawndale.
Last week, as I was commuting into the office, I started wondering how neighborhoods have changed since the 2008 housing crisis. I started seeing vast stretches of land that were vacant, and I wondered: Were houses once there? And if so, what happened to them, and what history dissipated with the demolition of those homes?
When I got into the office that day, I immediately began to search random addresses on the city's Southwest Side, a neighborhood that has seen a significant number of residential homes demolished. Before I went into a city block to report and gather sources, I wanted to be able to see how that block looked before the demolitions started ramping up.  
I jumped in a virtual time machine through Google Maps' Street View and saw how the neighborhood looked in 2007. As I toggled through the years, I saw homes razed to the ground.   
I started collecting a list of addresses I was interested in viewing, and compiled the list based on the maps. Then I set out to visit city blocks, and that's when I met 3-year-old Harmony.
Harmony loved eating Cheetos and collecting rocks for me to hold as I walked down the street with her mother, Marquita. As I spoke with Marquita about how her block has changed over the last 10 years Harmony would playfully interject to lighten the mood.
Harmony inside of a "Peace House."

Marquita "Cece" Dixon stands in front of a vacant lot. Her grandmother used to own property next to the lot, but it is also now boarded up.

Harmony enjoying her Cheetos.

Marquita "Cece" Dixon and her daughter Harmony posing inside of a "Peace House."



I already knew what the neighborhood looked like in the past, but Marquita shared intimate details of the people who once lived on her block. That history has been voided, and is only kept through her memory now.
Marquita has lived on this block her entire life, and Harmony has for most of her short life as well. But the neighborhood that Marquita grew up in will be one starkly different than the one Harmony will grow to know.
Still, they smile for my camera. And I get back on the train and head back to the office to tell their story.