Easing the path to digital transformation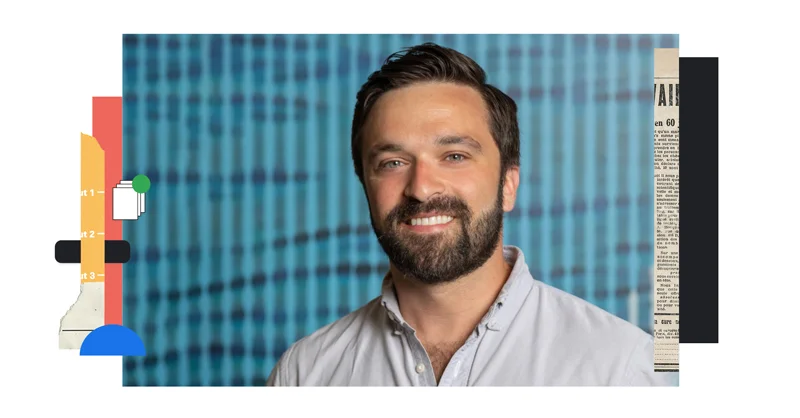 As a former director of business strategy for The Atlantic, Eric Rosato knows a few things about building a successful news business. Now he lends his strategic acumen to thousands of news organizations across the globe for the Google News Initiative's Digital Growth Program. We talked to Eric about the value of journalism to society and why sometimes the best thing you can do for your business is talk about it.
How did you get interested in news publishing?
There was a point where I decided if I was going to build a career in an industry, I wanted that industry to be bigger than me, the value of it to be bigger than me. That journalism has value to society, that it's key to a functioning democracy to have an informed citizenry – that's what motivated me, to know that this purpose is bigger than just me and my work.
What's different about working for Google?
At Google, it's the same sense of mission, but doing it at scale. Everyday I have a moment with a publisher that reinforces that mission and that sense of purpose, and it's not just one publisher, it's many publishers — thousands, actually, in countries all over the world.
What is the Digital Growth Program, and what's your role?
The Digital Growth Program, within the Google News Initiative, supports small to midsize publishers in tackling digital transformation. We offer a range of resources covering five critical areas in digital publishing: reader revenue, audience development, advertising revenue, product and data. And all of these resources we developed working with subject matter experts, associations and, of course, publishers.
My role on the team is to help ideate, launch and execute programs. I also work to better understand the impact we're having and to see how we can improve.
What did you learn in your previous work that you apply at the Google News Initiative?
A lot of the challenges the publishers I work with now are the same challenges I faced at my last job, albeit at a different scale. At the heart is the same question: "We need to reach different audiences. How, from a business perspective and from an editorial perspective, are we going to do that?"
Two practices that are equally valuable for publications at any scale are first, to experiment and not be too precious. Your business will be better off if you try new approaches that allow you to learn from failure and build on success. The second is to work at identifying what your audience wants and how they want to interact with your brand.
There's a lot of focus in the industry right now on deeper audience relationships. How does that benefit smaller and local publications?
I think small publishers serving local communities are well positioned to earn audience trust because they know what their communities need. And there's value in those relationships.
A lot of publishers get hung up on the fact that they don't have a national audience to entice advertisers. One of the biggest mindset shifts that we've encouraged publishers to make is to believe that their audiences, what they do in their communities and the journalism they produce have real value to advertisers. That if they have that deep community relationship, they can sell on that value versus just selling on reach.
Are there any promising developments you see across the news industry?
The discourse around news has been difficult to navigate over the past few years. But the benefit is there has been a heightened focus on the value of news and of a healthy, diverse news ecosystem. And that has resulted in a lot of collaboration. For example, I think there's been a real sense of the pandemic as a common enemy, and publishers have banded together to try to combat that enemy. Seeing publishers work together, crowdsourcing and sharing solutions and best practices to help each other through this moment is incredibly rewarding.
How important is it for publishers to have that kind of peer support?
We're told time and again by the publishers we engage with that hearing from their peers is a top need. Anytime we introduce an idea, the first questions are, "Has someone else done this? What worked and what didn't work? Can I do that for my publication?" So it's really a priority for us to provide benchmarks and publisher examples. And in our Lab programs, we want to make sure that we create a strong sense of cohort so publishers keep talking to each other. That's part of the value of the GNI – to bring publishers together and create a kind of town square where those conversations can happen.