How Bridge Michigan turned new readers into paying members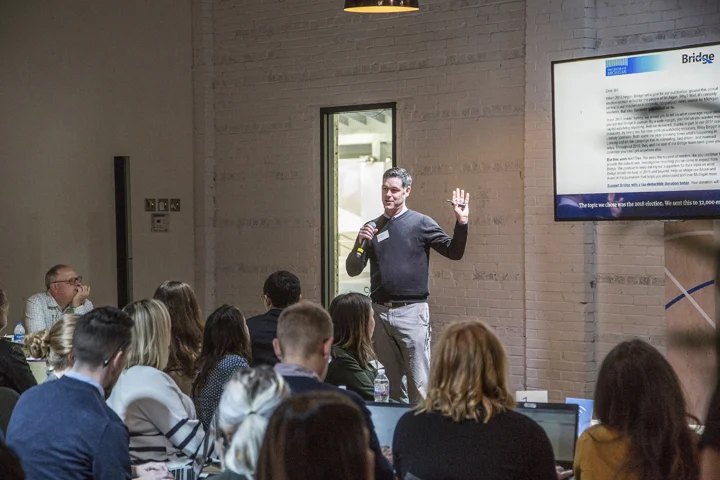 In November 2018, during an important state election, Bridge Michigan set an all-time record for monthly readers, with 380,287 people heading to our site for news. We thought it'd be a long time before we saw another month with a similar rise in audience numbers.
But in March 2020, when COVID-19 surfaced in Michigan, we finished the month with 3.75 million readers, nearly 10 times more than that previous record. In fact, March saw more readers than our previous two years combined.
Bridge wasn't alone in this spike in readership; many news organizations saw surges in traffic with the outbreak of coronavirus in their regions. The challenge was how to keep those new readers coming back and engaged for the long haul.
At Bridge, audience is at the heart of our growth strategy, which is why last year we joined the Google News Initiative Audience Lab, a multi-month program run in partnership with News Revenue Hub to help news organizations grow their loyal audiences and find new ways to increase advertising and consumer revenue. 
We saw in the GNI Audience Lab, informed by the News Consumer Insights tool, that readers with the greatest impact on our sustainability are loyalists, as they generate the majority of our revenue. While our overall traffic started to recede in the months following our record March, our loyalty metrics, like repeat visitors and session length, remain stronger than ever today. The Lab team worked with us to make our site and our newsletter more engaging. As tens of thousands of new loyalists return to us, a large portion are choosing to become paying members. Our revenue from these readers has kept pace with our significant audience spikes. 
Here's how we did it, using an audience funnel approach: Our editors and reporters looked at the data to see what audiences wanted most, driving readership and generating returning readers. Then, we turned those readers into newsletter subscribers, then donors, and finally, sustained members. 
Helping people find our content
Much of our audience growth is attributed to our improved search engine optimization (SEO). News Revenue Hub helped us run a number of tests at the story, section front and homepage levels to help speed up our site. One outcome was implementing a plug-in that automatically reduces the size of images, which has helped speed up our site's load time, so readers can get to the content faster.
In March 2020, we had over 1.7 million Google Search referrals, beating our November record by 870 percent. At the time, we ranked well for "Michigan coronavirus," so we included those words in relevant page titles.
SEO helps readers rediscover us, as well. Just because someone reads our publication once doesn't mean the person will remember us or come back. As readers kept searching for variations of coronavirus-related Michigan phrases, they kept finding compelling and timely journalism from Bridge that met their information needs.
Newsletter subscribers
In 2019, we added about 13,000 new newsletter subscribers. Today, about halfway through 2020, we've already added almost three times as many new subscribers. The most effective tool for newsletter growth has been embedded email signup forms that appear in different ways on every page of our website. We've also found that Facebook lead generation ads are effective at finding readers who like our mission, but haven't heard of us yet.
Examples of Bridge's newsletter signup forms
But newsletter subscribers alone aren't enough to sustain growth over time. The GNI Audience Lab helped us develop strategies to increase open rates and click rates, such as creating personalized newsletter headers. 
New donations
At Bridge, we pride ourselves on our high-quality, laser-focused Michigan journalism, which many of our readers choose to pay for. We create opportunities throughout our site to highlight how readers can help fund our content, with membership appeals at the top, middle and bottom of every story. Part of having an ever-growing email list is segmenting fundraising messages to the most engaged email subscribers and crafting unique messages for nonmembers, as well as thank-you messages to existing members. 
Examples of Bridge's call to action for donations
Sustainable donations
In order to add predictability to our budget, we're working towards developing a consistent reader base that regularly contributes through monthly recurring donations. Our membership options default to monthly payments to set up this cadence. Readers can choose to donate one time at any amount, but we focus our messaging and appeals on sustained giving. 
And our sustainable revenue growth efforts are working. Since March 2019, our monthly recurring revenue from donations has more than quadrupled and continues to grow today.
Catering to the information needs of our readers remains central to our audience growth strategy at Bridge. That's why we consistently ask our readers to evaluate the value of our service to them. Sustaining their brand loyalty allows us to continue to grow and produce facts-driven journalism for our state.