How I teach my friends to know what's actually true online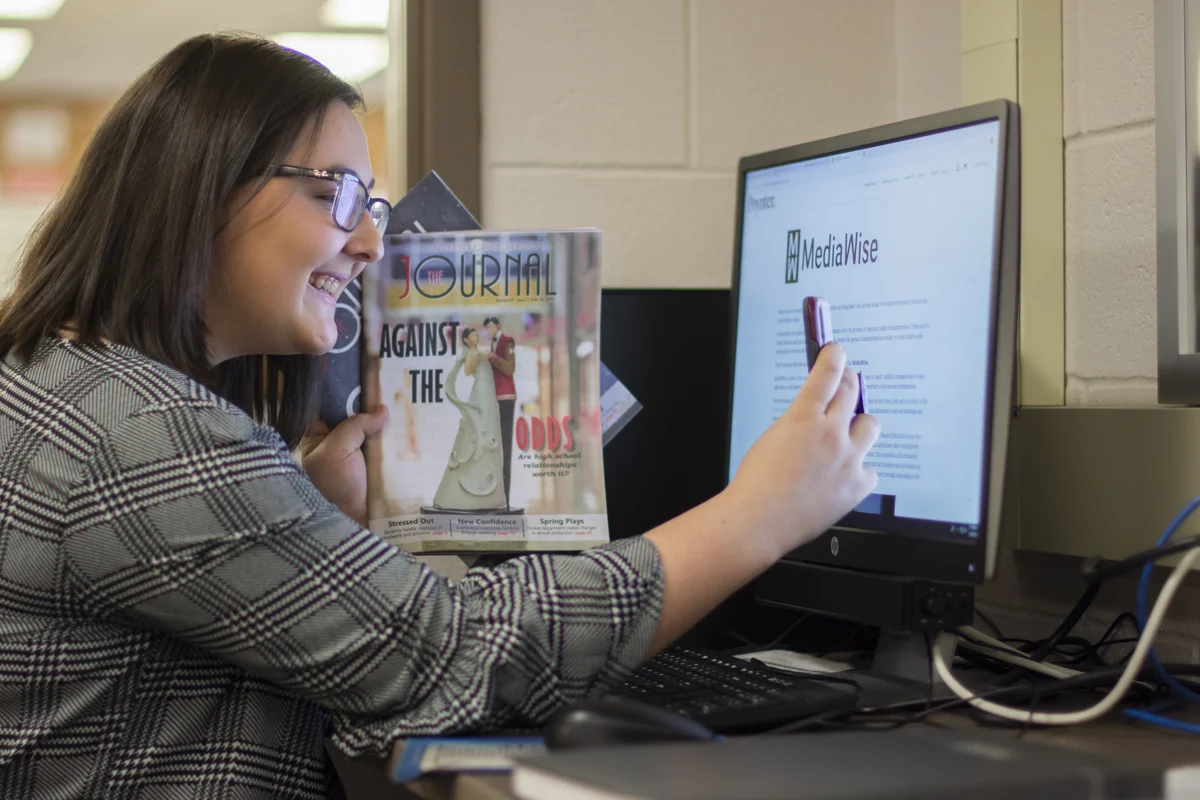 Editor's note: Madelyn Knight, 18, is a senior at Southport High School in Indianapolis and is the editor-in-chief of the school news magazine, The Journal. She was recently awarded the 2019 Indiana High School Journalist of the Year by the Indiana High School Press Association.  MediaWise is part of the Google News Initiative and is a Google.org funded partnership between The Poynter Institute for Media Studies, the Stanford History Education Group (SHEG), the Local Media Association (LMA) and the National Association for Media Literacy Education (NAMLE). MediaWise aims to teach one million students how to discern fact from fiction online by 2020.
The average time I spend on my phone each day is four hours and 48 minutes, according to a screen-time tracker on my smartphone. Three of these hours are devoted almost entirely to being on social media. When my friends from my high school use the same trackers, their results are similar to mine.
This means that every day, for three or more hours a day, I am exposed to an endless amount of information, and not all of it is true. Each day, I scroll through social media feeds, liking and commenting on my favorite posts. And every once in a while, I come across a post that makes me stop. Maybe it's a claim about the world ending or a cool solar event captured by NASA. Maybe it's about a new government policy or the latest celebrity news. But almost every time, I stop and think, "Is this real?"
In this area, I have an advantage over my peers. I am a student journalist, who has learned about media literacy and how news spreads. I've learned about fact-checking and bias within news sites because of being on my school's news magazine. I know that not everything on the internet is true.
But not all of my friends are that lucky. I know that not everyone is as aware that there may be false information, and they don't have the knowledge to combat it.
This is why we need MediaWise. Today's teenagers and children have quite literally grown up on the internet. Yet we aren't taught how to tell if something shared on the internet is real. It only makes sense to give teenagers a guide to notice the signs and how to conduct their own research on something they see online.
The first time I heard about MediaWise was at the High School Journalism Institute at Indiana University the summer before the beginning of my senior year. At the time, MediaWise had just begun, and they weren't sure how or when they were going to have teens help fact-check. However, I knew I wanted to be a part of MediaWise right away. I kept up with the details and emails until finally, I joined the teen fact-checking network for the winter session in January.
As a part of the network, I've had the opportunity to make videos for MediaWise's social media platforms, teaching people how to fact-check what they see online. One of my favorite tricks and tips is the reverse Google Image search, which makes finding an image on the internet super simple. I used it in my first fact-check, and I think it's probably one of the most useful tools out there. What I noticed, however, is that a lot of my friends and peers didn't even know it existed. Because of that fact-check, I know I am teaching people my age how to use that resource and create a simpler, more accurate online world.
Personally, I've definitely adjusted the way I look at the internet. When I show my friends a meme, they always joke, "Hey! Did you fact-check that?" They've sent me links to posts I could possibly fact-check, and that means they, too, are thinking about what they see online. It helps me realize that what I am doing is actually making a difference.
Being a teen fact-checker with MediaWise has taught me a lot about myself. But mostly, it's taught me that I have the ability to make a difference in the world. I'm no longer complaining that people don't know what they're talking about online. I'm actually showing them how they can get better.