New tools to help publishers turn data into action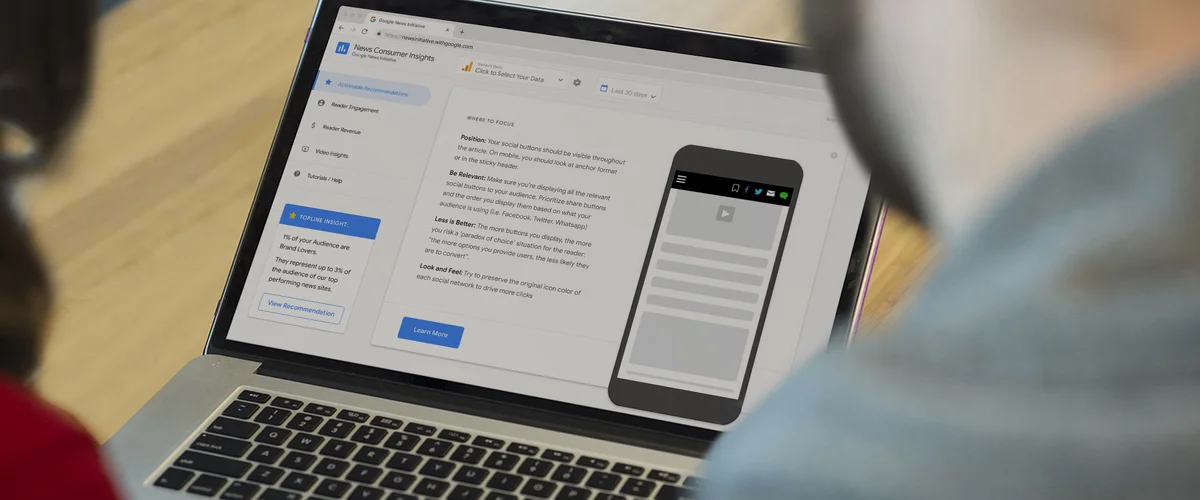 Two years ago, we launched News Consumer Insights (NCI) to try to solve a common industry challenge: News organizations were swamped with data. Our news partners big and small, national and local, shared a need to identify the metrics that actually matter to their businesses. And then they wanted to turn that data into insights and actions that advance their revenue goals.
NCI, our audience development tool built on top of Google Analytics, has helped thousands of news organizations in nearly 130 countries make data-driven business decisions that grow reader loyalty and increase profitability. Last year, we expanded this approach with Realtime Content Insights (RCI), a tool to help journalists make data-driven editorial decisions informed by what's popular on their site and what topics are trending on the web.
With these free tools, we've been focused on simplifying the data available to news publishers. While many partners have seen positive results (like Lee Enterprises, which grew their digital subscriptions business by three times), we knew we could do more to evolve our framework. That's why we're launching a new suite of tools with greater insights and business recommendations to help news companies achieve digital growth.
Better data with News Tagging Guide
Today, we're introducing
News Tagging Guide (NTG)
, a new tool that helps news organizations make the most of Google Analytics by identifying the engagement metrics that matter for their audience and revenue growth. We've worked closely with news organizations to identify the right data points to measure, and within the tool, grouped them into three categories: video analytics, reader engagement and reader revenue.
A look at NTG's key metric categories.
To simplify the technical implementation, NTG generates Google Analytics tags that publishers can easily copy and paste on their site. And while NTG can be used on its own, the data measured unlocks new actionable recommendations in our existing tools.
Personalized recommendations with News Consumer Insights 2.0
Informed by our work with news partners like Jagran, Time Inc and Village Media, and powered by new engagement data from NTG, News Consumer Insights 2.0 brings publishers personalized business recommendations focused on growing audience and revenue.
In this new version, we've created a decision engine that generates custom advice for news publishers based on their Google Analytics data. For example, our decision engine can identify if a publication's newsletter sign-ups are low and serve a suggestion on how to grow this audience. This allows publishers to spend less time analyzing data and more time acting on business recommendations.
Recommendations from the NCI 2.0 Decision Engine.
NCI 2.0 also offers publishers greater audience and revenue data, thanks to the new metrics measured with NTG. Building on our current reader engagement section, we've added video insights and reader revenue tabs, which surface custom actions to help publishers maximize video consumption and increase digital subscriptions.
Improved content performance with Realtime Content Insights 2.0
In line with our goal to simplify data and enhance performance, we've also revamped Realtime Content Insights with features to help journalists make more informed content creation and distribution decisions.
Today, RCI provides access to realtime article performance that helps newsrooms meet the information needs of readers. In our new version, we've expanded this capability to video content, providing journalists with data on how their videos are resonating. We've also added a historic performance section, which offers content analysis over a set period of time, so newsrooms can further evaluate engagement and the type of stories advancing business goals.
Detailed Article View in RCI 2.0.
To surface the most important metrics of the day, we've created "Today's Performance Dashboard." This view displays the top metrics throughout the day across articles, video and historic performance, so journalists and section editors can easily monitor what's happening on their site. And with the new data measured with NTG, we've added a host of new metrics to help newsrooms better understand content performance, including if readers are sharing content or signing up for newsletters, among others.
The Google News Initiative remains committed to helping our partners evolve their digital strategies to drive loyalty and business growth. We hope these tools help news organizations of all sizes do just that. Learn more about the tools and try them today by visiting our site.