News Brief: April updates from the Google News Initiative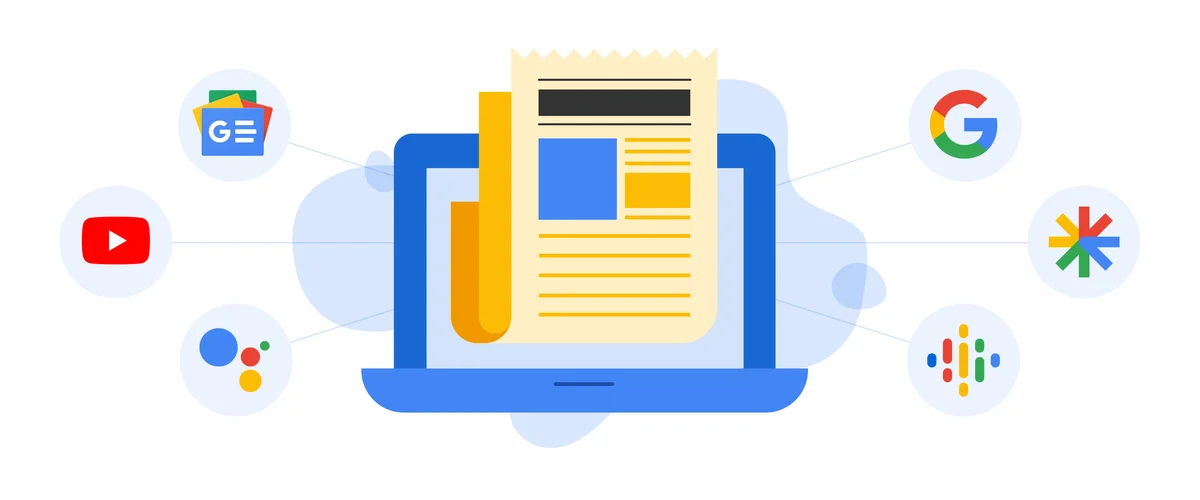 Like many others, news organizations are navigating new ways of working remotely. This month, we're looking at how technology can support and elevate the efforts of journalists who are delivering essential information to their readers.
Supporting fact checking efforts around the world 
Our fact check information panel on YouTube is now available in the United States. The information panel, which launched last year in India and Brazil, highlights fact check results from third-parties in search results for relevant queries, so viewers can make their own informed decision about claims made in the news. In addition, YouTube committed $1 million through the Google News Initiative to the International Fact-Checking Network (IFCN) to bolster fact-checking and verification efforts across the world. 
The fact check information panel on YouTube highlights fact checks in search results
Additionally, we worked with the designers at Polygraph to help create a visual database of COVID-19 fact-checking efforts led by the IFCN. This global collaborative project brought fact-checkers together to jointly combat misinformation about the pandemic, collecting a dataset of more than 4000 fact checks (and counting).
Supporting a more diverse global media industry
The Racial Equity in Journalism fund, created in partnership with Borealis Philanthropy, has awarded $2.3 million in grants to 16 news organizations serving communities of color across the U.S. The Fund's inaugural grantee cohort all serve audiences who have been historically underserved by mainstream media. 
In partnership with the GNI, Chicas Poderosas launched the Ambassador Leadership Training, a global program to strengthen and promote a more diverse media industry. The training will focus on tools and leadership skills to build, support, and sustainably run organizations and foster women's leadership in the media. The program will involve women from 17 countries throughout Latin America, Spain, Portugal, and the U.S.
Using StoryShare to collaborate on local COVID-19 reporting
AP StoryShare, a project supported by the Google News Initiative, allows newsrooms to share content and coverage plans. Editors in Colorado and Oregon are using StoryShare to collaborate on coronavirus reporting, assuring greater breadth of coverage and less duplication of effort at a time of dwindling resources. About 75 news organizations are participating in initial pilots throughout Colorado, Oregon, and New York.
Online trainings to help journalists find, verify and tell news stories
The global team of GNI Teaching Fellows led online training courses using tools like Google Earth
As journalists around the world adjust to new ways of working, we're making more training resources available online. We held 27 livestream training sessions in nine languages to help journalists find, verify and tell news stories during the pandemic, with additional tools added to the Google News Initiative Training Center.
In partnership with journalism network Outriders, we're also offering free tools, training, and support for journalists across Central and Eastern Europe. Live online workshops are offered on a range of topics, from Verification to Geo Tools and Environmental Reporting. An overview of upcoming sessions can be found here, and new sessions will be added on a regular basis.
Insights from Asia Pacific case studies
News organizations in Asia Pacific are using GNI data tools like Realtime Content Insights and News Consumer Insights to grow their audience and build loyalty. In the Philippines, Rappler empowered its news organization with better user data to help achieve digital sustainability. In India, Dainik Jagran improved engagement during India's General Election by taking advantage of a cultural moment.
The power of words
In Japan, we launched "The Power of Words," a collaborative reporting project with 24 national and local news organizations. Through the words of athletes, the website delivers uplifting messages, creating an immersive storytelling experience. The website is also accessible, optimized for visual readability, and text voiceover thanks to a screen reader. 
That's all for April. Stay in touch with @GoogleNewsInit on social, and sign up for the GNI newsletter for more updates.