News Brief: August updates from the Google News Initiative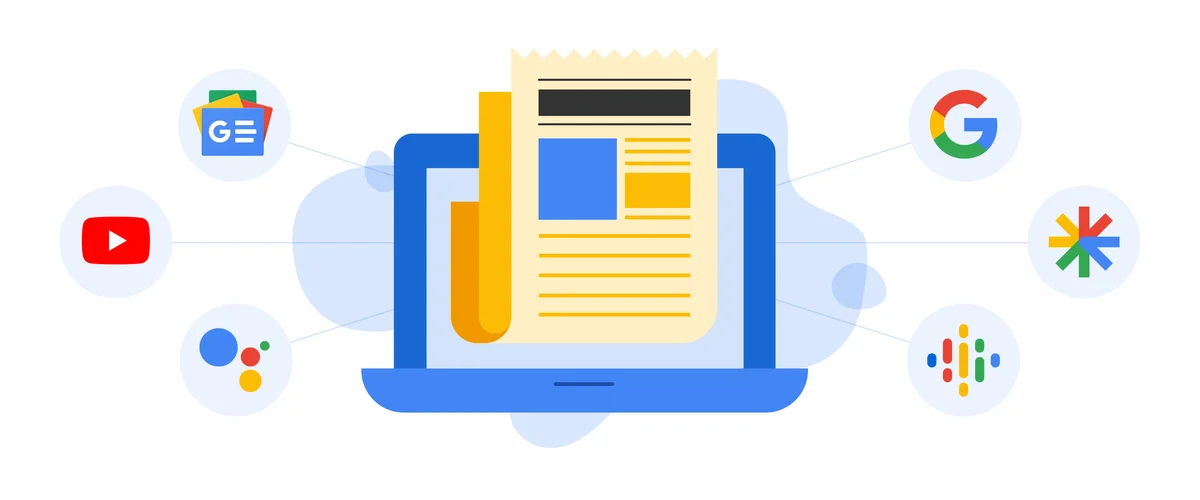 Last month, we focused on a number of strategies to empower journalists. Our projects included increasing access to technology, enabling press freedom, supporting prospective and emerging digital journalism founders and sustaining learning opportunities. Read on for August updates.
Supporting journalists in Afghanistan
Google and Googlers are providing more than $4 million in support to front line organizations aiding those who are particularly impacted by the crisis in Afghanistan. As part of these efforts, the Google News Initiative has donated $250,000 to the Committee to Protect Journalists to aid Afghan journalists.
Training aspiring journalists through the GNI Fellowship in Europe
Illustration by Roselyne Min
In partnership with the European Journalism Centre, we announced the 2021 class of the Google News Initiative Fellowship in Europe. Through the fellowship, 30 aspiring journalists from diverse backgrounds will be placed at participating newsrooms across 14 countries. During a period of eight weeks, these young professionals will develop skills in areas ranging from technology, multimedia and design to data, audience development and fact-checking.
Teaching small news organizations about artificial intelligence
Twenty journalists and media professionals from Africa, Europe and the Middle East have been selected for JournalismAI's first-ever AI academy for small newsrooms. Selected participants come from 16 different countries, including Nigeria, Lebanon, Denmark, Kenya, Turkey and Spain. They work for investigative journalism organizations, newspapers, news podcasts, financial news outlets and more. The academy was developed in partnership with POLIS, the journalism think tank at the London School of Economics and Political Science.
Celebrating innovation in journalism around the world
Building on the Digital News Innovation Fund in Europe, Google News Initiative Innovation Challenges have supported more than 180 projects that bring new ideas to the news industry. Around the world, we're learning from former Innovation Challenge recipients who are using their funding to drive innovation in news.
Innovation Challenge recipient Tiempo Argentino, the biggest cooperative media outlet in Argentina, has launched an open-source membership platform. It is also sharing instructions so that any nonprofit news organization can take the tools and do the same. Each component of their GitHub repository includes a tutorial with screenshots, pictures and FAQ guide for developers on how to use the tools. 
The Indian Express has launched Lighthouse Journalism, a crowdfunding platform to showcase and bring to light stories that are otherwise ignored or under-reported in mainstream media. Users can suggest topics for a journalist to cover and can raise money and support by campaigning through social media. The launch was coordinated to mark India's 75th Independence Day.
Breaking down the basics for news entrepreneurs
We launched a live and on-demand video workshop series in North America to support prospective and emerging digital journalism founders. The Startups Workshop series demystifies the process of launching a startup, breaks down the business basics of running an organization and showcases available resources from the GNI, like the Startups Playbook, GNI Startups Boot Camp and News Entrepreneur Slack Community. More than 500 publishers have tuned in so far for presentations led by founders like Candice Fortman of Outlier Media, Kara Meyburg Guzman of Santa Cruz Local and Megan Raposa of Sioux Falls Simplified.
Enabling the development of news products
We launched a series of product development through the Google News Initiative Digital Growth Program. More than 500 news organizations joined the first week of workshops across North America and Latin America. The workshops will expand to other regions and continue through October, covering topics such as "Executing your Product Vision" and "Best Practices in Product Thinking." News organizations can also apply to participate in our Product Labs, which provide hands-on guidance over several months on developing new products, with support from the Google News Initiative and industry experts.
Backing the next generation of journalists on YouTube
In April, we opened applications for two new YouTube programs focused on supporting the next generation of reporters and newsrooms: a creator program for independent journalists, which aims to help independent reporters succeed on YouTube, and the Sustainability Lab for digital-first newsrooms, which provides support for digital native news organizations to start and expand their video operations. Last month, we announced the selection of nearly 50 independent journalists and 40 digital-first newsrooms across both programs.
That's a wrap for August. For more updates, stay in touch on social and through our newsletter.