News Brief: March updates from the Google News Initiative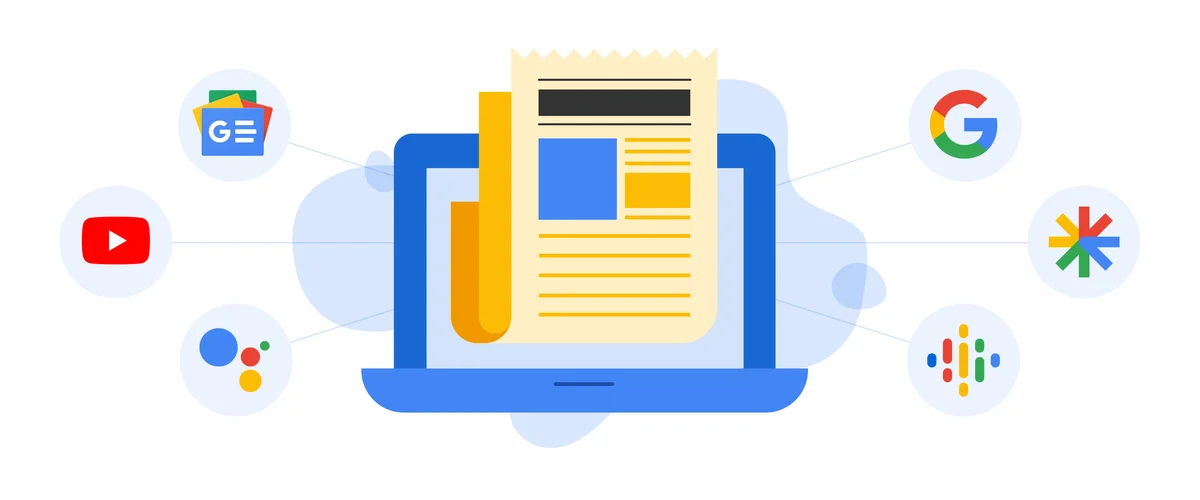 Three years ago we created the Google News Initiative to build a stronger future for news. The upheaval of the last year has accelerated the demand for journalism, as well as the need for news businesses to transition to digital and sustainable businesses. As we continue to learn from our news partners around the world, we remain committed to working closely with the journalism community to build the constructive and sustainable news industry that's necessary for our open societies to thrive. For March updates, keep reading.
Supporting the first diversity guide for German media 
Based on research in 2020, our partner Neue Deutsche Medienmacher*innen (NDM) launched the Diversity Guide for German Media, the first comprehensive handbook for German publishers and broadcasters that aims to provide diversity data, local and international best practices and checklists on team culture, recruiting and reporting. We announced the launch during a press conference with 150 journalists and on the Google Germany blog.
Gathering for a conference on diversity in journalism in Spanish-speaking Latin America
More than 2000 journalists from 18 countries attended the first
Latin American Conference
on diversity, gender and race in journalism, created in partnership with the
Knight Center
. A follow-up ebook with articles by the speakers will be published in May.
Journalist trainings on disinformation, data verification and digital tools are available to Latin American newsrooms for free online
Training on disinformation in times of elections
In an election year throughout Latin America, we launched a series of journalist trainings on disinformation, data verification and digital tools. In partnership with First Draft, LatamChequea and local partners, we'll provide training in seven countries: Argentina, Chile, Colombia, Costa Rica, Ecuador, Peru and Mexico. Registrations are free and open online.
Evaluating the health of local news ecosystems
We know that accurate, fact-based news and information is critical for individual, community and local government health. We, along with other funders of news in local communities, share a common challenge: how to assess the health of a given local community's information ecosystem, and measure change over time.
In collaboration with the Knight Foundation and Democracy Fund, we supported Impact Architects to develop a playbook with a simple set of tools to help communities measure their local news industries, and measure them on an ongoing basis. This playbook was put to the test in nine U.S. communities of various sizes, and in March, we released a report with detailed findings from each of these assessments.
Growing news audiences through the Digital Growth Program
As part of the Digital Growth Program, which was designed to help small and medium publishers grow their online business, we launched new audience development resources including short guides, workshops and labs. The resources build on our analytics tool, News Consumer Insights. Workshops are free and available in English in North America and Asia Pacific, Spanish, Portuguese, Japanese, Korean and Indonesian. 
The program aims to provide news organizations with practical tips and strategies to develop and grow their readers over time by better understanding their readers, using data analytics, establishing clear goals and building an organizational culture centered around audience. So far more than 1300 people have joined our workshops, which will continue throughout April and are also available on-demand. 
Bringing the GNI Startups Lab to North America
We kicked off the North American GNI Startups Lab, a six-month accelerator for 10 early-stage news businesses seeking financial sustainability and growth. The Lab is being run in partnership with LION Publishers, and builds on the work of Startups Lab Brazil, which launched last year. We plan to announce additional regions for future labs over the coming months.
Driving innovation around the world
Building on the €150 million Digital News Innovation Fund, GNI Innovation Challenges have supported more than 150 projects that inject new ideas into the news industry. Last month, we launched the second Innovation Challenge in Latin America in Spanish and Portuguese, focused on building sustainability and diversity. Q&As are available in Spanish and Portuguese, and applications are open until May 3. 
Around the world, we're learning from former Innovation Challenge recipients who are using their funding to drive innovation in news.
Sylvio Costa, founder of Congresso em Foco
Through the first Latin America Innovation Challenge, Brazilian publisher Congresso em Foco has increased their site traffic by 67% year over year. It also generated enough revenue to build and maintain the largest database of federal parliamentarians in the country. This project helped them to grow their understanding of the Brazilian Congress and new business models for journalism.
The editors of Vibez, accompanied by the text "Meet the editors" in Polish
In Poland, Wirtualna Polska developed a news service for Millennials and Generation Z readers called Vibez, which recently won the Mobile Trends Awards 2020 after receiving over 150,000 unique users per month and 96% of their traffic from mobile.
Using reader data to boost subscriptions for Finnish publisher Sanoma
riptions at Helsingin Sanomat, Finland's most-read daily newspaper. By feeding audience data to the BigQuery machine-learning platform, Sanoma determines which readers are most likely to pay and what content is most relevant to them. Another tool creates a personalized digital front page, offering relevant articles to likely subscribers. The program has pushed subscriptions to above 400,000 and from 23% to 60% of the publication's sales.
Increasing user engagement for Jagran New Media with a data-driven content plan 
Through the GNI Data Lab in Asia Pacific, the Hindi news site Jagran.com created a tool for measuring content performance in real time. The dashboard helped editorial teams make more informed decisions, resulting in a 20% increase in article completion rate among the site's most loyal readers and a 15% increase in the rate at which those readers clicked through to another article. 
Using AI to make Frankfurter Allgemeine Zeitung's paywall smarter
The German daily Frankfurter Allgemeine Zeitung (F.A.Z.) now has a valuable aid when it comes to deciding which articles should sit behind the paywall. Using a tool powered by Google's machine learning, F.A.Z. editors can analyze previous top performers and predict which current articles will produce similar results. The tool has proven accurate — about half of the predicted conversion rates are nearly 100% accurate — but editors still make the final decision.  
That's all for March updates. To learn more, follow along on our newsletter and social.