One KUAM: Building bridges for live news in the Pacific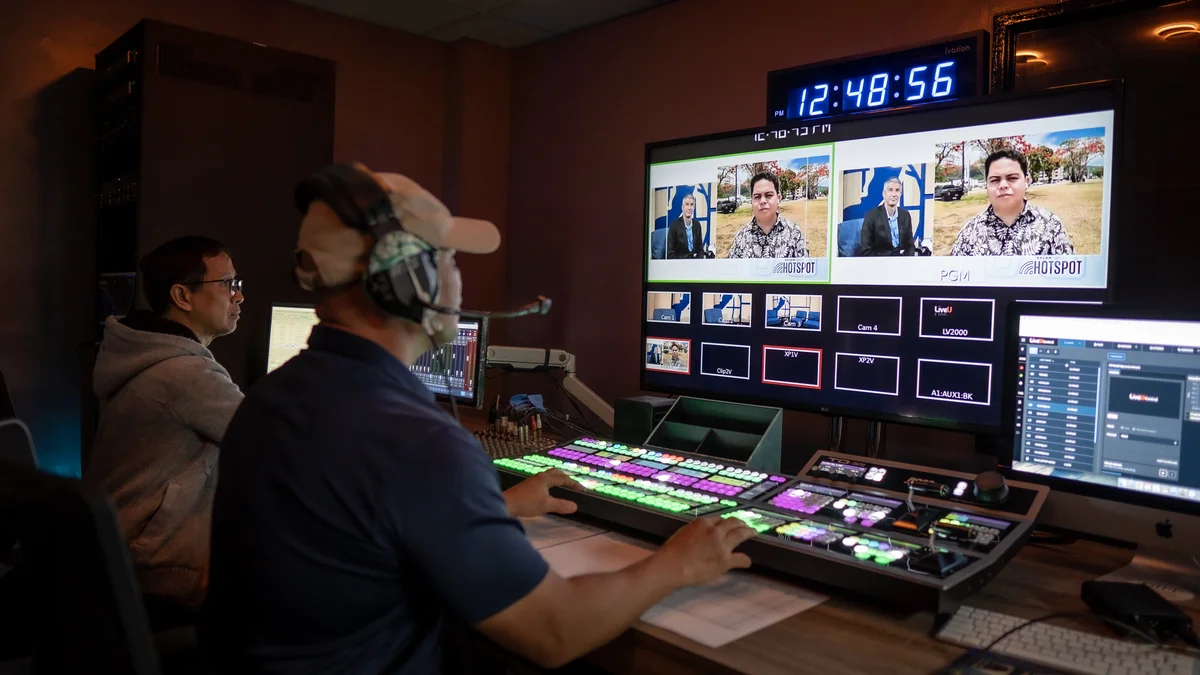 Editor's note from Ludovic Blecher, Head of Google News Initiative Innovation: The GNI Innovation Challenge program is designed to stimulate forward-thinking ideas for the news industry. The story below by Marie Calvo Monge, CEO, KUAM/Pacific Telestations LLC , is part of an innovator series sharing inspiring stories and lessons from funded projects.
With a population of 50,000 spread across an archipelago of tiny islands, the Commonwealth of the Northern Mariana Islands (CNMI) in the Pacific has often been too remote for other Guam based broadcast news crews to carry live coverage.
Previously, my organization's coverage of significant events in the CNMI was handled in one of two ways: we could wait for a tape-delayed file from the island chain's only local news operation, which was a lengthy process that taxed our workflow and internet bandwidth capabilities. Or we could send a two-person crew to gather the story, which they would edit and publish upon return to Guam, which was costly with airfare, transportation and lodging costing approximately $2,000 per trip.
But that has all changed thanks to the Google News Initiative Innovation Challenge funding the One KUAM project, which has enhanced and expanded the quality content our media group produces for and about our Pacific region.
Now, our regional correspondent operates efficiently as a "one-person band" and can send live HD quality video via their mobile device. We're able to report live from multiple locations on broadcast and streaming, and we've even been able to feature live reports in HD from Tinian and Rota, the smaller islands of the archipelago, with a combined population of 5,000. We're the first broadcast news station on Guam to do this.
These improvements have helped us achieve our goal of expanding our regional coverage and sharing the stories of Indigenous Pacific Islanders with more people. Our expanded coverage has brought more information to the homes of our viewers in the CNMI and also helped show how current issues – from climate change and COVID-19, to military training and cultural revitalization – impact the region as a whole.
The increase in news coverage from the CNMI has also opened up a new advertiser revenue stream, with local businesses and agencies in the region now advertising on our stations to appeal to our expanded audience. Prior to rolling out the One KUAM project, we had no advertisers from that market. Since March 2022, we've drawn in nearly $15,000 in advertising revenue from CNMI advertisers.
KUAM gained a noteworthy increase in viewers from our expansion to regional interactive coverage once we began reporting on events in the CNMI last fall. That market has been underserved in news coverage since the start of the pandemic, and our videos published to YouTube have generated an average of 10 times more views than usual from the CNMI. Our Facebook and Instagram posts have been viewed an average of seven times more than our normal traffic benchmarks, and videos on those platforms have been viewed and shared three times more than comparable coverage in our domestic market. Our overall growth of frequent users has increased 5.7%, with the overwhelming majority of those being from the CNMI.
We've made the leap from analog to fully digital operations and streamlined the workflow of our journalists. They now can gather and produce news with a more flexible multimedia skill set, integrating functions such as creating their own graphics, cross posting social and web content, and launching live reports for broadcast and live stream in HD directly from their mobile devices. Our new way of connecting to multiple internet connections has transformed the way we incorporate live reports into our productions while the teams can still use their existing cameras and mobile devices.
Our mission now not only includes hyperlocal journalism on Guam and national headlines from the mainland, but also regional stories from across the Western Pacific.
KUAM is Guam's first commercial broadcast and news media group and has been broadcasting on television and radio for more than 65 years. We've also ushered in many innovations in our history. We were the first media group locally to garner national network affiliations (NBC and CBS) and the first to broadcast international sporting and news events locally via satellite. We were also the first to produce local broadcast news on Guam.
The GNI Innovation Challenge support we received has helped us continue that legacy of firsts. We've evolved our operation from local and broadcast-centric to the first and only one in the region that's accessible to a global audience on multiple platforms and devices in a quality HD format.