When journalists collaborate instead of compete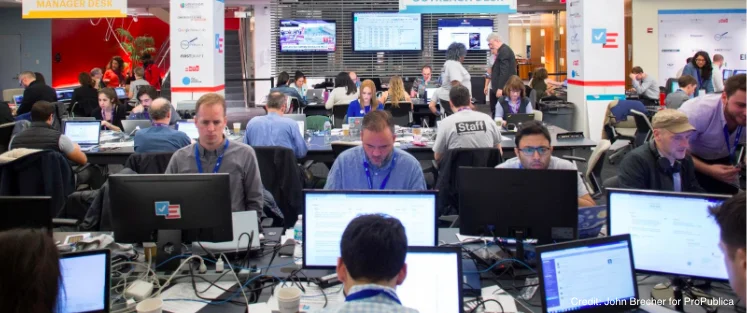 At ProPublica, a nonprofit investigative news organization, collaboration is part of our DNA. Since we first started publishing 11 years ago, we've partnered with news organizations all over the U.S., from the Des Moines Register to the New York Times, and from NPR to CBS News. Those collaborations have taken many forms. In the past few years, we've taken on very large scale partnerships, working with many newsrooms at once, sharing a data set that hundreds of reporters could use to do their jobs.
We've learned that it's not easy to wrangle hundreds of journalists on a single project—but we've developed some strategies and tools to help. With the support of the Google News Initiative, we're publishing a guidebook to collaborative data journalism, including big crowdsourced projects like the ones we've done. The guide provides tips for establishing collaboratives, managing workflows and tracking your work. Our collaborative reporting guidebook is available on our website. Our database tool will be available in the fall.
For the past few years, we've been working with the Google News Initiative on making large-scale collaborations possible. In 2016 and 2018, we worked together on the Electionland project, which monitored voting problems in real time. (Google provided financial support for the 2016 Electionland.) That project allowed ProPublica and our partners to tell stories about long lines, voter check-in issues, voter ID and much more, reporting on these problems as they arose so that authorities could have the opportunity to address them. 
Starting in 2017, Google and ProPublica have worked together on building tools for Documenting Hate, which tracks hate crimes and bias incidents. We've reported on how hate manifests itself in communities big and small, from schools and universities to superstores and supermarkets. We are now taking what we've learned and the tools we've built and giving them away so that other newsrooms can launch and run their own collaborations around data. 
When we start a large collaboration, local and national newsrooms sign up to get access to the data we've collected, which they can use to report their own stories. That way, we can make the most out of a big set of data, and help reporters all over the country tell stories. We've also built software to help organize, verify and share tips; we'll be making that available for other newsrooms to use later this fall. You can sign up using our form to learn when our collaborative reporting tool is ready.
While collaboration in journalism has grown considerably in the last few years, we know that some newsrooms are still hesitant due to concerns about competing with other media organizations and getting exclusive access to sources. But through our experience with these projects, we know that journalists can do great reporting through collaborations. This guide demonstrates that by working together, newsrooms can benefit by reaching larger audiences, finding new stories and making the most out of large data sets. We hope it will be helpful and will inspire more journalists to work together.