Expanding access to computer science education with Code.org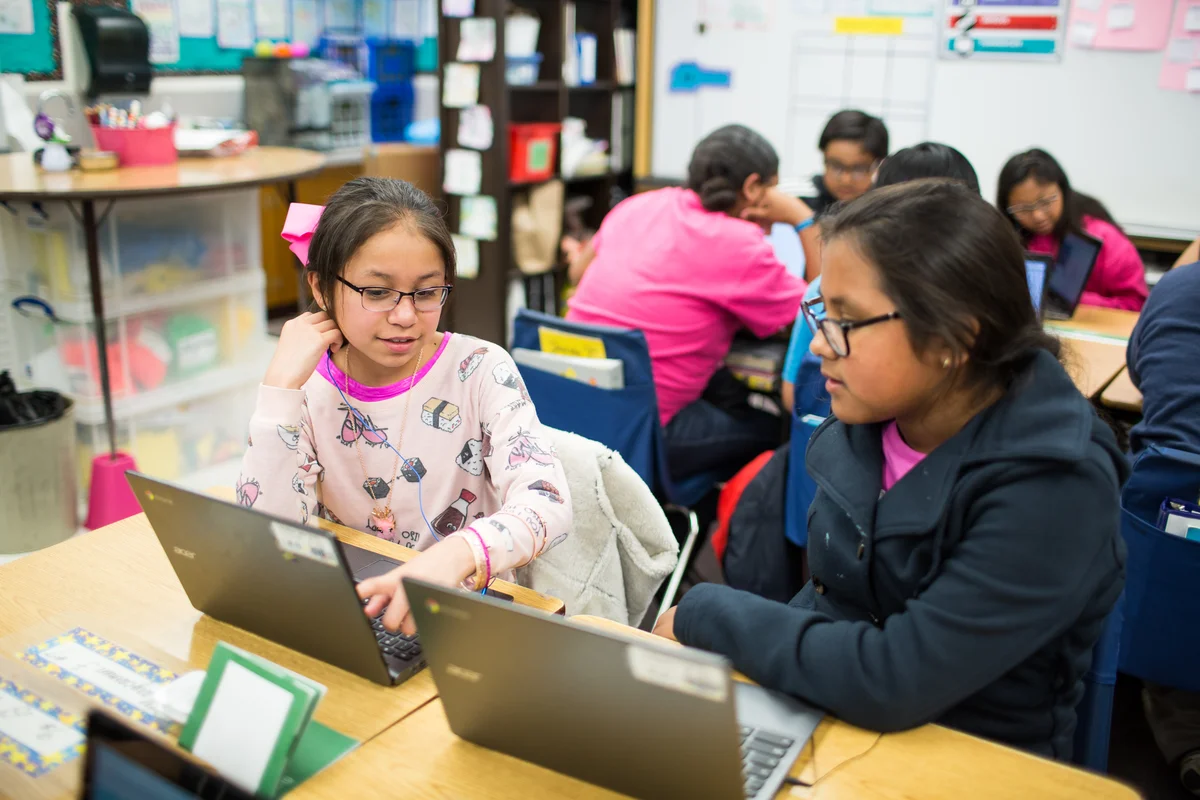 It's one thing to hear from your teacher that computer science is a valuable skill to learn. It's another to hear from professionals using and interacting with computer science concepts every day to help students envision their career paths.
Last month, 35 classrooms and over 1,000 students signed up to hear from Taylor Roper, a Program Manager on Google's Responsible AI team.
"One thing that drew me to this team at Google is that it's oriented toward helping people," Taylor shared with the students. She then reflected on her path to Google: "In high school, I took a web design course and loved it. I loved constructing the page and seeing it happen in real time. Being able to solve a problem and see the result, solve another problem and see the result — that was really satisfying to me."
These virtual chats and field trips are part of Code.org's new CS Journeys program to help students use their computer science (CS) knowledge and skills beyond the classroom, and discover CS in unexpected places. Students hear directly from professionals who use computer science in unique and creative ways, like modeling the universe, building robots, or — in Taylor's case — helping to build responsible artificial intelligence tools for products used by millions of people.
"I remember being in elementary school and people would talk to my class about their careers, but they never looked like me or my family," Taylor said when reflecting on her participation in the event. "To be a representation of possibilities for a Black child feels like a full-circle moment. I hope I was able to show a child from my community that there is a place for them in tech. Programs like CS Journeys are so important and needed."
In addition to these sessions, CS Journeys also provides teachers with a collection of resources for students of all ages to help them imagine a journey pursuing CS — from young K-5 students to older teens who are starting to think about college and beyond.
Google.org is proud to continue supporting these efforts with a $1.5 million grant to expand the CS Journeys program, provide professional development workshops, enhance curriculums focused on cultural and gender responsiveness, and launch programs for engaging Black and Latino/Hispanic students studying CS.
Our values at Google closely align with Code.org's mission to expand access to computer science, and help more young women and students from underrepresented groups participate. Our tight partnership has supported teachers, inspired students, and brought quality computer science into the classroom.
"Google has been a steadfast supporter of Code.org over the years," said Hadi Partovi, Founder and CEO of Code.org, "increasing our ability to reach classrooms on our platforms and engage with students through campaigns and programs. We are grateful for their continued support and excited about the additional impact we can make."
Code.org's projects over the next two years will support access, diversity, and inclusion in CS classrooms, and focus on engaging students and parents from historically marginalized groups. Because regardless of the passions they ultimately pursue, every student deserves the chance to explore, advance, and succeed in computer science — a foundational subject that impacts all industries and touches so many aspects of our everyday lives.
To check out more CS Journeys events, including an upcoming conversation with Google's Pre-College Programs Lead Kyle Ali, visit Code.org/CSJourneys.