Fostering a love for reading among Indonesian kids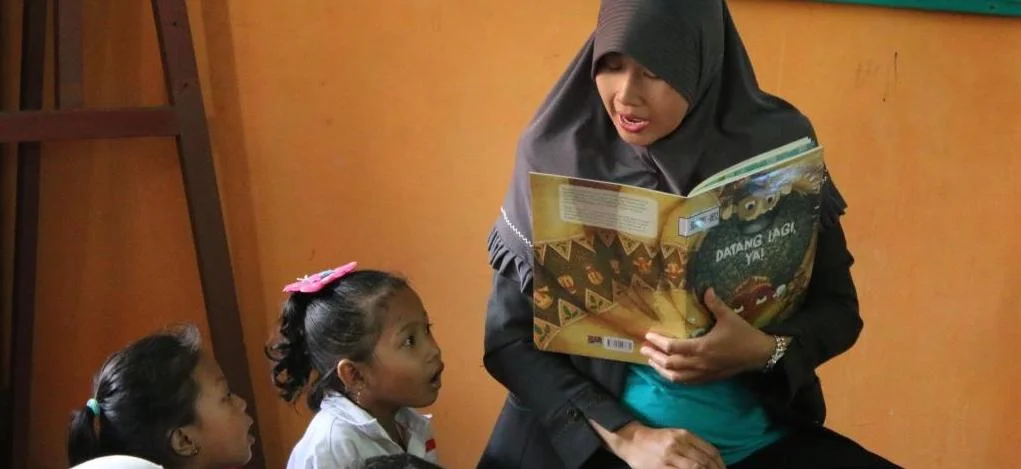 Siti Arofa teaches a first grade class at SD Negeri Sidorukan in Gresik, East Java. Many of her students start the school year without foundational reading skills or even an awareness of how fun books can be. But she noticed that whenever she read out loud using different expressions and voices, the kids would sit up and their faces would light up with excitement. One 6-year-old student, Keyla, loves repeating the stories with a full imitation of Siti's expressions. Developing this love for stories and storytelling has helped Keyla and her classmates improve their reading and speaking skills. She's just one child. Imagine the impact that the availability of books and skilled teachers can have on generations of schoolchildren.
In Indonesia today, it's estimated that for every 100 children who enter school, only 25 exit meeting minimum international standards of literacy and numeracy. This poses a range of challenges for a relatively young country, where nearly one-third of the population—or approximately 90 million people—are below the age of 15.  
To help foster a habit of reading, Google.org, as part of its $50M commitment to close global learning gaps, is supporting Inibudi, Room to Read and Taman Bacaan Pelangi, to reach 200,000 children across Indonesia.
We've consistently heard from Indonesian educators and nonprofits that there's a need for more high-quality storybooks. With $2.5 million in grants, the nonprofits will create a free digital library of children's stories that anyone can contribute to. Many Googlers based in our Jakarta office have already volunteered their time to translate existing children's stories into Bahasa Indonesia to increase the diversity of reading resources that will live on this digital platform.
The nonprofits will develop teaching materials and carry out teacher training in eastern Indonesia to enhance teaching methods that improve literacy, and they'll also help Indonesian authors and illustrators to create more engaging books for children.   
Through our support of this work, we hope we can inspire a lifelong love of reading for many more students like Keyla.
Photo credit: Room to Read