Connecting more Americans to in-demand digital skills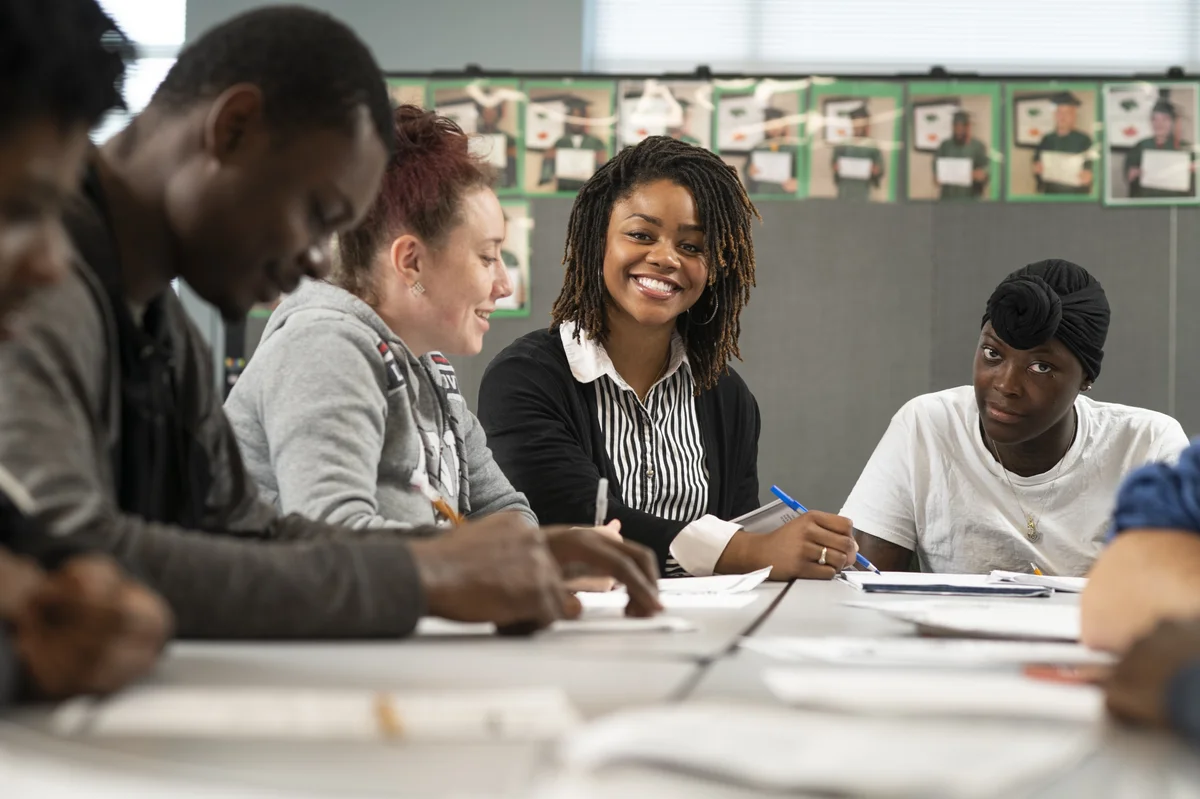 America's employers are starting to look at the world differently as they look for talent to fill their growing needs. Many businesses are moving beyond narrowly defined degree requirements. They're seeking employees who may have acquired skills through alternative routes, which may include career experiences and targeted training programs.
Since only 36% of American adults have four-year college degrees, requiring that piece of paper automatically screens out 70% of rural workers, almost 70% of African-American workers and 80% of Latino workers.
When employers hire for relevant skills, rather than screening for degrees, we get access to a talent pool that is qualified, ready to work, and significantly more diverse. But for employers to hire people with the requisite skills, people must have successful avenues to acquire those skills.

Today in the U.S., the reported number of unemployed people is 5.9 million. That number grows dramatically when we include people who are underemployed, are earning low wages or have stopped looking for work. At the same time, there are more than 11 million unfilled jobs, many open because employers say that they can't find the people with the requisite skills.
By all indications, this is a skills gap problem that's only going to get worse. By some estimates, 80% of "middle-skill" U.S. jobs now require digital skills. And the World Economic Forum estimates that up to 50% of workers will need to add new skills to keep up with the requirements of in-demand careers.
Fortunately, innovative initiatives are equipping people to gain relevant expertise. Since 2017, Google and Goodwill have partnered to bring digital skills to local communities and help people get good jobs that don't require a degree.
Which brings us to some news we're sharing today: Google.org is announcing a $14 million reinvestment in the Goodwill Digital Career Accelerator. This includes grants and in-kind support to help Goodwill continue to provide digital training pathways and support job placement for people seeking jobs.
Google's expanded support includes $7 million in Google.org grants and $7 million in donated Search ads, which will help Goodwill reach more than 200,000 people across the U.S. and Canada with digital skills and career training so they gain economic mobility. The funds support infrastructure development and expansion like tracking systems for hiring and training that will improve the reach and effectiveness of Goodwill's services at the local level. Finally, through the Google.org Fellowship, ten Google employees are working full-time pro bono to help Goodwill better reach job seekers online so they can connect with local Goodwill career coaches and work toward brighter futures.
With support from Google.org, Goodwill has helped more than a million people gain digital awareness and new digital skills, and placed more than 300,000 overlooked job seekers in digital economy jobs.
There have been some valuable lessons learned along the way:
Meet learners where they are. Many people don't know that Goodwill places more people in jobs than any other non-government, nonprofit in America. Over the years, Goodwill teams have found access is one of the biggest barriers for people who want to gain digital skills. Goodwill makes training readily available and convenient at Goodwill locations within communities across the U.S. and Canada. More than 70% of the U.S. population lives within a 20-mile radius of a Goodwill mission services location.

Remove barriers to learning with enhanced support. There are dozens of reasons why people might drop out of a learning program or not sign up in the first place. Living stipends, connectivity support, transportation credits, career navigators and other resources make it possible for people to participate in and complete training so that they can earn career certificates.

Commit to creating pathways to upward mobility. Digital skilling must lead to real jobs with opportunities for growth. Close employer relationships are essential to connect graduates with hands-on internships, apprenticeships, and other learn-and-earn options. An example is Kara Isreal Gooch, a Google Career Certificate graduate who landed a job at Accenture with help from Goodwill and our consortium of employers who have agreed to consider Google Career Certificate graduates for jobs.
Through collaborations like the one between Goodwill and Google, we're learning what works and what doesn't. By aligning the right resources, we can build the systems and capacity needed to close the digital skills gap and connect Americans with the skills and support they need to compete in the 21st century economy. In every community, we need talent equipped and participating in our rapidly changing labor market.
Interested in learning more about ongoing initiatives to promote workforce development and connect job seekers with careers and resources? Join Goodwill's Steve Preston, Google's Kent Walker and experts from across the labor field today at the Rising Together Action Summit. The live-streamed event kicks off with a fireside chat at 10am EST/ 7am PST.