Empowering social entrepreneurs in Europe: Introducing the Google.org Social Innovation Fund on AI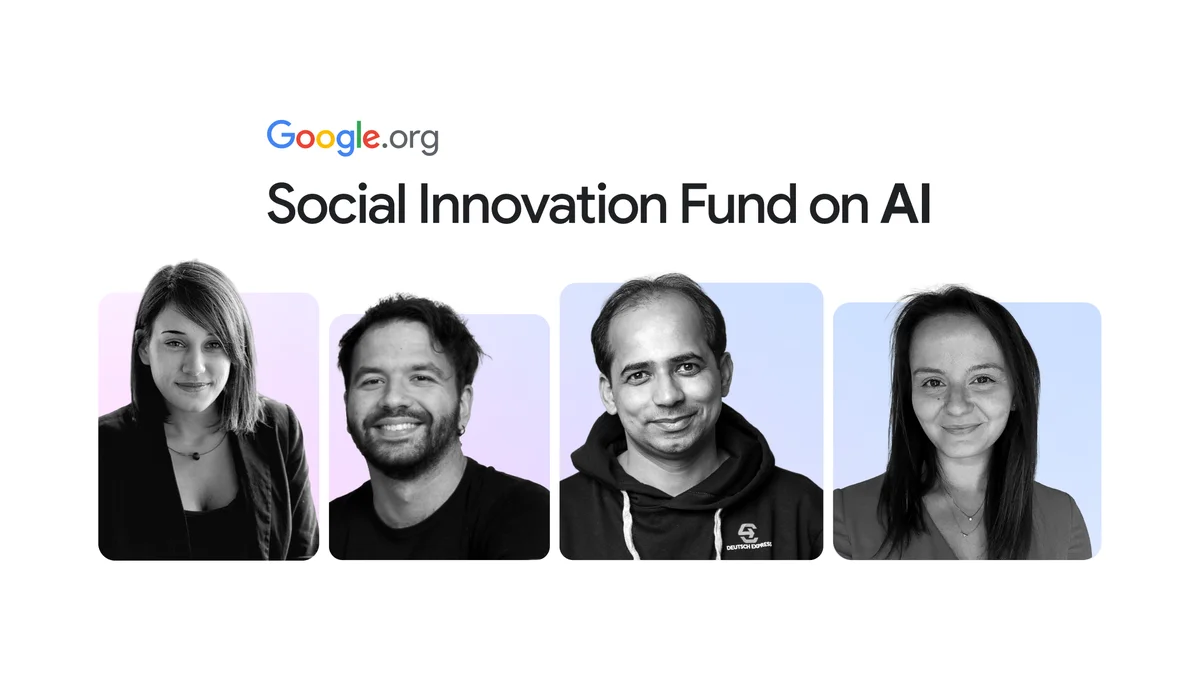 Everywhere we look, AI is providing our economies and communities with new and exciting opportunities. From tracking real-time global carbon emissions, to predicting disease outbreaks, to helping communities unlock their potential, AI can transform how we tackle social and environmental challenges here in Europe and globally.
Today, to help social entrepreneurs share in this opportunity, we're launching the Google.org Social Innovation Fund on AI. By providing €10 million in funding, as well as mentoring and support, we're helping entrepreneurs from underserved backgrounds develop transformative AI solutions and apply them to the issues they're tackling on a daily basis. From advancing climate solutions, providing upskilling and access to employment, to fighting disinformation, these entrepreneurs will have the goal of making the benefits of AI available to everyone.
Empowering underserved social entrepreneurs
Research reports show social entrepreneurs in Europe face significant barriers to growing their business and scaling their impact. Those hurdles are especially acute for those that come from underrepresented communities. Accessing the technical expertise to best apply this technology, and raising the capital needed to scale AI-powered social solutions, seems to be out of reach for many.
To help address this challenge, the new Google.org Social Innovation Fund on AI will focus on:
Providing capital: Through a grant to INCO, we'll be supporting the expansion of Social Tides, a bespoke accelerator program funded by Google.org, that will provide cash grants of up to $250K, dedicated support and AI-expertise for underserved social entrepreneurs.
Sharing expertise: Our Google for Startups Accelerator team will be providing INCO with best in class mentoring and technical support from AI experts, as well as training on how to develop AI responsibly.
Growing the AI ecosystem: Supporting nonprofits in Europe with grants to provide and grow access to training and support to underserved social entrepreneurs on how to develop and deploy AI solutions.
Accelerating social solutions with AI
This new fund will build on our work to turbocharge social entrepreneurship in Europe, where we've already given over €20 million in funding and support through our initial Google.org Social Innovation Fund in 2021. Through that fund, we also saw a number of entrepreneurs looking to apply AI to achieve their mission. Promilist in Greece for example, is using AI, naval engineering and earth observation data to find the best shipping routes with the aim of reducing fuel consumption and greenhouse gas emissions by up to 20%. Elsewhere in Europe, The Newsroom in Portugal has created an AI powered mobile app that encourages a more contextualised reading experience and aims to reduce polarisation in society.
Google.org has already given more than $100 million to nonprofits and social enterprises around the world that are using AI to drive social impact. We're seeing these organisations achieve their goals three times quicker and at nearly half the cost, thanks to AI, and now, we want to enable even more applications of this transformative technology for impact.
Spotlight on Sweden
We're excited that Google CEO Sundar Pichai is in Stockholm this week to share the news of the fund and that €1 million of the fund will be dedicated to nonprofits helping to strengthen and grow social entrepreneurship in Sweden. We know that Sweden has many excellent social innovators, including innovators such as Kristian Rönn, one of our global Google.org Leaders to Watch, who is helping millions of organisations automatically compile carbon reports so they can reduce their emissions.
Time is of the essence
As we near the halfway point to reach the UN's Sustainable Development Goals by 2030, time is of the essence if we are to make the necessary progress within this critical timeframe. That's a message not lost on social entrepreneurs. That's why we're hopeful that by empowering social entrepreneurs to create and scale AI-based solutions, together we'll accelerate progress toward the Global Goals and a more just,green planet.