A Matter of Impact: April updates from Google.org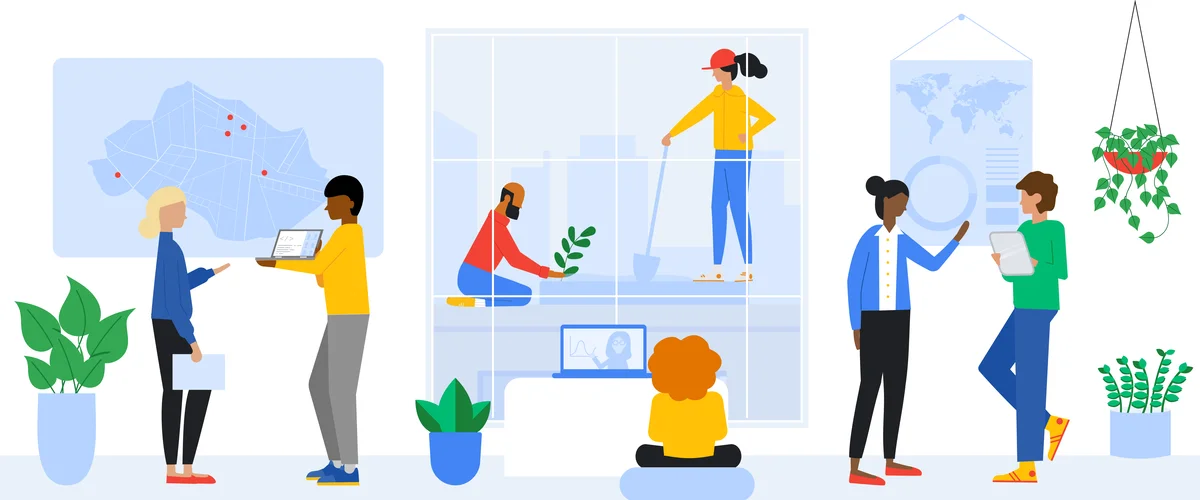 Last week we celebrated Earth Day — the second one that's taken place during the pandemic. It's becoming clear that these two challenges aren't mutually exclusive. We know, for example, that climate change impacts the same determinants of health that worsen the effects of COVID-19. And, as reports have noted, we can't afford to relax when it comes to the uneven progress we're making toward a greener future. 
At Google, we're taking stock of where we've been and how we can continue building a more sustainable future. We've been deeply committed to sustainability ever since our founding two decades ago: we were the first major company to become carbon neutral and the first to match our electricity use with 100 percent renewable energy. 
While we lead with our own actions, we can only fully realize the potential of a green and sustainable world through strong partnerships with businesses, governments, and nonprofits. At Google.org, we're particularly excited about the potential for technology-based solutions from nonprofits and social innovators. Time and again we hear from social entrepreneurs who have game-changing ideas but need a little boost to bring them to life. 
Through programs like our AI for Social Good Initiative and our most recent Google.org Impact Challenge on Climate, we are helping find, fund, and build these ideas. Already they're having significant impact on critical issues from air quality to emissions analysis. In this month's digest, you can read more about some of these ideas and the mark they're making on the world. 
---
In case you missed it 
Earlier this month, Google shared our latest series of commitments to support vaccine equity efforts across the globe. As part of this, Google.org is supporting Gavi, The Vaccine Alliance, in their latest fundraising push with initial funding to help fully vaccinate 250,000 people in low and middle income countries, technical assistance to improve their vaccine delivery systems and accelerate global distribution and Ad Grants to amplify fundraising efforts. We've since kicked off an internal giving campaign to increase our impact, bringing the total vaccinations funded to 880,000 to date, which includes matching funds from Gavi. And in the U.S., we've provided $2.5 million in overall grants to Partners in Health, Stop the Spread and Team Rubicon who are working directly with 500 community-based organizations to boost vaccine confidence and increase access to vaccines in Black, Latino and rural communities.

Gavin McCormick, Executive Director of WattTime
Hear from one of our grantees: WattTime  
Gavin McCormick is the Executive Director of WattTime, a nonprofit that offers technology solutions that make it easy for anyone to achieve emissions reductions. WattTime is an AI Impact Challenge grantee and received both funding and a cohort of Google.org Fellows to help support their work, particularly a project that helps individuals and corporations understand how to use energy when it's most sustainable and allows regulators to understand the state of global emissions. 

"Data insights powered by AI help drive innovative solutions — from streaming services' content suggestions to navigation on maps. But they're still not often applied to some of the biggest challenges of our time like the climate crisis. My organization harnesses AI to empower people and companies alike to choose cleaner energy and slash emissions. Like enabling smart devices such as thermostats and electric vehicles to use electricity when power is clean and avoid using electricity when it's dirty. Now with support from Google.org, we're working with members of Climate TRACE — a global coalition we co-founded in 2019 of nonprofits, tech companies and climate leaders — to apply satellite imagery and other remote sensing technology to estimate nearly all types of human-caused greenhouse gas emissions in close to real time. We can't solve the climate crisis if we don't have an up-to-date understanding of where the emissions are coming from." 

Alok Talekar, a Google.org Fellow with WattTime
A few words with a Google.org Fellow: Alok Talekar
Alok Talekar is a software engineer at Google who participated in a Google.org Fellowship with WattTime. 
"I am a software engineer at Google and work on AI for social good with a focus on the agricultural sector in India. The Climate TRACE Google.org Fellowship with WattTime gave me the opportunity to change my career trajectory and work on climate crisis solutions full time. The mission that Gavin McCormick and team are pursuing is ambitious, and technology can help make it a reality. Over the course of the Fellowship, the team was able to use machine learning to process satellite imagery data of power plants around the world and determine when a particular plant was operational based on the imagery provided. I then helped the team to model and validate the bounds of accuracy of this approach in order to predict the cumulative annual emissions of a given power plant. I was proud to be able to contribute to the project in its early days and to be part of the core team that helped build this massive coalition for monitoring global emissions."