A Matter of Impact: June updates from Google.org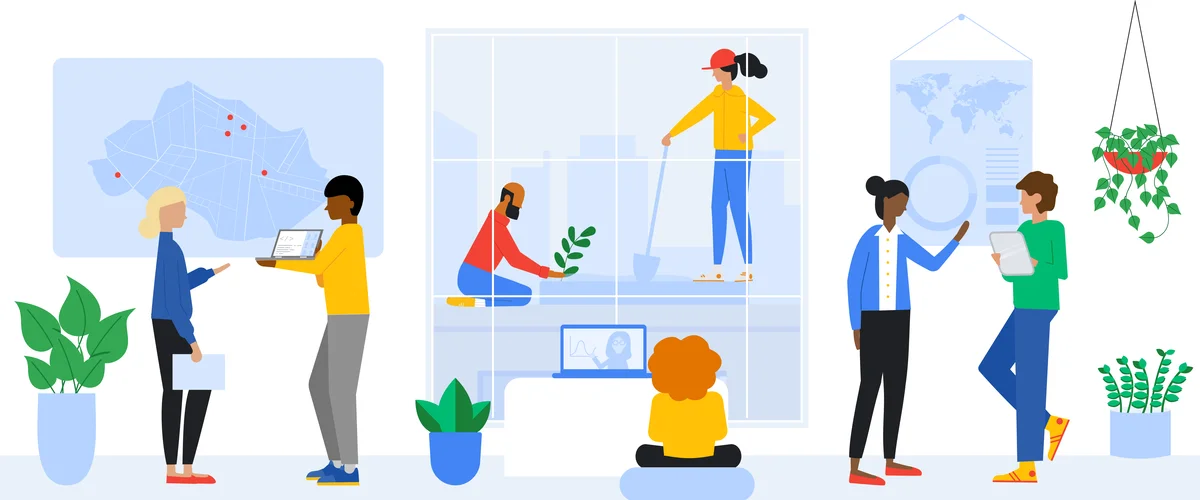 This week we wrapped up Pride Month, and while events looked a little different than usual, I was happy to still take part in virtual celebrations at Google and in my community. For me, Pride represents a time to celebrate progress, and also reflect on how much work is left to be done. 
Like it has for so many marginalized groups, the COVID-19 pandemic has had a distinct impact on LGBTQ+ people. Research from The Trevor Project and BeLonG To,  both Google.org grantees, shows that LGBTQ+ youth are experiencing more isolation, anxiety and loneliness than their straight and cisgender peers. A March 2021 poll from the Kaiser Family Foundation adds that LGBTQ+ adults have lost jobs and experienced mental health impacts at higher rates. And OutRight Action International found that these communities have been excluded from humanitarian interventions because of narrow definitions of family, binary gender classifications, biased staff and more.
That's why, for Pride this year, our support was focused on inclusive recovery from COVID-19. In this month's digest, we highlight these efforts that range from a new fund to help LGBTQ+ people in over 60 countries access basic resources to ongoing support for the Trevor Project's use of AI to help with crisis intervention. 
Of course, work for LGBTQ+ equality and inclusion doesn't start and end with Pride month, and we will continue to support those who advocate for LGBTQ+ rights year round and across the world.
---
In case you missed it 
As part of our cross-company celebration of Pride Month, Google.org granted $2 million to OutRight Action International's "Covid-19 Global LGBTIQ Emergency Fund," to help provide resources like food, shelter and job training to those in need. To further support advocacy for LGBTQ+ human rights globally and share critical community resources, we also provided $1 million each in Ad Grants to OutRight Action and the Transgender Law Center and the Transgender Legal Defense & Education Fund. 
Hear from one of our grantees: Marsha P. Johnson Institute 

Elle Moxley is the founder and executive director of the Marsha P. Johnson Institute.

Elle Moxley is the founder and executive director of the Marsha P. Johnson Institute (MPJI), an organization inspired by the famous activist, self-identified drag queen, performer and survivor. MPJI protects and defends the human rights of Black transgender people by organizing, advocating and creating an intentional community to heal, develop transformative leadership and promote their collective power.
"Last year, we created a Marsha P. Johnson Institute COVID-19 Relief Fund that received strong support from Google.org in the form of a $500,000 grant. The funding helped us provide one-time direct relief payments of $500 to BLACK transgender or non-binary identified people, furthering The Institute's mission to support those most beyond the margins. Thousands of BLACK LGBTQ+ people from across the U.S. applied for the grant program and recipients spanned 40 U.S. states and also included Columbia, Puerto Rico and Mali.We're so proud to be able to offer our own stimulus check, if you will, to BLACK transgender people from around the country. By the end of last year, we were able to donate over $250,000 to more than 500 individuals."
A few words with a Google.org Fellow: The Trevor Project

Riley Wong is a machine learning engineer at Google. They recently completed their Google.org Fellowship with The Trevor Project.

"As a mental health advocate and community organizer for queer and trans people of color, working with The Trevor Project was an excellent opportunity to apply my background in machine learning, natural language processing, and language generation to benefit a community I care deeply about. Many queer and trans youth, especially those who are Black and/or trans-feminine, face unique challenges with accessing mental healthcare and support. Especially in the face of COVID-19, a lack of safe and stable home environments can exacerbate the need for crisis intervention and suicide prevention services for our communities. Collaborating with The Trevor Project and other Google.org Fellows was an extremely rewarding experience." 
Read more about the project in this article from MIT Technology Review.