Providing Google.org support to LGBTQ+ organizations worldwide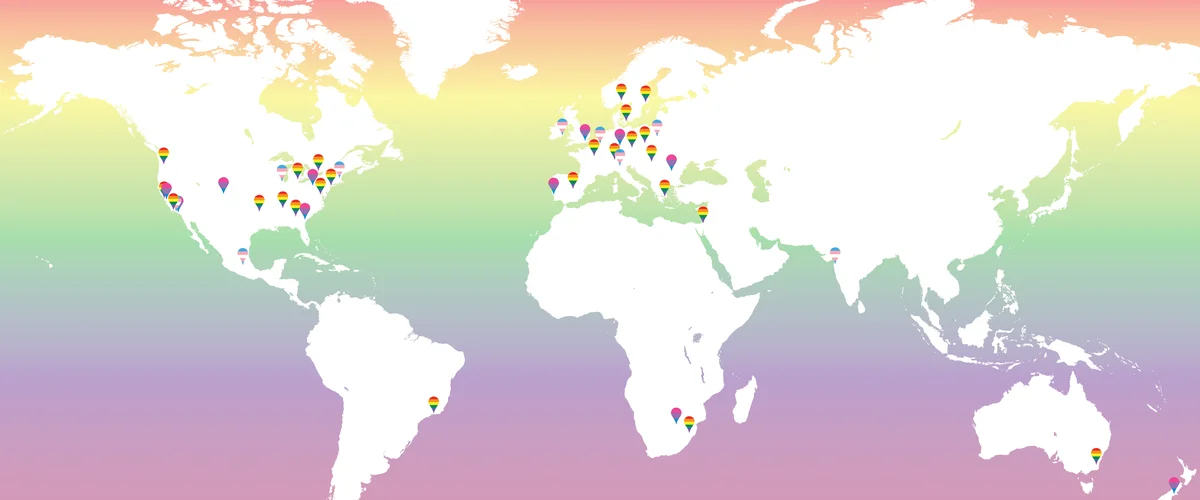 LGBTQ+ organizations around the world extend critical services to their communities every day. I've seen this firsthand in my work on the Google.org team, where I support organizations challenging bias and exclusion to advance social justice. As diverse as the local communities they serve, these organizations create cherished spaces to embrace our intersections and individuality, organize against injustice, and provide access to services. For the most vulnerable LGBTQ+ communities, including Black+ communities experiencing the disproportionate impacts of COVID-19 and racial injustice, these spaces and services are essential.

Today Google.org is donating more than $1.2 million to over 70 local LGBTQ+ organizations around the world—many of which are located in cities around the world where Google is proud to call home. Read on to learn how some of these grantees are meeting heightened health, social and economic risks impacting LGBTQ+ communities during this time, providing year round resources and support, and celebrating Pride.

Sheldon Darnell, Austin Black Pride, (Austin, Texas)
Our mission is to transform the living and social environments of LGBTQ+ people of color, with a focus on Black LGBTQ+ individuals. We focus on facilitating culturally-specific programs, policy, advocacy, and relationship building at the intersection of being both Black and LGBTQ+. While, this year, we had to cancel our annual Austin Black Pride celebration, we have been holding mental and spiritual wellness check-ins for our community to connect with licensed and trusted professionals. During a time where our community is on the frontline pushing for justice, it is important that we hold space to check in with ourselves and each other.

Rachel Kesley, Anaya Robinson, Marvyn Allen, Transformative Freedom Fund (Denver, Colorado)
Our mission is to support the authentic selves of transgender Coloradans by removing financial barriers to transition-related healthcare. COVID-19 has acutely impacted our community—gender-affirming surgeries have been rescheduled after years of waiting, and there are increased barriers to accessing necessary medical care or hormones. The isolation from COVID-19 is also particularly difficult because this year marks the 50th anniversary of the first Pride March, led by trans women of color, including Marsha P. Johnson, Sylvia Rivera, and Miss Major. Though the loss of the march this year is devastating, we'll engage with our community with unapologetic authenticity—the gift that makes our communities better, stronger and more beautiful.

Dameyon Bonson, Black Rainbow, (Australia)
At Black Rainbow, we provide advocacy and leadership to Indigenous Australians who identify as LGBQTI. We're a virtual volunteer group with members located across the country. We work to identify, address and alleviate a range of health outcomes in the community, including the prevalence of suicide and non-suicidal self-harm. During this period of increased stress and isolation, we're strengthening our response through a soon-to-be-circuited Indigenous LGBQTI+ survey related to the effects of COVID-19. The findings from this survey will be shared publicly to bolster the services that Indigenous LGBQTI+ people access.

Khuresha Ally, Pride of Africa (Johannesburg, South Africa)
Pride of Africa exists to liberate every LGBTQ+ African so they can live their most authentic life. One way we do this is hosting Johannesburg Pride, the oldest and biggest annual pride celebration in Africa. Pride is a place where Africans come to feel supported, hopeful, and seen. It also provides access through relevant partnerships for medical services that are often life sustaining for our community. But, right now, as the most reputable LGBTQ+ organization in Africa, we're raising funds for food and housing accommodation during a time when many in our community are going hungry and losing their jobs due to COVID-19.

Gloria Careaga Pérez, Fundación Arcoiris (Mexico City, Mexico)
We educate and influence stakeholders on the importance of protecting the rights of LGBTQ+ people in Mexico to achieve social justice and equality. In Mexico, there's widespread discrimination and violence aimed at the LGBTQ+ community—which is why visibility and education are key to our mission of achieving equality. This year, we're deepening our efforts to fight and report hate crimes and also planning a virtual parade for the city's 42nd march. Celebrating Pride is an essential part of recognizing our historical struggles, and we're using the opportunity to expand our reach beyond Mexico City and call for a fairer world for LGBTQ+ people.

Belle Haggett Silverman, Bisexual Resource Center (Boston, Massachusetts)
The BRC provides support to the bisexual+ community and raises public awareness about bisexuality, pansexuality, and other non-monosexual identities. Our office overlooks the plaza in Boston where Pride is held, and it's tough to think about not celebrating in-person this year. Instead, we'll engage with our community by holding virtual gatherings. We're hopeful that even though this Pride will be different, we'll find ways to be together. Anyone is welcome to send in their short videos honoring Pride, which we'll share as a bisexual+ pride montage on social media.

Karyn Skultety, Openhouse (San Francisco, California)
At Openhouse, we provide housing, services, and community engagement for LGBTQ+ seniors, who are one of the most at-risk populations for COVID-19, and face detrimental effects from long-term isolation. We're finding ways to connect these seniors with others, including over 1,000 support calls with every senior who has walked through our door and a socially-distanced drag show for residents to watch from their windows. It was amazing. Like other organizations, our annual Pride activities will look different this year, but we're keeping important traditions like our intergenerational Trans March, which will be virtual this year.

This year, I will be honoring the tradition of Pride by remembering the Black+ queer leaders who stood up at Stonewall and reflecting on my role in advancing justice today. I hope everyone finds a way to honor Pride that is meaningful to them, representing the traditions, struggles, and joys of their community.