How The Trevor Project continues to support LGBTQ youth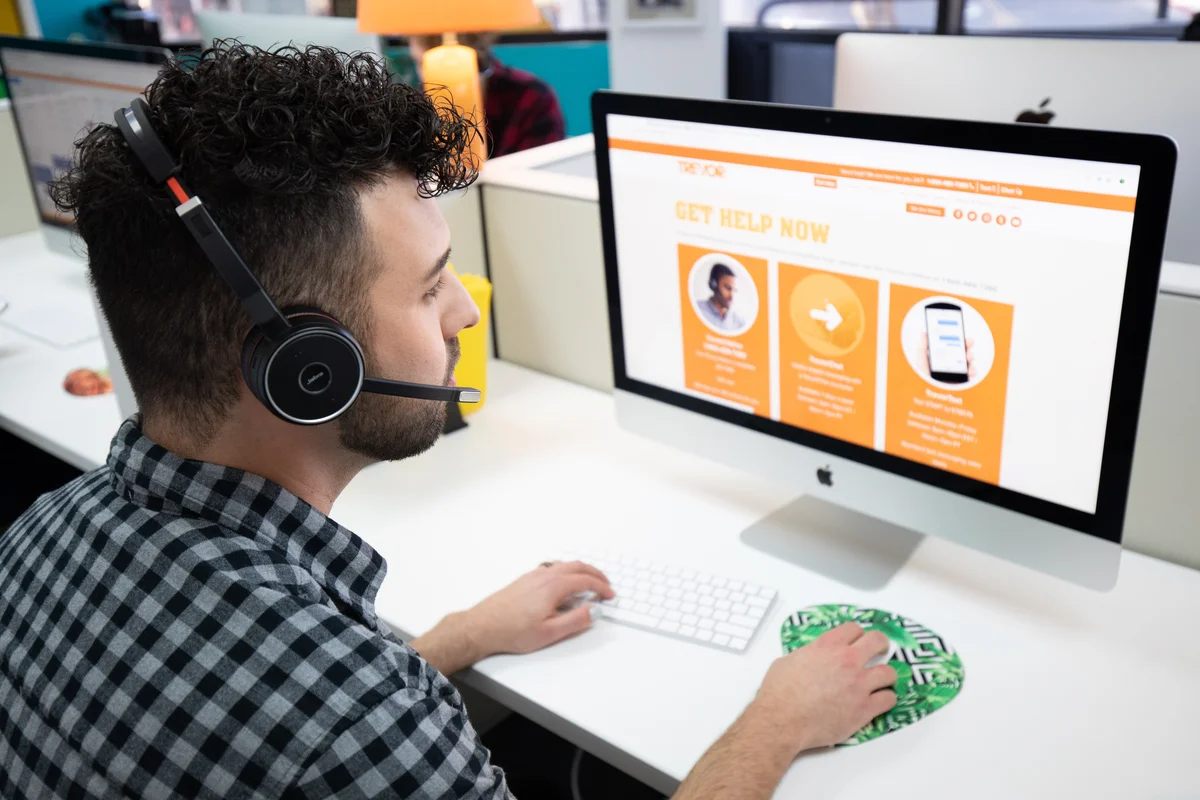 This September, National Suicide Prevention Awareness Month feels different. Over the past nine months, LGBTQ youth have experienced unique challenges in relation to COVID-19. The pandemic has amplified existing mental health disparities and created new problems that have impacted the daily lives of many LGBTQ youth. 
As the world's largest suicide prevention and crisis intervention organization for LGBTQ young people, The Trevor Project has seen the volume of youth reaching out to our crisis services for support increase significantly, at times double our pre-COVID volume. We've heard from a great number of youth who no longer have access to their usual support systems, including many who have been forced to confine in unsupportive home environments. The unprecedented crisis of 2020 has reaffirmed the need for increased mental health support for LGBTQ youth, particularly as we've ventured into a more virtual world. 
From transitioning our physical call center operations to be fully remote to publishing a resource to help LGBTQ youth explore conversations around the intersection of their racial and LGBTQ identities—The Trevor Project has remained open and responsive to the needs of the young people we serve despite the onslaught of challenges. Technological advancement has been essential as Trevor adapts to meet this moment. In particular, artificial intelligence (AI) is a crucial component for scaling our services to support the increase of youth reaching out. 

Kendra Gaunt joined The Trevor Project nine months ago as a Data and AI product owner.  
I joined The Trevor Project as the Data and AI product owner nine months ago, and started working alongside our AI and engineering team and 11 Google.org Fellows who were doing six months of full-time pro bono work with us. With the support of $2.7 million in Google.org grant funding and two teams of pro bono Google.org Fellows, we have introduced new AI applications to scale our impact. We built an AI system that helps us identify which LGBTQ individuals reaching out to us for support are at the highest risk of suicide so that we can quickly connect them to counselors who are ready to help at that moment. And now, we're leveraging AI to ensure the safety of our TrevorSpace forums through auto-moderation, and to train more volunteer counselors through a conversation simulator.  It's projects like these that have enabled The Trevor Project to directly serve more than 150,000 crisis contacts from LGBTQ youth in the past year. 
And we're just getting started. With the guidance of best practices from Google, we're significantly growing our in-house AI team. As we grow and develop a long-term product strategy around our use of data and AI, we acknowledge our responsibility to create a values-based system to guide how we use and develop AI. By applying learnings from Google's Responsible Innovation team, we created a set of principles to ensure that we develop models that avoid reinforcing unfair bias that impacts people based on their ethnicity, sexual orientation, gender identity, race, and the intersection of these identities. 
I joined The Trevor Project because it's an organization driven by values, and our use of technology reflects this. I noticed an opportunity to leverage my years of experience and partner with people who are committed to employing technology for social good. Through the thoughtful and ethical use of AI, we can overcome obstacles of scale and complexity as we pursue our mission to end suicide among LGBTQ youth.
To learn more about National Suicide Prevention Awareness Month and the work The Trevor Project is doing, check out our CARE campaign. This includes actionable steps anyone can take to support their community and prevent suicide, as well as technological innovations that help us serve more young people, faster.
If you or someone you know needs help or support, contact The Trevor Project's TrevorLifeline 24/7 at 1-866-488-7386. Counseling is also available 24/7 via chat every day at TheTrevorProject.org/help or by texting 678-678.