The Grow with Google veteran-led business hall of fame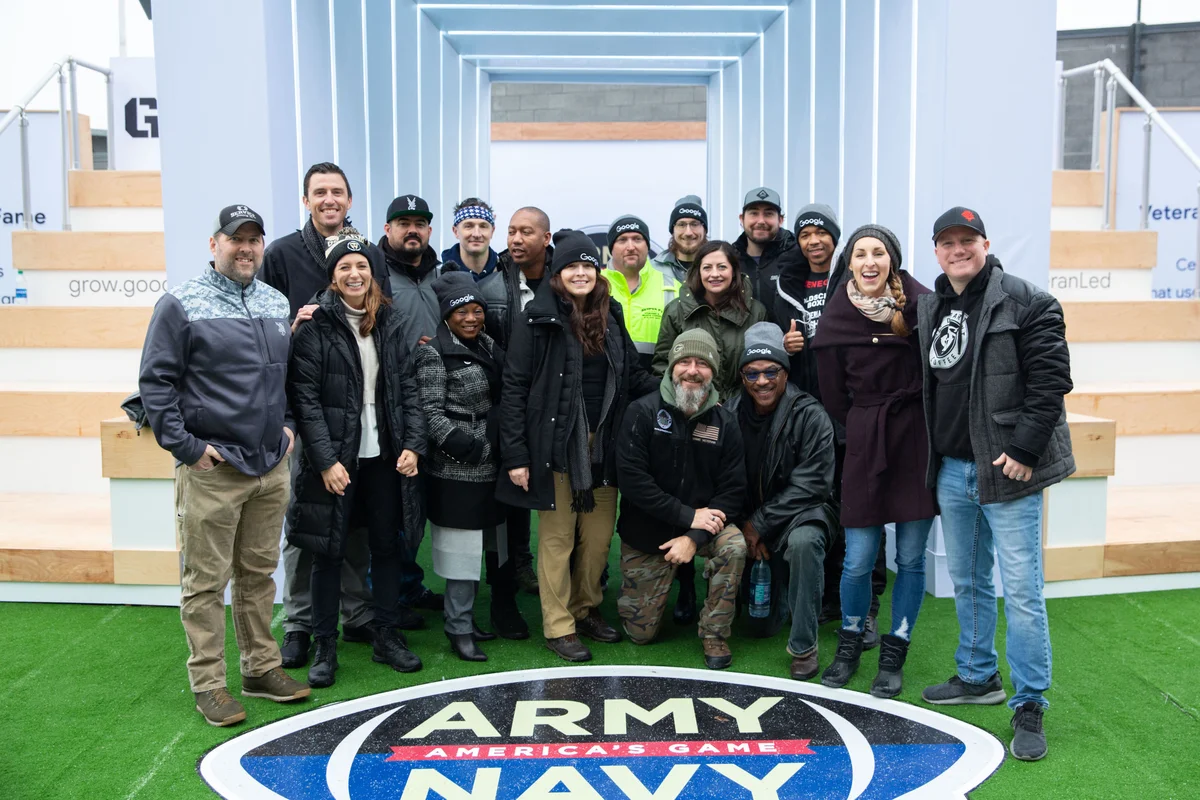 On Saturday, the Army Black Knights and the Navy Midshipmen will take the field in Philadelphia for the Army-Navy Football Game, a tradition that goes back 129 years. Students from the U.S. Military Academy and U.S. Naval Academy, and fans from all over the U.S. turn out in droves each year to root for their teams and celebrate the military community.
We'll be there too, sharing our tools for veterans and military families, including our new resource hub for veteran-led businesses. These efforts are close to home for me, both as a service member and as the son of a small business owner. I watched my dad build his business and know it's never a straightforward process. But I also know that the mindset service members develop in the military gives us the ability to overcome any challenge. It's that determination that makes veterans such successful business owners.
We're not picking sides in this storied rivalry—after all, some do consider it "the greatest rivalry in sports."  Instead we're highlighting 10 veteran-led businesses—five with Army roots, and five with Navy roots—through a Hall of Fame display at the game. These businesses are just a small sample of the thousands of outstanding veteran-owned businesses contributing to their communities all across the U.S.
Sisters Betsy Núñez and Emily Núñez Cavness grew up at West Point in a military family, and for five years, Emily served as an active-duty officer in the U.S. Army. While Emily was serving, the pair founded Sword & Plough, which uses surplus military materials to create tote bags, handbags, backpacks and other accessories.
When Emily was deployed in Afghanistan and the rest of the team worked remotely throughout the U.S., they used G Suite and Google Hangouts to stay connected and build their company. And to give back to the veteran community, Sword & Plough donates 10 percent of their profits to veteran-focused organizations.
Betsy Núñez of Sword & Plough

Ernest Johnson was in the U.S. Marine Corps and served as a member of the USMC boxing team. After leaving the military, he found success as a professional boxer, until an eye injury forced him to retire early. Within a few years, he'd gone to college and landed an office job, but he longed to build a career around his passion for boxing. 
He left his job and began coaching, which led him to open his own business, Old School Boxing. He uses his Business Profile on Google to share photos and information about the gym's location, hours, and services. And to show customers in his community that the gym is owned by a veteran, Ernest added the "Veteran-Led" attribute to his profile. 
Over the years, Ernest has trained many professional boxers, but it's training local youth in his community that brings him the most satisfaction. He takes pride in teaching them the importance of discipline and hard work—lessons he brought back from his time in service.
Ernest Johnson of Old School Boxing

GORUCK, Jacksonville Beach, Florida
Jason McCarthy is a decorated combat veteran who served in the Special Forces. While visiting his wife, Emily, a CIA operations officer working in Côte d'Ivoire, Jason assembled a "go-bag" with medical supplies and radios to keep in her truck, in case of emergency. Emily's colleagues began requesting bags of their own, and soon GORUCK was born. 
With no business experience, Jason turned to YouTube to learn how to design backpacks from online tutorials. He also uses Google Ads to speak directly with customers, and today, Google Ads generates 15 percent of the company's sales revenue. In addition to selling packs, GORUCK hosts hundreds of events each year focused on building teamwork and camaraderie, and testing physical fitness, based on Special Forces training.
Jason and Emily McCarthy of GORUCK

Sword & Plough, Old School Boxing, and GORUCK are just three of the 10 businesses joining us at the game this weekend to talk about their accomplishments and cheer on their teams. (Maybe they'll even grab cheesesteaks!) Saturday's game will cap off our visit to Philly--earlier this week, we partnered with local tech space WorkMerk to host a workshop for veterans on using digital tools to start or grow a business. If you're looking to grow your own skills, check out Grow with Google to learn more about our free tools and resources for veterans and military families.