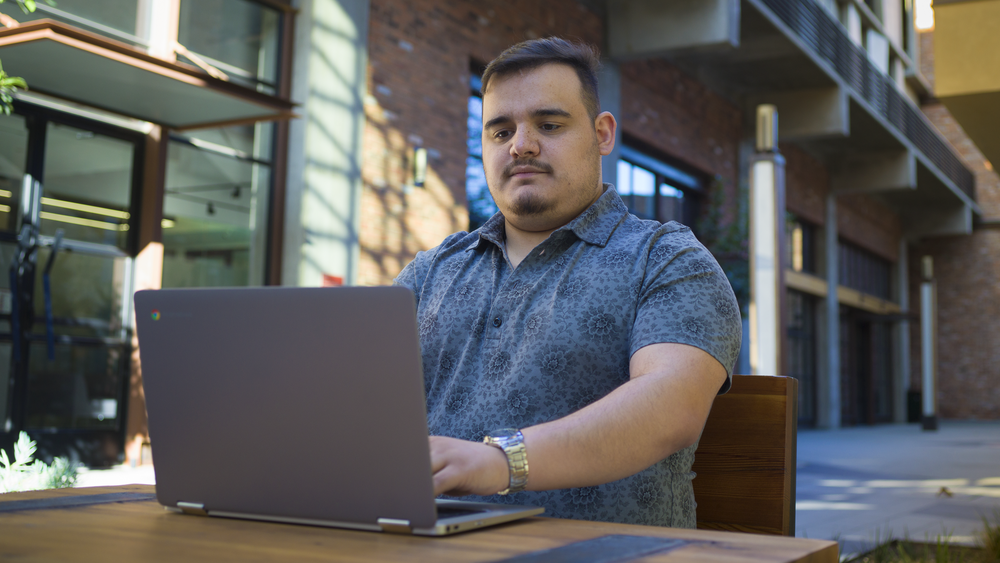 Ver abajo versión en español
Alex Corral was working in his family's restaurant when he suffered an injury on the job. That moment made him stop to reflect about his career path, and ultimately look for a change.
Alex always had an interest in IT, but during the time of his injury he decided to act on this interest, so he enrolled on the Google IT Support Career Certificate. Earning his Certificate gave him the confidence to apply for jobs in the field, which led him to his current job with Truckstop.com, a software company which helps optimize freight moving. Alex credits Google Career Certificates as the reason he was able to pivot careers and get his start in the IT sector.
Everyone should have the opportunity to participate in today's increasingly digital economy, but in occupations requiring digital skills, which will represent two thirds of jobs by 2030, members of the Latino community in the U.S. are significantly underrepresented. Over the next decade, members of the Latino community will grow to represent 21% of the workforce, and 78% of net new workers.
To be prepared for in-demand, high-paying jobs and to close the existing gap in digital skills, it's crucial that members of the Latino community get easy access to education and credentials. Investing in training and support for job seekers in the community will drive economic mobility and equity. So today we're announcing three initiatives to help open doors to higher-paying jobs and entrepreneurial ventures that can grow into long-lasting careers.
Digital skills training for 200,000 students
In 2021, we announced the Grow with Google Career Readiness Program expansion to reach Hispanic-serving Institutions (HSIs). Today, in partnership with the Hispanic Association of Colleges and Universities (HACU), we're announcing the first group of more than 20 HSI partner institutions. With the support of Google's $2 million investment, career counselors and faculty from across the country — from McAllen, Texas to Pueblo, Colorado — will lead the effort to train 200,000 college students in the Latino community with learning pathways built by Google and focused on the digital skills needed to help them land internships and jobs. Our HSI partner institutions will also award Google Career Certificate scholarships to participating students to help them continue to build necessary skills to succeed in high-growth jobs.
More access to our career-focused training
Google.org is announcing $5 million in grants to UnidosUS, the League of United Latin American Citizens and the Hispanic Federation to help members of the Latino community prepare for jobs in the digital economy. They will work with local affiliates across the U.S. to reach over five thousand Latino jobseekers. Learners will receive access to training opportunities to grow their digital skills, and access to Google Career Certificates and wraparound support, too. Additionally, Google.org is supporting the Aspen Institute Latinos and Society Program with a grant to help advance research on the challenges non-native English-speaking immigrants and first-generation Americans face in acquiring digital skills.
Google Career Certificates now support Spanish-language learners
The Google Career Certificates have helped tens of thousands of job seekers in the U.S. acquire digital skills and find pathways to well-paying, in-demand jobs. As of today, all our Google Career Certificates are available with Spanish subtitled video lessons and fully translated pages, reading materials, quizzes and documents. Our Career Certificates prepare learners for jobs in data analytics, project management, user experience design and IT support. No previous experience or knowledge is required to enroll, and learners can be job ready in three to six months.
These announcements build on over $20 million in Google.org grants to advance economic mobility in the Latino community, and our work to create tools to help the community in the U.S. grow their digital skills. That includes our library of free Spanish-language training, including workshops via Grow with Google, minicourses on the Google Primer app and video lessons from our Applied Digital Skills program.
With new investments helping to create a more equitable workforce, we'll keep building new resources for people like Alex. To learn more about our tools and resources for the Latino community, visit grow.google.
---
Más entrenamiento en habilidades digitales para la comunidad latina
Alex Corral estaba trabajando en el restaurante de su familia cuando sufrió una lesión laboral. Esa ocasión lo hizo frenar para reflexionar sobre su rumbo profesional y, finalmente, buscar un cambio.
A Alex siempre le interesó la tecnología de la información (TI), y durante el tiempo que estuvo lesionado, decidió seguir su interés; por lo tanto, se inscribió en el Certificado de carrera en Soporte de TI de Google. Obtener su Certificado, le otorgó la seguridad para postularse para trabajos en el área; así llegó a su empleo actual en Truckstop.com, una compañía de software que contribuye a mejorar el transporte de carga. Alex atribuye a los Certificados de carrera de Google el haber podido dar un giro en su profesión e iniciarse en el sector de TI.
Todos deberían tener la oportunidad de participar en la pujante economía digital de hoy, pero los miembros de la comunidad latina en los EE. UU. tienen muy poca representación para los puestos en los que se requieren habilidades digitales, que supondrán dos tercios de los empleos para el año 2030. Durante la próxima década, los miembros de la comunidad latina pasarán a representar el 21% de la fuerza de trabajo y el 78% del total neto de los nuevos trabajadores.
Para prepararse para los empleos más demandados y mejor remunerados y cerrar así la brecha que existe en las habilidades digitales, es crucial que los miembros de la comunidad latina puedan acceder fácilmente a la educación y la certificación. Invertir en formación y apoyo para quienes buscan empleo en la comunidad fomentará la equidad y la estabilidad económica. Por ello, hoy anunciamos tres iniciativas que ayudarán a abrir las puertas hacia empleos mejor remunerados y emprendimientos que pueden convertirse en profesiones a largo plazo.
Entrenamiento en habilidades digitales para 200,000 estudiantes
En 2021, anunciamos la ampliación del programa Career Readiness de Grow with Google para llegar a las Instituciones al Servicio del Hispano (HSIs, por sus siglas en inglés). Hoy, junto con la Hispanic Association of Colleges and Universities (HACU), damos a conocer el primer grupo de más de 20 instituciones HSI asociadas. Gracias a una inversión de $2 millones de parte de Google, asesores profesionales y docentes de todo el país –desde McAllen, Texas, hasta Pueblo, Colorado– conducirán la iniciativa para entrenar a 200,000 estudiantes universitarios de la comunidad latina en diferentes planes de estudio desarrollados por Google y centrados en las habilidades digitales que necesitan para acceder a pasantías y empleos. Nuestras instituciones asociadas también otorgarán becas de los Certificados de carrera de Google para que los estudiantes que participen continúen desarrollando las habilidades necesarias para tener éxito en los empleos de alto crecimiento.
Más acceso a nuestro entrenamiento enfocado en formación profesional
Google.org anuncia subsidios por valor de $5 millones para UnidosUS, League of United Latin American Citizens (LULAC) y Hispanic Federation con el fin de ayudar a los miembros de la comunidad latina a prepararse para los empleos de la economía digital. Trabajarán con organizaciones locales a lo largo de los EE. UU. para llegar a más de cinco mil latinos que buscan trabajo. Los estudiantes tendrán acceso a cursos de formación para desarrollar sus habilidades digitales y acceder a los Certificados de carrera de Google, además de recibir apoyo integral. Asimismo, Google.org apoya al Aspen Institute Latinos and Society Program con un subsidio para fomentar la investigación sobre los desafíos que enfrentan para adquirir habilidades digitales los inmigrantes no nativos de habla inglesa y los estadounidenses de primera generación.
Los Certificados de carrera de Google ahora disponibles en español
Los Certificados de carrera de Google han ayudado a decenas de miles de personas que buscan empleo en EE. UU. a adquirir habilidades digitales y acceder a los empleos más demandados y mejor remunerados. Nuestros Certificados de carrera de Google están disponibles en español mediante lecciones de video con subtítulos y páginas, materiales de lectura, cuestionarios y documentos completamente traducidos. Nuestros Certificados de carrera preparan a los estudiantes para empleos en Análisis de Datos, Gestión de Proyectos, Diseño de Experiencia de Usuario y Soporte de TI. No se requiere experiencia ni conocimientos previos para inscribirse, y los estudiantes pueden estar listos para trabajar en tres a seis meses.
Estos anuncios dan cuenta de más de $20 millones en subvenciones de Google.org para promover la estabilidad económica de la comunidad latina, y nuestro trabajo para diseñar herramientas que ayuden a la comunidad en EE. UU. a desarrollar sus habilidades digitales. Esto incluye nuestros recursos gratuitos disponibles en español, como los talleres a través de Grow with Google, los minicursos en la aplicación Google Primer y las lecciones de video de nuestro programa Applied Digital Skills.
Gracias a las nuevas inversiones que ayudan a generar una fuerza de trabajo más equitativa, seguiremos desarrollando nuevos recursos para personas como Alex. Para conocer más sobre nuestras herramientas y recursos para la comunidad latina, visita grow.google.