How digital skills training helped three friends found a startup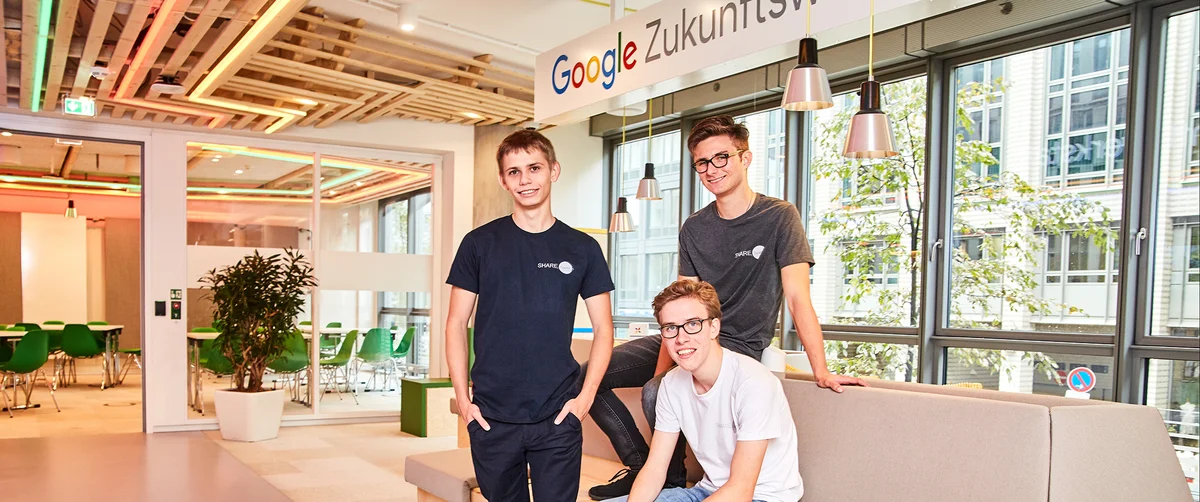 Whether you're a teacher, accountant, engineer or farmer, the digital economy is transforming the workplace as we know it. According to a study by the European Commission, 90 percent of workplaces in the European Union today require employees to have basic digital skills. And Europeans are beginning to learn these skills on their own in their spare time. This is exactly what Nik Kiene, Malte Schülein and Lennart Hartrumpf, three students from Flensburg, a city in northern Germany, did last summer. While most students spent the holidays hanging out or traveling with friends and family, the trio went back to school.
They had a vision to create a web-based startup together. "ShareSpace," a sharing economy platform, would help users rent out rarely used goods, like sporting or technical equipment. While they'd been developing the startup idea for months, the three friends lacked the skills needed to turn their vision into reality.

That's when 19-year-old Lennart found out about Google Zukunftswerkstatt, one of three Grow with Google training centers in Hamburg, which provides free training on a variety of digital topics. He attended one of the sessions on a whim; the next time he went, he brought Nik and Malte along. They soon agreed that the curriculum at Google Zukunftswerkstatt was the perfect fit, since it would provide them with both the technical and soft skills they needed to get ShareSpace started.

After they began attending trainings at Google Zukunftswerkstatt, their business plans started to fall into place. "The insights from the Google Analytics training helped us tremendously in properly evaluating data and improving our platform," explains Lennart, "while the online marketing courses are now helping us get the word out about our startup." They continued and enrolled in additional training sessions on different skills: "The training session 'Negotiating successfully' has helped us out on many occasions, especially during talks with older and more experienced business owners. We're way more confident now," says Malte.

Lennart and his friends ended up attending every training session available during their summer break, commuting six hours every day from their hometown Flensburg to Hamburg and back. "Anyone can spend their summer break at the pool! Getting up early was definitely worth it for the offerings of Google Zukunftswerkstatt", says Malte.

Like these three budding entrepreneurs, many people in Germany might feel like they don't have the skills needed to be part of the new, technology-centred economy. The free training sessions at Google Zukunftswerkstatt are open to everyone. So far, through Google Zukunftswerkstatt, Grow with Google has helped more than half a million people obtain new digital skills, leading to a positive impact on individuals' careers, businesses and the German economy. At each of our training centers in Munich, Hamburg and Berlin, we aim to help people take the next step in their career, grow their business, find a job and be empowered with the skills they need.

For Nik, Malte and Lennart, spending the summer holidays a little differently has paid off. The threesome recently launched a beta of their ShareSpace platform and are now pitching for seed funding as a registered company. While their journey began with free Google Zukunftswerkstatt sessions, it has led to the exciting beginnings of a working startup and an exciting future ahead.