4 ways we're investing in STEM education in Los Angeles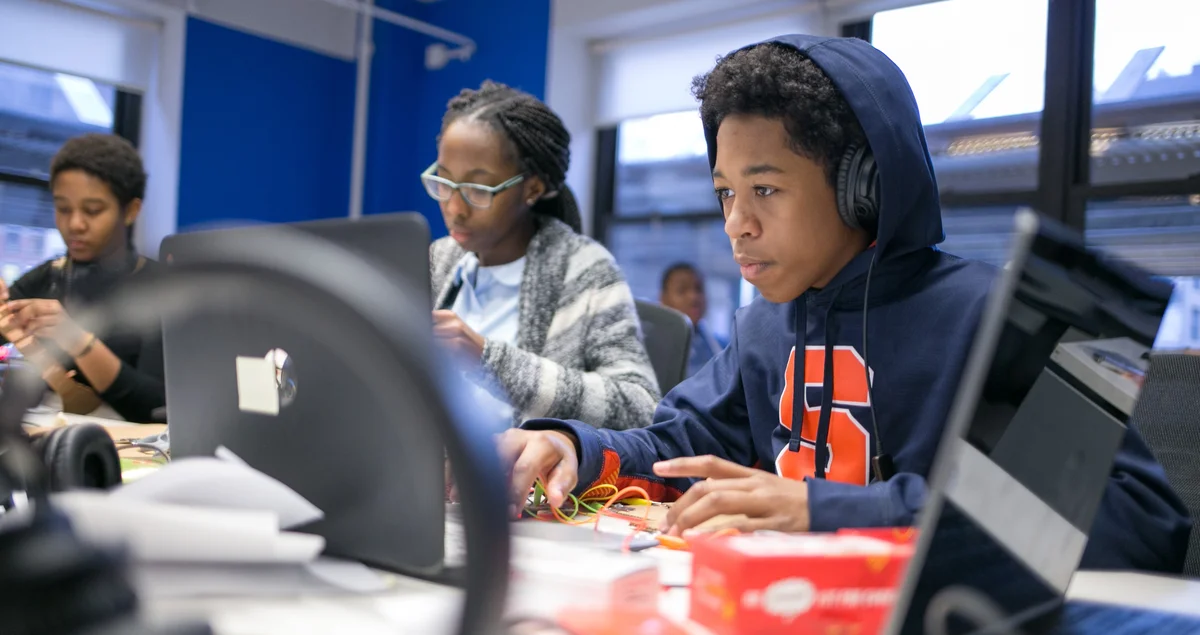 Today, I'm sharing a number of investments that Google is making that will support equitable access to science, technology, engineering and mathematics (STEM) education across the greater Los Angeles area. Google has three campuses and thousands of employees locally, and is committed to building sustainable equity, helping create economic opportunity and improving education in the cities and communities where we live and work.
Opportunity in the greater Los Angeles area is abundant, but due to structural inequalities, access to those opportunities is not equally available to all. For example, while 57% of schools in Los Angeles County offer some sort of computer science education class, schools serving high proportions of Black, Indigenous, Latino/Hispanic and Pacific Islander students are less likely to have access to computer science compared to schools serving a greater proportion of white and Asian students.
We're working to address this gap and increase access by working alongside the education community to ensure every student receives the same opportunity to succeed in STEM fields like computer science.
Here are four ways Google is working to provide equitable computer science education opportunities for learners of all ages in the greater Los Angeles area.
1. Providing more access to computer science skills for high schoolers
In 2024, Google will be opening an after-school Code Next Lab for high schoolers in Inglewood, California, a city where 9 in 10 individuals identify as Black and/or Latinx. Google will be designing, building and opening the new facility, which is a free, immersive computer-science education program to develop the next generation of Black, Latinx and Indigenous tech leaders.
The Code Next Lab in Inglewood will include a fully-stocked makerspace (left), complete with 3-D printers and computing devices, and a podcasting studio (right). These renderings are conceptual drawings and subject to change. (Credit: designer Danish Kurani)
Serving the Inglewood and greater Los Angeles community, this space builds on Google, YouTube and Google Cloud's multi-year partnership with Hollywood Park's venues, SoFi Stadium and YouTube Theatre (which opened up in 2022). It offers mixed-use programming by hosting initiatives that increase access to technology and digital innovation in the community.
Code Next is part of Grow with Google, an initiative to ensure that the opportunities created by technology are available to everyone. Joining its other locations in New York, Oakland and Detroit, this will be Google's first Code Next Lab in Southern California. When fully open, Code Next will welcome more than 1,000 students each year across its membership programming, community events and workshops.
Code Next students receive 1:1 coaching and mentorship from Googlers, who instruct on topics from artificial intelligence to software development.
2. Driving workforce development for young adult learners
We've given $250,000 in funding to help LA-Tech.org double their reach, connecting more than 1,000 young people from low-income and marginalized communities to tech career pathways and paid work experience. Scholars in the LA-Tech.org program learn from tech industry professionals, develop work-based projects and prepare for a meaningful career in tech.
Scholars taking part in an Academy as part of LA-Tech.org, an LA-based nonprofit providing work experience to youth. (Credit: LA-Tech.org)
3. Funding local computer science organizations
To close the computer science education equity gaps among elementary, middle, high school and post-secondary students across Los Angeles County, we provided $147,000 in total funding to these organizations:
Thrive Scholars provides support to high-achieving students of color from economically under-resourced communities as they matriculate to top colleges and pursue meaningful careers. Thrive will use these funds to expand its Summer Academy program, and to further develop its Technology and Engineering Career Pathway.
9 Dots will expand the reach of quality computer science programming with curriculum and teacher training to more elementary schools in the Los Angeles school district, and recognize the work of outstanding teachers with the "Computer Science Education Heroes" Awards.
DIY Girls provides STEM programs and activities for 5th-12th grade girls and gender-expansive youth of color in low-income communities of the Northeast San Fernando Valley of Los Angeles. Funding went toward expanding after-school programming to provide students with hands-on coding activities that build self-confidence and academic engagement, and introduce participants to the opportunities open to them through STEM college and career pathways.
Los Angeles-based nonprofit 9 Dots hosts events for their students at the Google Venice office.
4. Supporting research and toolkits for families and caregivers
Lastly, in order to help parents and caregivers advocate for their student's access to computer science education, we have funded research with the University of Redlands and UCLA.
Researchers will analyze family and community involvement in CS education equity across California, helping people understand the impact on underrepresented students. Involving families and communities can shift perceptions and inform concrete action, and this study will inform a toolkit for future engagement efforts.
Through these initiatives, Google aims to provide equitable access to opportunities, foster inclusive educational experiences, bridge gaps and give students of color in the greater Los Angeles area what they need to thrive in the dynamic world of computer science education.