Jimmy Fallon and Google support NYC small businesses
These days, nearly all businesses have experienced some sort of disruption to their day-to-day operations, from reduced hours and customer demand to disrupted supply chains. Despite the challenges of the COVID-19 pandemic, small businesses are finding ways to adapt and support their local communities—especially right here in New York, the city that thousands of Googlers and I call home. And who better to take us for a tour of a few beloved New York spots than "The Tonight Show" host and native New Yorker, Jimmy Fallon?
To kick off National Small Business Week, we teamed up with "The Tonight Show Starring Jimmy Fallon" to visit some of Jimmy's favorite New York City small businesses. Along the way, he shared ways that you can help out the small businesses near you.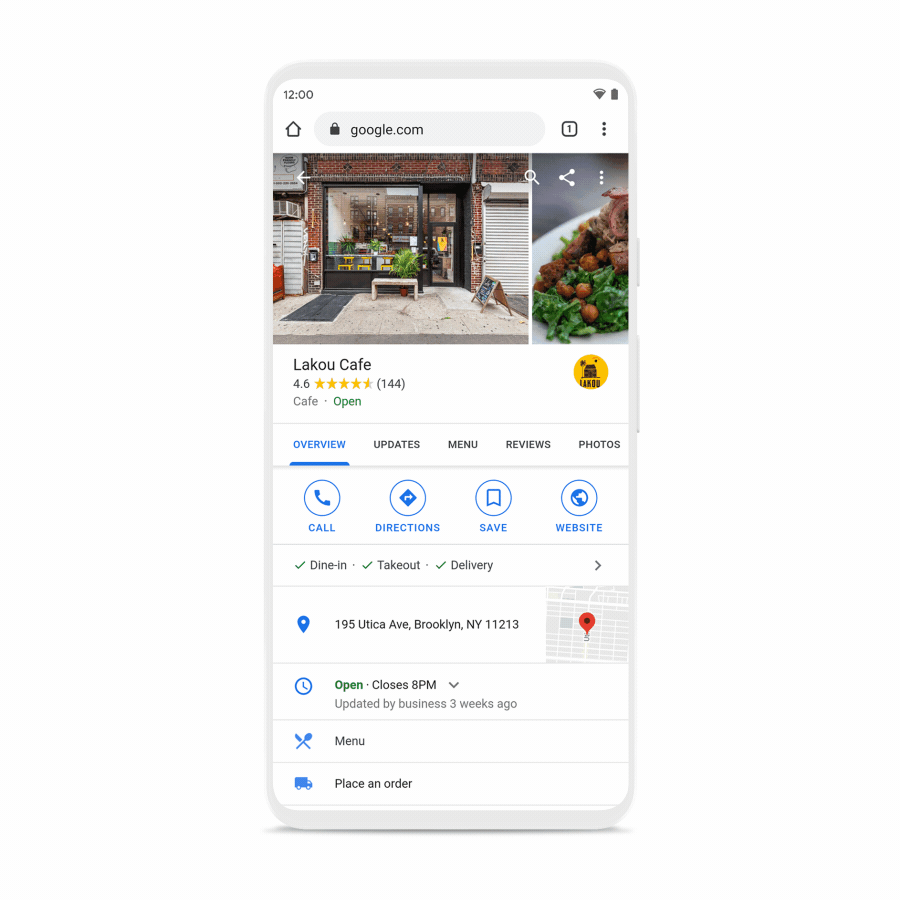 Lakou Cafe in Brooklyn uses its Business Profile on Google to post updates for customers and to show that it offers takeout options, sells gift cards, accepts donations, and more.
Jimmy and "The Tonight Show" introduced us to Sabrina Brockman of Grandchamps and Cassandre Davilmar of Lakou Cafe, the owners of two Brooklyn restaurants in his backyard. Like Jimmy, Cassandre and Sabrina have pitched in over the last couple of months to support World Central Kitchen, a not-for-profit devoted to providing meals for those in need. Together, Sabrina and Cassandre have donated more than 11,000 meals to healthcare workers, first responders, protesters and families in need since May. 
Small business owners like Cassandre are also finding ways to reach customers and keep them informed, using digital tools like their free Business Profile on Google. Lakou Cafe updated their Business Profile with takeout options, and added buttons to sell gift cards and accept donations.
We also joined Jimmy at GupShup, his go-to Indian restaurant, a family-owned spot in Manhattan founded by Jimmy Rizvi. GupShup has partnered with World Central Kitchen to provide nearly 12,000 meals since May to frontline workers and hospitals. Jimmy Fallon reminds us how important it is—and how easy it can be—to support local businesses by giving a rave review (fun fact: he loves GupShup's Crispy Okra and Guacamole).
You can also book reservations, order take out, post photos, buy gift cards, and more to support your local businesses directly from Google Search and Maps.
Are you a small business owner?

If you own a small business and are looking for free tools and training to grow your business, visit grow.google/smallbusiness. 
And if you're a small business based in New York state and don't have an e-commerce presence yet, Google has partnered with COOP to help 150 qualified New York small businesses set up and promote an e-commerce site in preparation for doing business during the holidays. Application opens Monday, September 28 at the MainStreet ONLINE website.