Helping people impacted by the justice system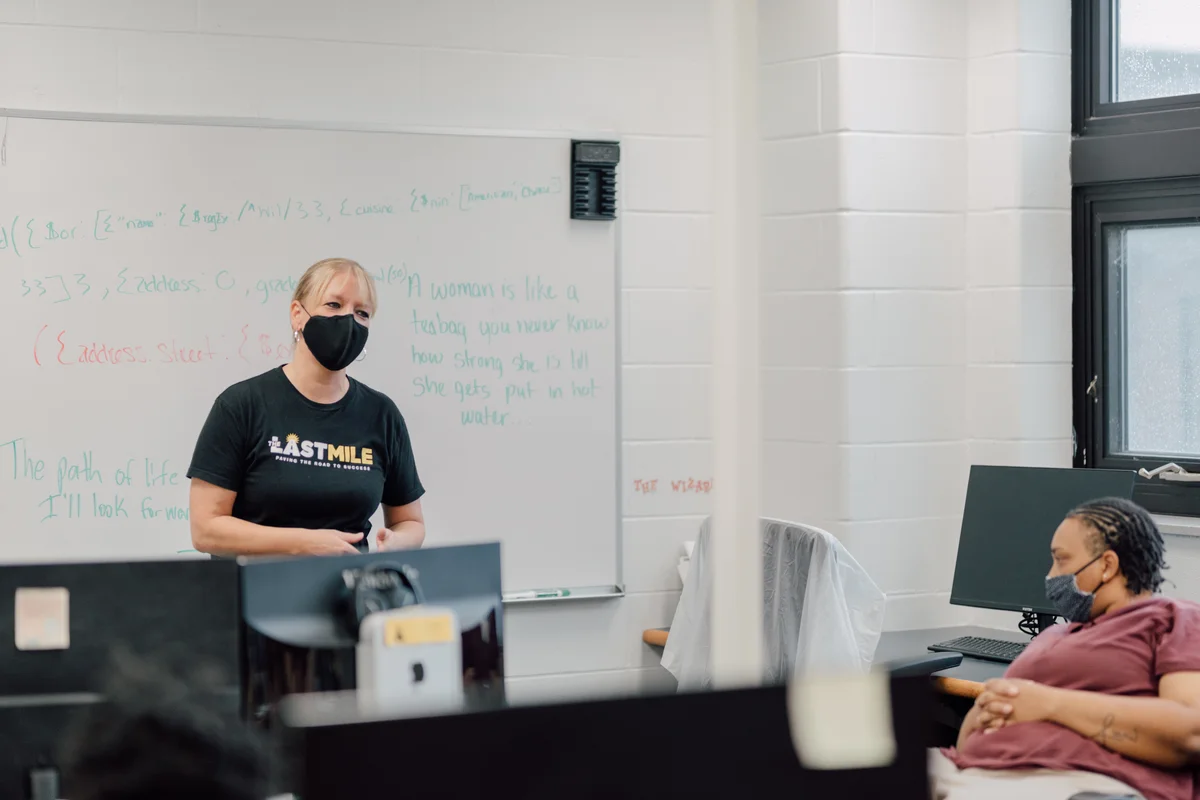 On a visit to Indiana Women's Prison in 2018, I joined a ceremony for graduates of The Last Mile, an organization preparing people for successful reentry through business and technology training. It was my first time attending a graduation inside, and I listened and was inspired as each graduate shared their determination to succeed in spite of the many challenges they might face after release.
Each year, 640,000 people are released from prison only to be met with an unemployment rate that is five times the national average. This rate is even higher for Black, Latino, and low income individuals, who are disproportionately impacted by mass incarceration. Devastatingly, more than half of those released from US prisons don't land a job in the first year of returning home, in part because they don't have the necessary digital skills to compete in an ever-changing job market.
Since 2015, Google has supported many aspects of criminal justice reform with over $48 million in grant funding and 50,000 pro-bono hours. But there's more work to be done. Today, we're committing more than $8 million in new funding that will support job seekers impacted by the justice system with digital skills training and automatic record clearance.
The Grow with Google Fund for Justice-Impacted Communities will make more than $4 million available for nonprofits to lead Grow with Google workshops and trainings. Using a curriculum co-curated with five justice-reform-focused partners, our goal is to help 100,000 people impacted by the justice system build career skills–ranging from fundamental skills like finding and applying for jobs online, making a resume using web-based tools, or building a professional brand, to more advanced topics like using spreadsheets to budget for a business.
To accelerate jobs access for formerly incarcerated people, Google.org is providing a $3 million grant and a full-time team of Google.org Fellows who will work pro-bono to support Code for America. Code for America works with community organizations and government to build digital tools and services, change policies, and improve programs. Fellows will work alongside Code for America to help transform the process of automatically clearing criminal records; creating a replicable model to better identify and expunge past records through CFA's Clear My Record initiative. Google.org is also granting $1.25 million to the National Urban League and Justice through Code, two organizations focused on providing skills training to formerly incarcerated job seekers beginning their careers in tech.
Three years after The Last Mile graduation I attended, it was an honor to sit down with Molly, a graduate who learned digital skills using Grow with Google's curriculum. She is now employed as a Returned Citizen Advocate at The Last Mile.
Here's what Molly had to say about her involvement with the program:
When you started learning digital skills at The Last Mile, where were you at in life?
I had just been released from Indiana Women's Prison and was on a mission to find a new career. I was applying for multiple jobs while also looking for educational opportunities that would help build my skills and knowledge.
How comfortable were you with tech before and after you went inside?
I was incarcerated for three years. When I went in, I felt like I was very tech fluent, but when I was released, it seemed as though the entire tech world had changed. There were new norms and even how email was done felt unfamiliar. Different platforms and software were being used and I felt overwhelmed.
What was a highlight of the program?
The most important class that I took was a learning path called "Basic Digital Skills." It helped me learn how to use documents and email efficiently. This was reinforced by The Last Mile because we regularly use both of these when communicating and collaborating.
What's next for you?
Since participating, I secured a job as a Returned Citizen Advocate at The Last Mile. I went from using what I learned (like how to) write a resume, cover letter, apply for a job and interview, to securing a role that allows me to help other members of the community.
I've had the opportunity to pay it forward. Alumni are encouraged to participate in the program once they are released from prison. Because I have first-hand experience with the program, I can assist them with any questions and talk about the value and importance of each lesson or learning path from personal experience.
In the future, I plan to continue to support people that are returning to society, and to help people learn digital skills and expand their knowledge. My passion is to help those coming after me to be able to create and build the best future for themselves that is possible.