Libraries help entrepreneurs write their next chapter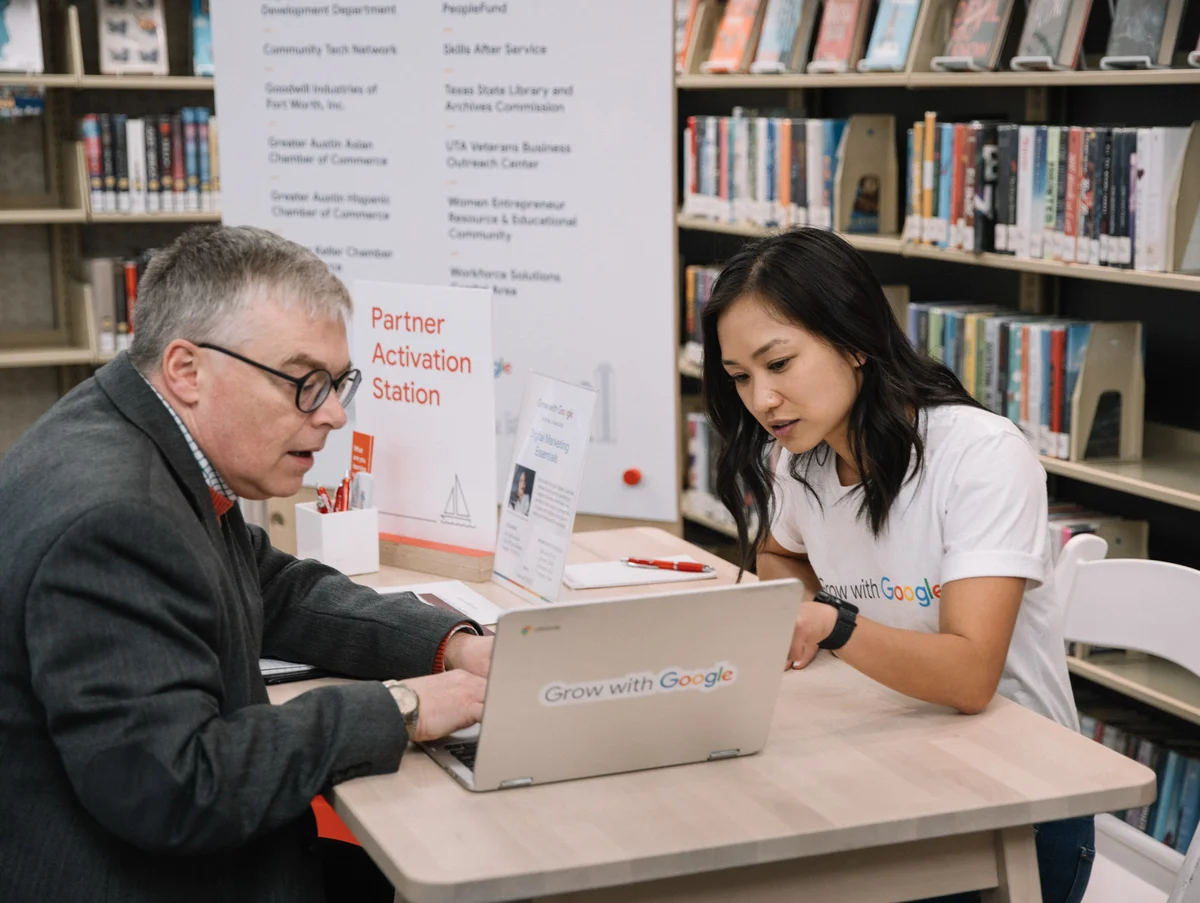 In our over 20 years working with small businesses, we've met countless entrepreneurs who have turned problems into opportunities. The COVID-19 pandemic has created unprecedented challenges for small businesses, and we're committed to finding new ways to support these problem-solvers who are the cornerstones of their communities. That's why this year alone Google has committed over $300 million to support underrepresented entrepreneurs in the U.S. 
Thanks to a $2 million grant from Google.org, one of the ways we are supporting small businesses and entrepreneurs is through the work of local libraries. Today, as part of our longstanding support of the American Library Association (ALA), we're announcing that 13 public libraries have been selected to form entrepreneurship centers across the country, focusing on low-income or underrepresented entrepreneurs. 

These libraries will provide virtual and in-person services including workshops such as Business 101, English as a Second Language (ESL), Web Design, Marketing and Accounting. They will also provide one-on-one coaching to small business owners, secure access to specialized equipment and technology, plus help with promotion and marketing assistance, research, and tasks like navigating legal and business licenses and requirements.

The Richland Library in Columbia, South Carolina, is a great example of a library that is making a difference with their Google.org funding. They've built a resource center for underrepresented entrepreneurs by offering peer support, training and resources for people at every stage of business development. They've recently opened an online hub which helps entrepreneurs and businesses access the resources they need to stay up and running during the pandemic. Richland's innovative program, and those of the other grantees, will be used to create a playbook that any library anywhere will be able to use to build out their own small business recovery services.

Googler Andres Ramirez explains how to use free Google tools to reach customers online in Florida.

Participants introduce themselves before a Grow with Google workshop at the Long Branch Free Public Library in New Jersey.

Grow with Google trainer Angelina Darrisaw teaches digital skills to help small businesses grow in Mississippi.

Googler Madison Garver teaches digital skills during a one-on-one coaching session at the Boulder Public Library.

Grow with Google volunteers take a break from coaching to peruse their favorite books at the Burton Barr Central Library in Phoenix.
This effort builds on a long-running partnership with the ALA. In January 2019, we worked with the ALA to bring Grow with Google's free digital skills workshops to libraries, and this investment helped people develop critical skills they need to find jobs and grow their businesses. During these workshops, we connected with small business owners who were facing a range of challenges. We also worked closely with librarians to train their staff on digital skills and equip them with new tools and resources to drive digital learning in their communities. Using free resources from our Grow with Google Partner Program, one librarian in Kentucky trained her staff as well as other librarians across the state. She's not alone: Through our Partner Program more than 1,100 local libraries use our free content, handouts and resources to train people in their communities.
From small towns to big cities, almost every community across the country has a place you can go to get free information, internet access and digital skills training: the local library. Thanks to ongoing collaboration with the ALA and community partners across the country, we're continuing to help local libraries provide critical skills training at a time when people need it most. If you are a small business owner interested in learning more about how to grow your business with help from Google and your local library, watch our virtual workshop, Build Your Online Presence with Google and Your Local Library, co-hosted with the ALA. Or check out our other free virtual workshops, events and one-on-one coaching sessions to get the most out of digital tools.