Rolling Study Halls: turning bus time into learning time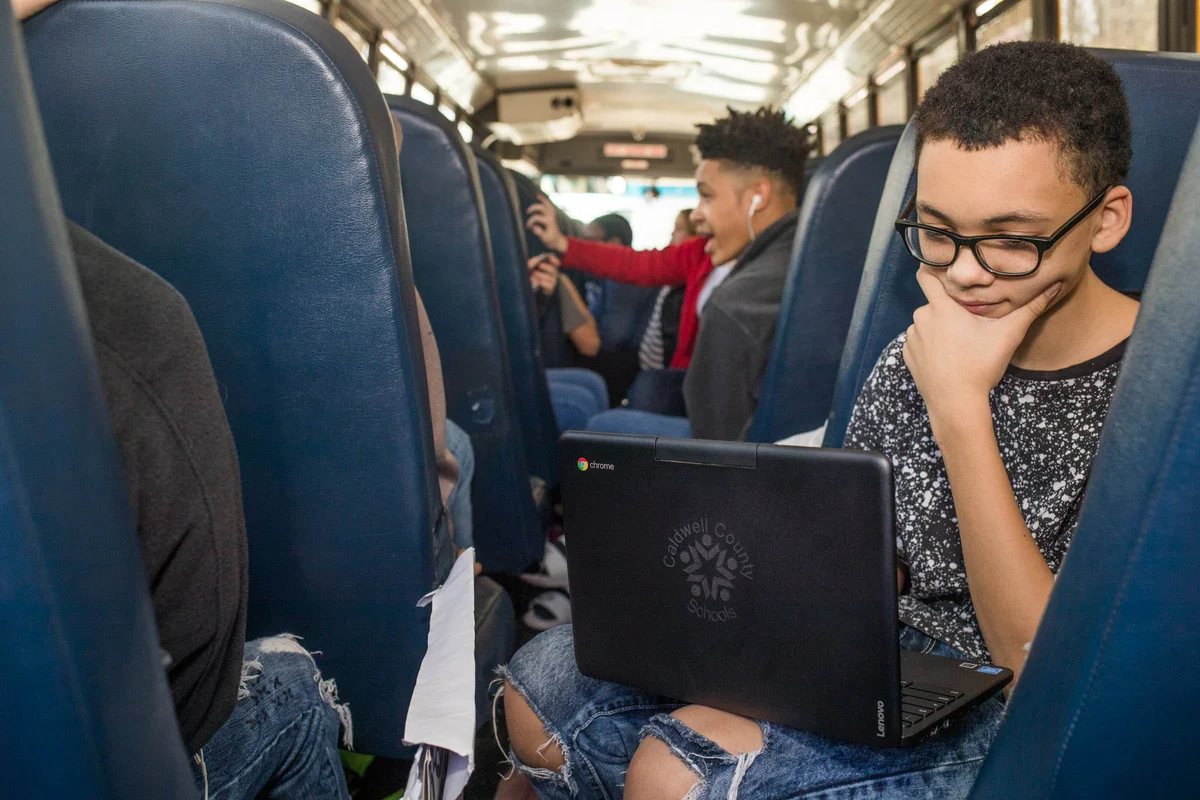 I grew up as an "Army Brat," a name for kids with a parent in the military who are often on the move. As my mom sums it up, my family spent 18 years on the road in over a dozen cities, 20 different houses, three elementary schools, two middle schools, two high schools—with one tropical fish and one surprise visit from a python in Monterey, CA. Throughout all these travels—meeting people from all different backgrounds, faiths and ethnicities—the highlight was always the excitement of going to a new school. School remains a fixture in my life all these years later.
I'm still a road warrior, traveling across America's highways and byways for work. On these trips, I see firsthand the growing gap between children living in poverty and those who come from more comfortable circumstances. I meet students who live in remote or rural areas and endure long bus rides to and from school—in some places up to 90 minutes each way. In these areas, like so many others across the country, a lot of students don't have access to connectivity or devices at home, but they often have schoolwork that requires it. All of this I observe through the lens of technology and its potential to improve lives. Not only does tech enable me to stay connected while I'm on the go, but we live during a time where even astronauts can have Wi-Fi on their space stations. Why couldn't our students have access to it on their bus rides home?
So in 2016, in partnership with local education leaders in Caldwell County, NC (near our Lenoir Data Center), and some Googler volunteers, we helped install Wi-Fi on 11 school buses in the district. We also worked with the Education Foundation of Caldwell County to make sure there were educators who could accompany students on these Wi-Fi-equipped buses to provide support and help out with assignments. Because bridging the "digital divide" isn't just about providing access and devices—it's also about using that technology effectively.
Lilyn Hester speaking at the Rolling Study Hall pilot launch in 2016
The effects were immediate—almost too immediate for some bus drivers who were shocked (and a little confused) when their commutes became so quiet. Students were engaged. They were learning. And after a few months, there were more real results: School officials saw students do better in school. It was working.
After the success of the pilot, we brought it to another school district—Berkeley County, SC—targeting Lowcountry communities near St. Stephen and Alvin, areas where many students don't have access at home. We worked with the College of Charleston to do research on the impact of this program and say that after one year, students were significantly more likely to be digitally literate and 80 percent of teacher participants said they were more likely to bring digital lessons into their classroom activities. They also saw homework completion go up, discipline rates go down, and a dramatic increase in overall student engagement.
Because of promising data like this, we're expanding
Rolling Study Halls
across the country, starting today in Deer Trail School District in Colorado. As a part of our
Grow with Google
initiative, Rolling Study Halls will help students across the country access the tools and digital skills they'll need to be prepared for tomorrow's workforce.
Students at Deer Trail Secondary School prepare to board their new Rolling Study Halls buses for the first time.

Colorado Senator Cory Gardner joins students for the launch announcement of Rolling Study Halls at Deer Trail Secondary School.

Google's VP of Americas for Google, Susan Molinari speaks to a group of Colorado students.
We're working with community leaders to outfit buses in 16 additional school districts in partnership with school networking nonprofit CoSN and broadband expert Kajeet. Together we hope to maximize access to learning time outside of school hours, with a goal of reclaiming more than 1.5 million hours for thousands of students by the end of next year. School districts will be able determine policies to limit access to schoolwork only. Students will also have the chance to work collaboratively—alongside an onboard educator—to complete their assignments.
When we first started this program, I wanted to open up opportunities for students in need, and knock down barriers—like lack of access to internet at home—that stood in their way. To see an idea that I started in my own backyard go nationwide is humbling, but we never do it alone. Our program builds on the hard work and dedication of so many teachers, parents, school officials and nonprofit organizations who are making it all possible. And together, we can give these kids access to the learning opportunities they deserve.