Bringing Wi-Fi to the residents of Celilo Village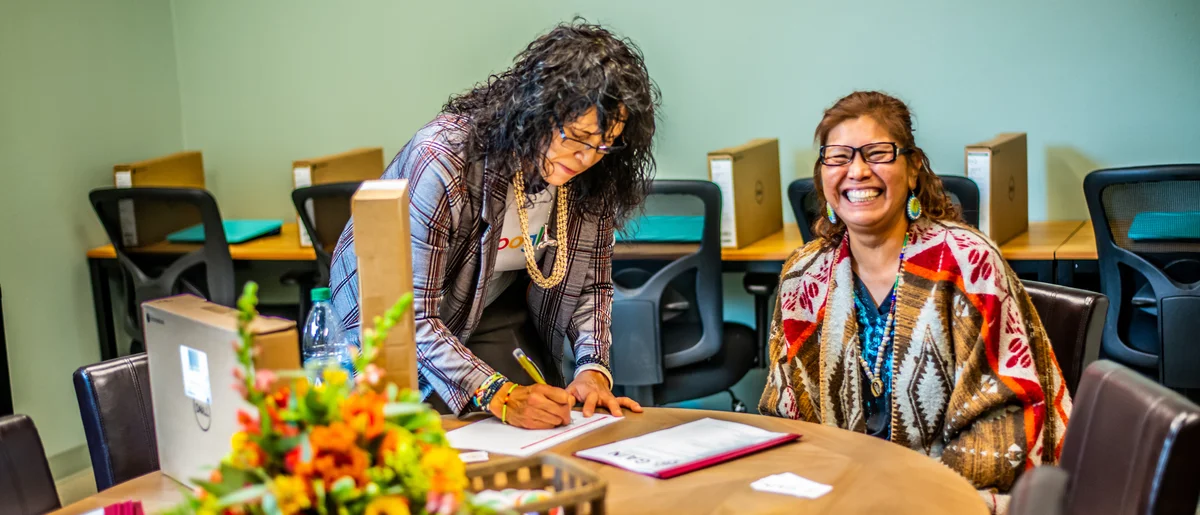 For the past seven years, I have spent time visiting students in rural communities across Washington State, where I live. I share information about science, engineering, technology and math, and specifically talk about software engineering and the projects Google has launched. It's a true joy of mine to see students excited about technology, and see their young minds thinking about the possibilities ahead of them. 
When I visit students, I get to combine my experience as an engineer at Google, and as a member of the Google American Indian Network, to bring access to technology to those who may not otherwise have it. As an Elder and an Enrolled Member of the Confederated Tribes of Siletz Oregon, I was honored to take part in Google's latest initiative to bring Wi-Fi and Chromebooks to Celilo Village, a Native American community on the Columbia River. This project will give residents and students the ability to access the abundance of information found online, and improve the digital divide between urban and rural communities.
The village has a historical significance to this part of the country, dating back over 11,000 years. Today, it's home to nearly 100 Native Americans from many tribes, four of whom are the Confederated Tribes of Warm Springs, Confederated Tribes of Yakama, Confederated Tribes of Umatilla and the Nez Perce Tribe. And until now, the 16 homes in the village had sporadic or no access to Wi-Fi.
Distributing Chromebooks to village residents in their renovated schoolhouse.
Thanks to a grant from Google, participation from the Google American Indian Network and collaboration with Dufur School, village residents and The Dalles Data Center, all homes now have access to Wi-Fi, and so do their schoolhouse and longhouse. Residents will have access to Chromebooks, and I put together a booklet with instructions on getting online and accessing Google apps.

Karen Whitford, a resident and Elder of Celilo Village, tries out the Google Daydream View VR headset.
The idea for the partnership came from Celilo Village resident Bobby Begay, who talked to the Columbia Gorge Discovery Center about funding connectivity for the village. The Discovery Center then worked with Googlers across the company to get the project started, including the Google American Indian Network. We celebrated this special gift with a community event in Celilo Village over the weekend, where we were joined by tribal leaders, policymakers and community members.
My fellow Googlers and I worked directly with the community to get this done, and we plan to keep our partnership going. "I'm excited to see the project come to fruition, but I think even more I'm excited at the opportunity to foster a longer-term relationship with residents of Celilo," says my colleague Tria Bullard, one of the first Googlers to get involved with the project. We plan to provide more trainings and other computer science-related activities in the future. 
My hope is that with this new window into technology, Celilo Village will continue to grow and thrive for years to come. And who knows: Maybe kids growing up there will become part of the next generation of scientists and engineers.