Google at the 2023 United Nations General Assembly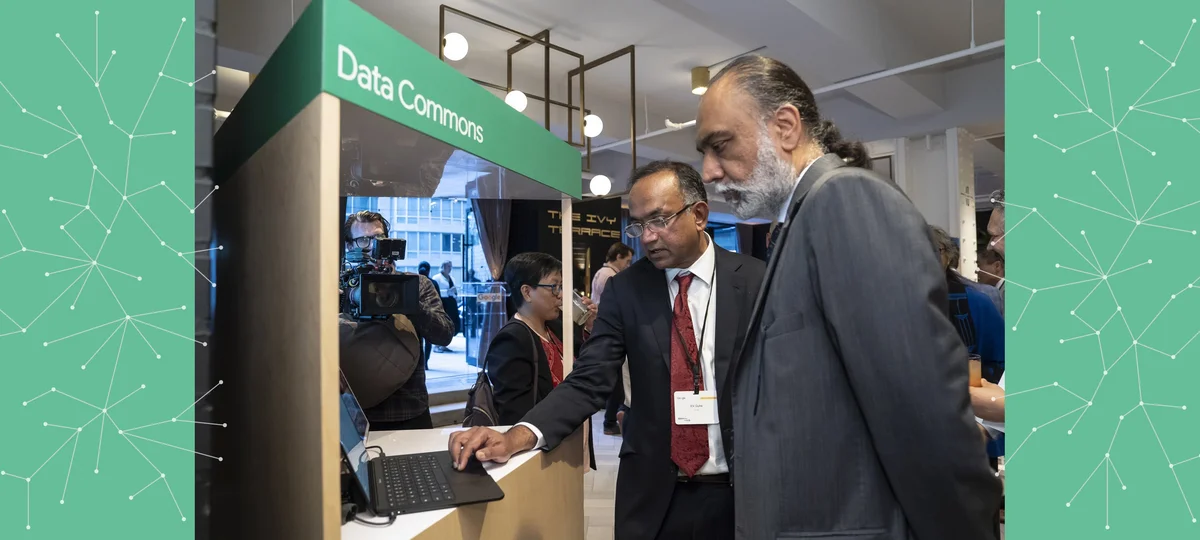 This week world leaders from 193 countries gathered in New York for the 78th United Nations General Assembly (UNGA), where implementing the United Nations' 17 Sustainable Development Goals (SDGs) was center stage. This year marks the halfway point on the 15-year timeline to achieve these universally agreed objectives, which include ending poverty, ensuring quality education, promoting good health, and providing access to affordable and clean energy. The consensus? Sadly, not good. We're far behind where we need to be and, absent dramatic change, the world will fail to achieve the SDGs by 2030.
Google has long believed that technology has an important role to play in catalyzing progress. In a variety of UNGA-related announcements and at events this year, we focused on how Artificial Intelligence (AI) — developed boldly and responsibly — can be the engine that helps spur progress on the SDGs.
Here's a look at the work we launched to help solve some of the world's most pressing challenges:
Enabling partners to use AI to achieve the SDGs
Google.Org grantee Rainforest Connection's CEO Bourhan Yassin, speaks at the UN SDG Pavilion about how AI can detect threats, such as illegal logging, and monitor biodiversity to fight deforestation and climate change
Last year at UNGA, we made a company-wide commitment to help accelerate progress on the SDGs, and to that end announced our $25 million AI for the Global Goals challenge. It's rooted in our belief that AI offers powerful tools for everyone to do good. Last week, we announced the 15 organizations from around the world who have been selected. They're using AI to benefit the world in wonderfully diverse ways—from developing a machine learning toolkit to help rural midwives in low and middle income countries detect neonatal complications, to using open-source satellite imagery and machine learning to expand our knowledge of the world's wetlands, to deploying AI to develop climate-resilient rice varieties that will better equip farmers to mitigate climate risks.
On Monday, we also announced at an event hosted by the U.S. Secretary of State Blinken, that Google.org will donate an additional $10 million to use AI to get help faster to victims of natural disasters and climate change — for example, utilizing Google's AI-enabled flood forecasting models to provide cash in advance of catastrophic flooding.
Kent Walker speaks at a U.S. State Department event on AI x SDGs hosted by Secretary of State Blinken
This brings our total contribution to more than $200 million in support of AI for Good, expanding the impact of NGOs and helping build an ethical, safe and robust AI ecosystem.
We'll continue to help drive public awareness of the SDGs and why they are important, including our donation of more than $40 million in Google Search ads to the UN since 2022.
Using data and AI to track progress
The world needs a consistent, reliable and comparable dataset to track progress on each of the SDGs and the 169 targets set by the UN. That's why Google's Data Commons and Google.org set out to organize the world's publicly available data to make it more accessible and useful through a partnership with the UN Statistics Division.
This week at UNGA, we announced the UN Data Commons for the SDGs, a tool that tracks metrics across the 17 SDGs and integrates authoritative SDG data and insights from across the UN system into a publicly available tool with AI-powered search functionality. This new tool will allow policymakers, NGOs and the public to easily access relevant insights and visualizations, gain valuable perspectives on SDG progress, and ultimately facilitate data-driven strategies and decisions. It also makes it easy to explore and download SDG data by region, country and goal.
Google's SVP for Research, Technology & Society, James Manyika, speaks at a Google-hosted UNGA reception.

Ruth Porat, President & Chief Investment Officer; Chief Financial Officer, Alphabet and Google, at the Clinton Global Initiative.

Google Fellow, R.V. Guha, demonstrating the AI-driven tool to UN Tech Envoy Amandeep Gill at a Google-hosted UNGA reception

YouTube CEO Neal Mohan speaks with Canadian creator Lilly Singh and Brazilian creator Nathalie Arcuri at the SDG Pavilion, about the power of YouTube to reach audiences on critical issues facing the world, including the Sustainable Development Goals.
Continuing to lead the way
All of this work builds on Google's own commitment to ensure we're developing AI boldly and responsibly. Google set the standard for ethical deployment of AI when, in 2018, we were the first major company to publish a set of AI Principles to govern our own development of AI.
We continue to live by this set of principles in all that we do. And we're doing it in consultation with a range of groups, including bringing together human rights organizations this week to discuss opportunities and risks of AI.
We're pleased that others are joining us. This summer, working with the U.S. White House and other leading AI companies, we committed to advancing responsible practices in developing and using AI, which we hope will be the blueprint for a similar set of international principles. We've shared our progress on this work, and just last week launched the $20 million Digital Futures Project, an initiative that aims to bring together a range of voices to promote efforts to understand and address the opportunities and challenges of AI.
When launched in 2015, the SDGs were seen as distant and aspirational. The past eight years has done little to change that. But AI could be the game-changing development the world needs to make generational progress, improving lives and the planet. Our approach to AI must be both bold and responsible — to maximize the positive benefits to society while addressing the challenges.
As we pass the halfway mark of the UN SDGs, we look forward to working with international organizations, governments, civil society, academia and fellow industry to ensure AI is developed, deployed and used to maximize our collective human potential.