Google returns to the Munich Security Conference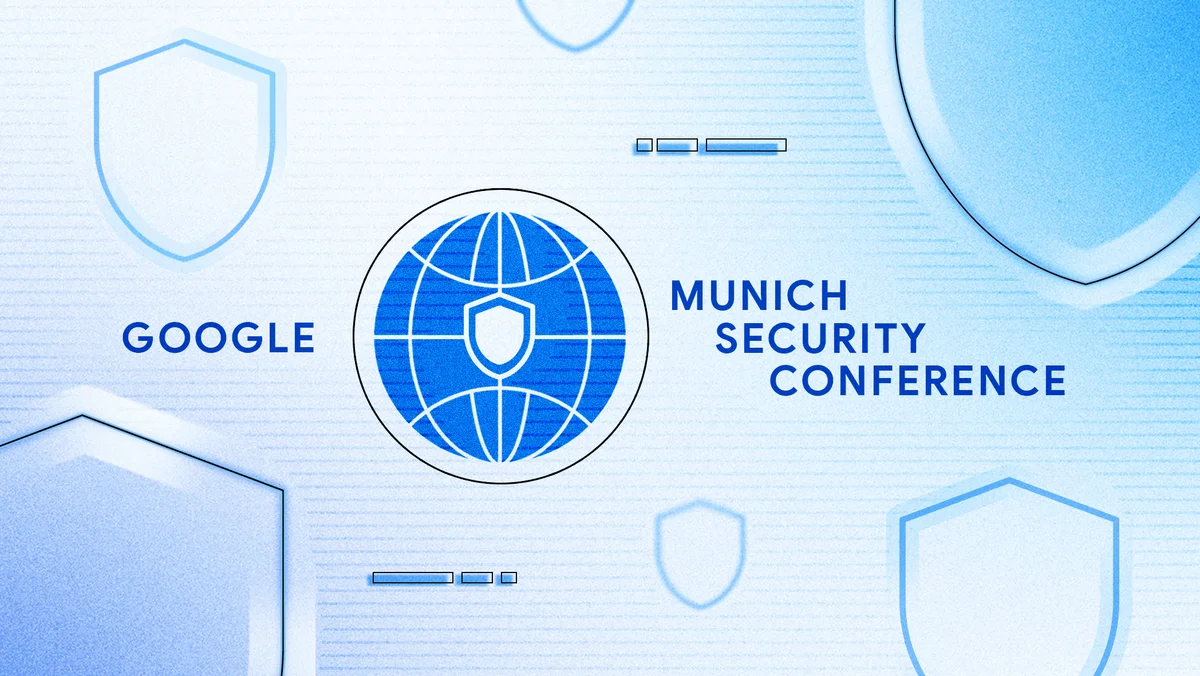 It's been a year of dramatic changes in both geopolitics and technology.
Fog of War, a new report published jointly this week by Google's Threat Analysis Group (TAG), Mandiant (now part of Google Cloud), and Google Trust & Safety, outlines cyber attacks by Russian-backed actors designed to disrupt and destroy, to spy, and to lie.
Russia targeted Ukraine and NATO countries on a massive scale. Mandiant observed more destructive cyber attacks in Ukraine during the first four months of 2022 than it had seen in the previous eight years. Compared to 2020, attacks targeting users in Ukraine increased by 250% and attacks targeting users in NATO countries increased by over 300%.
Our report also details Russia's attempts to sow disinformation at home and abroad, trying to alter the information landscape through a range of operations seeking to shape public perceptions of the war.
And, zooming out from the war in Ukraine, we continue to see ongoing financially motivated attacks by bad actors in Russia, North Korea, and beyond, targeting everything from healthcare to critical infrastructure.

Our increasingly contentious and fragmented geopolitical environment makes it harder to align on technology progress, but it also makes alignment even more important, and makes partnership essential. So what's needed?

For starters, we need to work together to secure our digital world. To understand the benefit of a collaborative approach, we can look to the example set by the digital savvy Ukrainian government, which worked with Google Cloud and others to shift to cloud-based security and infrastructure.
Beyond the cyber war, tech platforms are also playing a part in helping countries build resilience in the face of an information war.
To that end, Google's Jigsaw teamed up with leading academics, civil society organizations and disinformation experts to pilot a method of fighting disinformation known as "prebunking" in Poland, Czechia and Slovakia. Based on social science research, prebunking works by helping people build psychological resilience to disinformation before they encounter misleading claims.
The initiative proved effective – so effective in fact, that this week we announced we are expanding it to Germany, in partnership with Moonshot and local experts.

In addition, last year YouTube blocked more than 800 channels and over 4 million videos tied to Russian state-funded news media. And YouTube's Hit Pause media literacy campaign has reached more than a billion people with tips for how to identify manipulation tactics used to spread misinformation.
As the invasion of Ukraine approaches the one-year mark, policymakers are taking a deeper look at the role technology has played in strengthening cyberdefense.
And they are asking how transformational innovations may enhance security resilience in the future.
Dramatic advances in artificial intelligence and machine learning mean that as we face new challenges, we will be able to draw on new cyber-defense tools, as well as innovations that will keep us at the front of the global competitiveness race.
AI is transitioning from deep research and one-off breakthroughs into products and applications that allow people to work in completely new ways.
In 2017, Google developed the Transformer architecture, the foundation for modern language models. But that's only the beginning.

AI is opening the curtain on a new era in science and technology — a new era in nuclear fusion, quantum science, personalized medicine, agricultural productivity, materials science, and more.
On the security and information front, AI will help us detect, analyze, and block anomalous behavior and combat phishing and malware efficiently, effectively, and at scale in real time. We're already seeing this today: AI applications predict whether emails pose a threat, and machine learning identifies toxic comments and problematic videos. For example, on YouTube, as we expanded our investments in people and machine learning, the rate of views on content that violates our Community Guidelines dropped by 75% from Q3 2017 to Q4 2020 – and continues to shrink.
We'll soon have automated cyber defenses at an even broader scale, with advanced intelligence stopping attacks before they reach users. AI is just the latest frontier in the ongoing cat-and-mouse game between cyber-attackers and cyber-defenders.
With AI computations doubling every six months, it's time for government, industry, academia, and the security community to align on common approaches and ensure these technologies are used responsibly.
We need a proactive digital agenda that promotes the benefits of these technologies while addressing the need for:
Secure-by-default products that provide resistance and resilience against sophisticated cyber attacks, helping society rise above today's endless cycle of hacks and patches.
Education and training initiatives like the Google for Startups Growth Academy for Cybersecurity and our new grant to the Technical University of Munich (TUM) supporting privacy, cybersecurity, and safety research.
Holistic approaches to governing and supporting new technologies. Not protectionism and localization, but a policy framework that scales advanced technologies in ways that share their benefits across democratic societies.
We're at a watershed moment that calls for us to be bold, responsible and collaborative.
Technology can help secure our digital future while unlocking incredible opportunities — but only if we work together in a spirit of digital solidarity, ensuring that technology works for everyone.