Businesses from Brazil to India build free websites with Google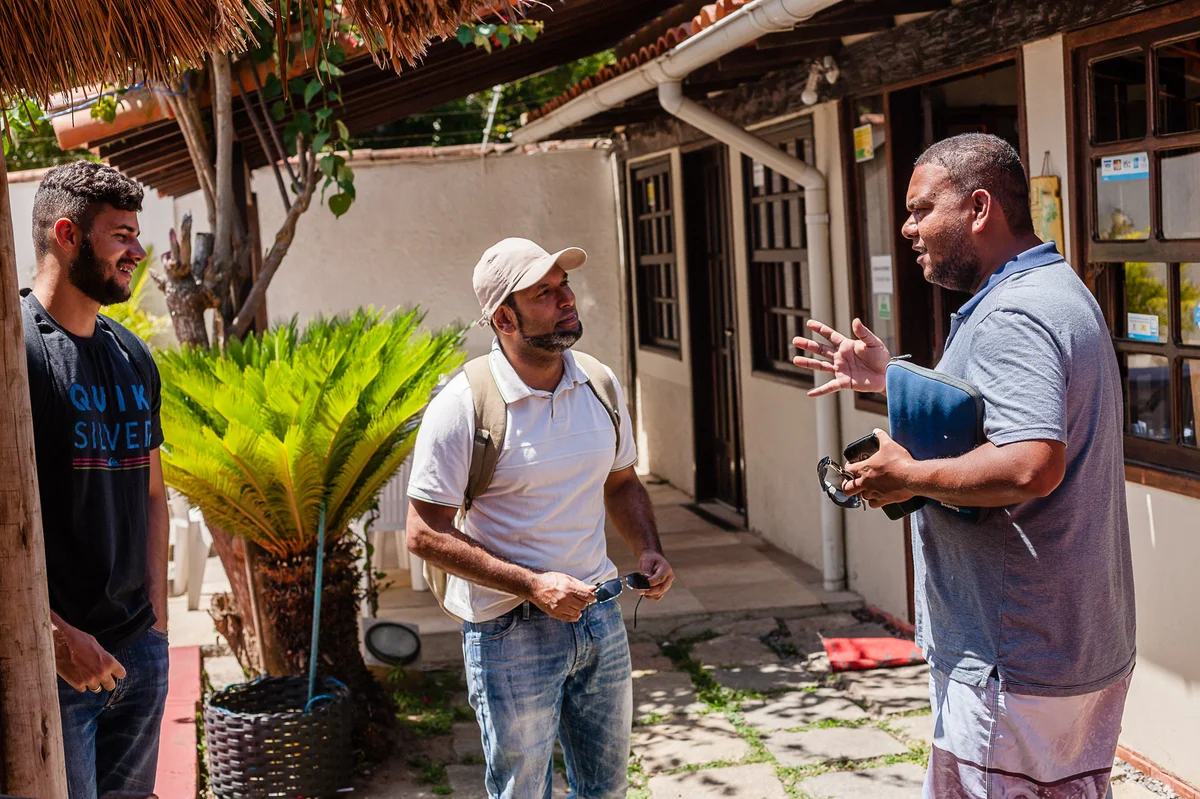 Having a website helps local businesses reach new, interested customers, and when those businesses link to a website on their Google listing, they get 25-35 percent more clicks (according to internal research). But building a website takes time, and it can feel like a distraction from the work small business owners do to turn their dreams into success stories—whether that's managing a hotel, perfecting their secret recipe, or opening a second store one day. Our new website builder lets business owners, who are new to creating a website, set up a professional site in under 10 minutes, for free.
Around the globe, more than one million small business owners have already used their first websites from Google to connect with new customers and grow.
How a local getaway found a global audience

Ever since he was 17, Glaucinei Andrade Duarte dreamed of running a hotel that highlights the beauty of his hometown, Armação dos Búzios, Brazil. So he worked as a concierge, took hotel management courses, and eventually opened Pousada Atlantica—an independently owned boutique hotel east of Rio de Janeiro.
Glaucinei knew that a website would help his business grow, but he didn't have the time to learn web design or the budget to hire a developer. Instead, he tried the free website builder from Google and used custom layouts to create a professional, mobile-ready site. Within 10 minutes, this first-time developer was uploading pictures of his pousada's incredible beachfront and publishing them for the world to see.
In the short time Pousada Atlantica has been online, Glaucinei's website has reached nearly 2,000 pageviews, helping him connect with hundreds of potential customers. With the attention its new site has earned, Pousada Atlantica has booked weekends at 80 percent capacity from August to December.
A couple's passion for Malaysian cuisine, halfway around the world

While living in Malaysia, Anang and Morgan Mehta had a vision of bringing the bold flavors and healthy ingredients of their country's cuisine to the U.S. Their vision became a reality when they moved to San Antonio, Texas and started Thyme for Lunch.
Growing a customer base was slow at first, because their restaurant is located off the beaten path. But when Anang and Morgan built their website with Google and completed their Google listing, people started finding them online.

By featuring photos of their delicious meals and a simple call button on their site, Thyme for Lunch is reaching new local customers every day. Since July, they've seen more than 1,500 pageviews, and are now bringing their signature meals to a second location.
Local attention for an eye care specialist 

Sanjay Doshi noticed a lack of high-quality eye care in Kolkata, West Bengal, India. That's why he founded Shree Optical, a local optician's office that focuses on personalized care. At first, Sanjay relied on word-of-mouth to bring in customers, but he knew that having a website would help him reach more people.
As an expert optician, Sanjay had little experience building an online presence, but that didn't stop him. He used Google's free website builder to create Shree Optical's entire site from his phone.
In the past month, Shree Optical's website has reached more than 1,000 people online. "Customers have come from a distance of even 4-5 kilometers to our shop," said Sanjay. With this increase in business, he is hoping to open two new branches in the next two years.
Join more than one million business owners who are reaching new customers with their websites from Google. Sign up with Google My Business for free and publish your website in minutes.