New ways to connect with and understand your customers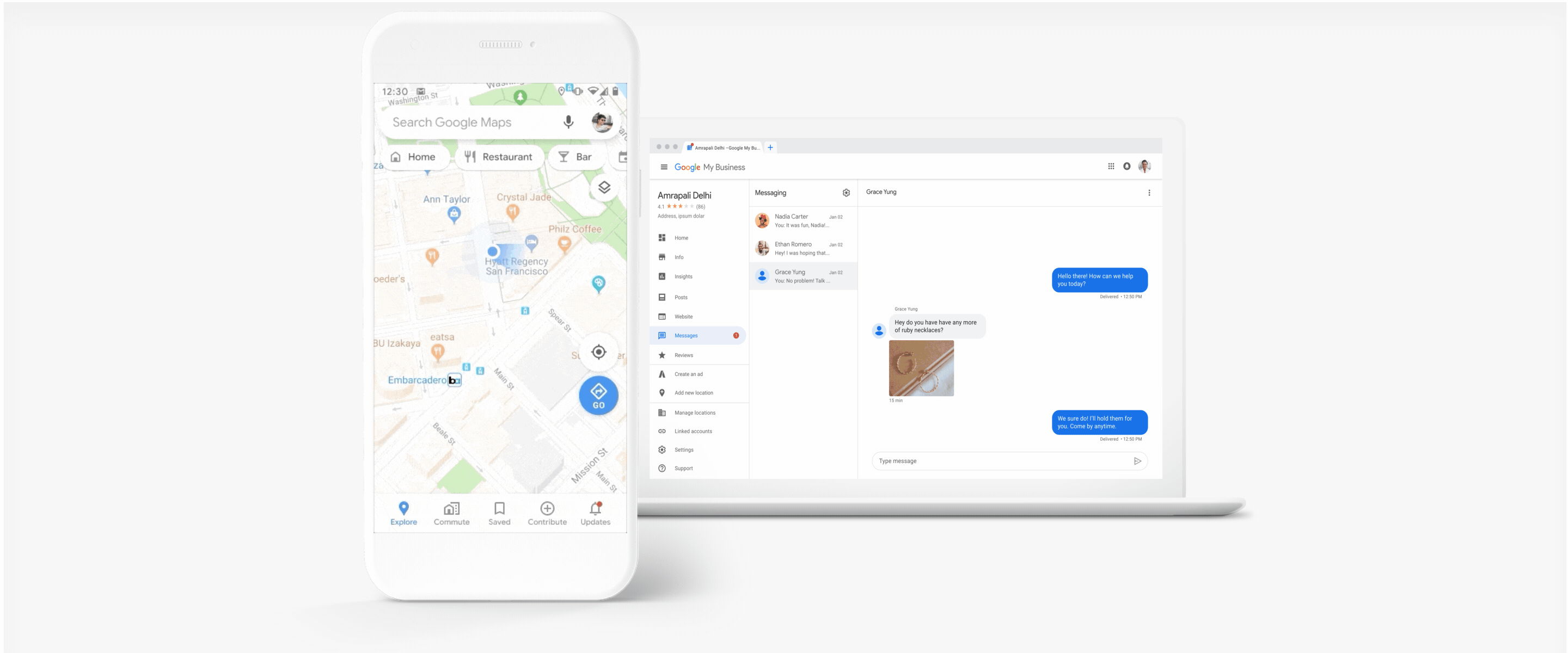 When people look for information online, they want to find the answers to their questions quickly. This is especially true for people browsing nearby businesses. Business Profiles help merchants share information like how late you're open and what safety measures are in place. But sometimes people are looking for answers to more niche questions such as: "Do you make gluten-free cakes?" or "Is there covered parking?"
To help you quickly answer these questions and connect with the people who are interested in your business, we're bringing messaging capabilities and customer insights directly to you on Google Maps and Search.
Messaging with customers just got easier
Earlier this year, we made it easier for you to update your Business Profile directly from the Google products you're already using—Maps and Search. Now, you can access even more features from these products so that you can engage with customers and update your business information from the same place.
Starting today, we're rolling out the ability for verified businesses to message with customers directly from the Google Maps app. Once you turn messaging on from your Business Profile, you can start replying to customers on Google Maps from the business messages section in the "Updates" tab. And soon you'll also be able to see your messages right from Google Search (via the Customers menu on your Business Profile) and message customers directly from your computer.
You can now respond to customer messages straight from the Google Maps app
As more people try to make more informed decisions before leaving the house, we've seen an uptick in the number of messages sent to businesses. Since the beginning of this year, people have initiated more than twice as many messages to merchants right from Business Profiles on Search and Maps.
To make it even easier for customers to get the information they want from businesses, we're adding more ways for people to initiate messages with you. In addition to clicking on the "Message" button on your Business Profile, customers can now start a conversation from any post you create. And if they try calling and you don't answer, they will be prompted to send a message.
Customers can now message you directly from any posts you create
Learn more about your business with updated performance insights 
This summer, we rolled out updated performance insights on Search and Maps that give you a detailed report of your customer interactions. The report includes the total number of interactions over a period of time and a breakdown of calls and messages initiated from customers on Google. Metrics are provided on a monthly basis and can be compared to the same period from the previous year.
Starting this month, we're rolling out more metrics to give you a deeper understanding of how customers discover your Business Profile. Soon you'll see a more detailed list of the search queries customers used to find your business on Google. At the beginning of next year, you'll see updates to the performance page that show whether customers saw your business via Google Maps or Search and if they saw it from a computer or mobile device. All your performance data will be available for up to six months. Dig into the numbers to see how your business is performing over time and how your Business Profile resonates with customers.
New performance metrics on Search and Maps show the key phrases people use to see your Business Profile
We've continued to invest in new ways to make it easier for you to bolster your presence on Google. With these updated features, we hope you have more of the tools and information you need to connect with customers and grow your business in today's ever-changing environment.