Google's new tools help businesses during COVID-19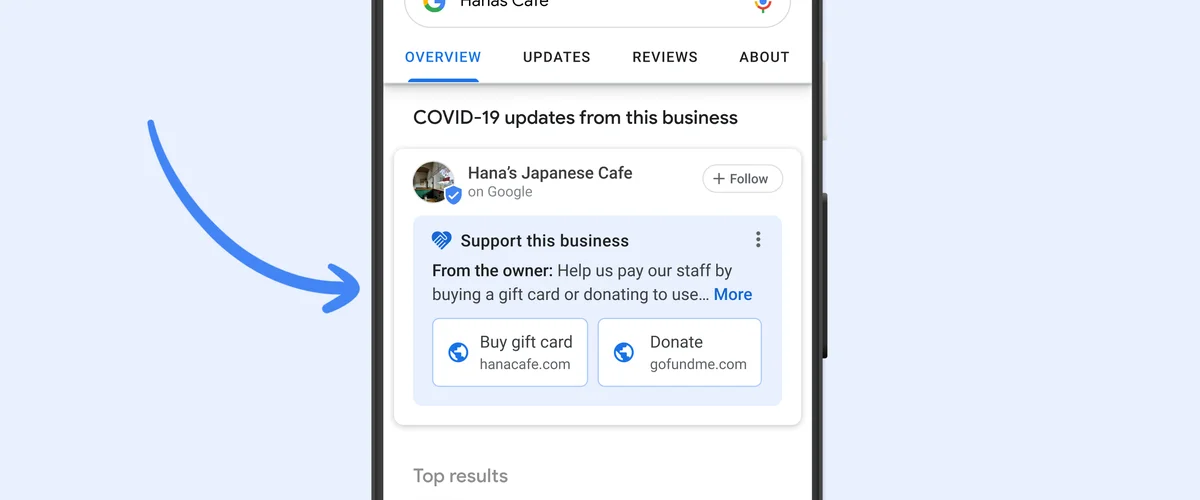 Running a business requires a whole lot of ingenuity and perseverance. It's those same qualities that are helping local businesses adapt, and even thrive, in today's new normal. To adjust, business owners are increasingly turning to digital tools. According to a newly released report by the Connected Commerce Council, nearly one in three small business owners said that without digital tools they would have had to close all or parts of their business.
We've rolled out new features to help businesses get the support they need, adapt their operations, and quickly update customers about their latest changes.
Let people know how they can help 
We've seen firsthand in Google Search and Maps the impact that COVID-19 has had on small businesses and how they connect with their customers. People across the world are looking for ways to continue supporting corner bookstores, local watering holes, beloved dance studios and other businesses that give their neighborhoods character—even if it's from a distance. 
To help local businesses share how their communities can support them during COVID-19, we recently began allowing merchants in six countries to add support links for donations and gift cards to their Business Profiles on Google. Starting today, we're rolling support links out to merchants in an additional 18 countries such as Italy, Spain and Japan. We've partnered with PayPal and GoFundMe for donations. For gift cards, merchants can link directly to the relevant page on their website or to their gift card offerings with one of our eligible partners, which includes Square, Toast, Clover and Vagaro.
People around the world are looking to help—with global search interest in "how to help small businesses" reaching an all-time high in March 2020, increasing more than 700 percent since February. To help connect them with nearby businesses in need, we've made it possible for people to look up their favorite local businesses by name to see if they've added donation or gift card links to their Business Profile. And in the coming weeks, people will also be able to use Search and Maps to find all of the nearby businesses that are asking for support. 
People can now look up their favorite local businesses to see if they have donation or gift card links on their Business Profile
Transition to online services with ease 
Merchants who normally provided in-person services are now pivoting to connect with their customers virtually—from yoga studios offering online classes to salons hosting virtual hair styling classes. We're making it easier for customers to discover online classes and book virtual appointments with these new features:
Get discovered: Merchants who are verified on Google My Business will soon be able to add attributes like "online classes," "online appointments," or "online estimates" to their Business Profiles to let people know how they're operating. Today merchants can add one of these attributes using Google My Business, and in the coming weeks it'll be visible on merchants' Business Profiles in Search and Maps. 
Online service bookings directly on Google: We're expanding Reserve with Google to help merchants offer easy appointment bookings for online services so customers can quickly find available times, book a slot, and add it to their Google Calendar—all directly from a merchant's Business Profile. Millions of people have already booked in-person appointments with salons, restaurants and other businesses thanks to integrations from over 100 Reserve with Google partners. We're now expanding this to include bookings for online services, starting with partners like Booksy, Regis, WellnessLiving, and Zooty. Merchants working with one of these partners can offer online bookings directly on Google and share details with customers about how to pay and join the meeting using their preferred video platform.
 Merchants can offer easy appointment bookings for online services. 
Keep everyone in the know with the latest business information
Sometimes it's not as simple as "open" and "closed." Since the beginning of the pandemic, we've added new tools to help merchants keep customers informed about how and when they're operating. 
Across all business verticals, we launched the ability to mark their business as temporarily closed, as well as reopen when they're ready to open their doors. We also added secondary hours and COVID-19 posts so merchants can communicate important information about their operations directly in Google Search and Maps. Since March, we've seen more than 1 million businesses share COVID-19 posts, with millions of clicks to merchants' websites every week as consumers look for more information.
With many people unable to enjoy meals inside their favorite restaurants, demand for food delivery and takeout has skyrocketed. In response, we've added more third-party ordering providers, so people everywhere can order delivery and takeout from an additional 25,000 restaurants directly on Google. To give merchants even more control, we'll soon be making it easier for food merchants to indicate their preferred online ordering partners on their Business Profiles. 
Today people are deciding where to grab food not only based on the menu, but also on how easy it is to pick up safely. We added attributes like "curbside pickup," "no contact delivery," and "dine-in" so that restaurants could easily share these important details on their Business Profiles in Search and Maps. Since March, more than 3 million restaurants have added or edited their dining attributes. Some restaurateurs are even ditching dining areas for good. To support all types of food merchants, virtual kitchens can now verify their businesses on Google My Business. 
We know that every day during this pandemic can be drastically different—and for small business owners, there can be a lot of uncertainty. While we can't control what each day looks like, our goal is to continue helping businesses communicate the latest with consumers across the world.