How 4 historic buildings became Google workspaces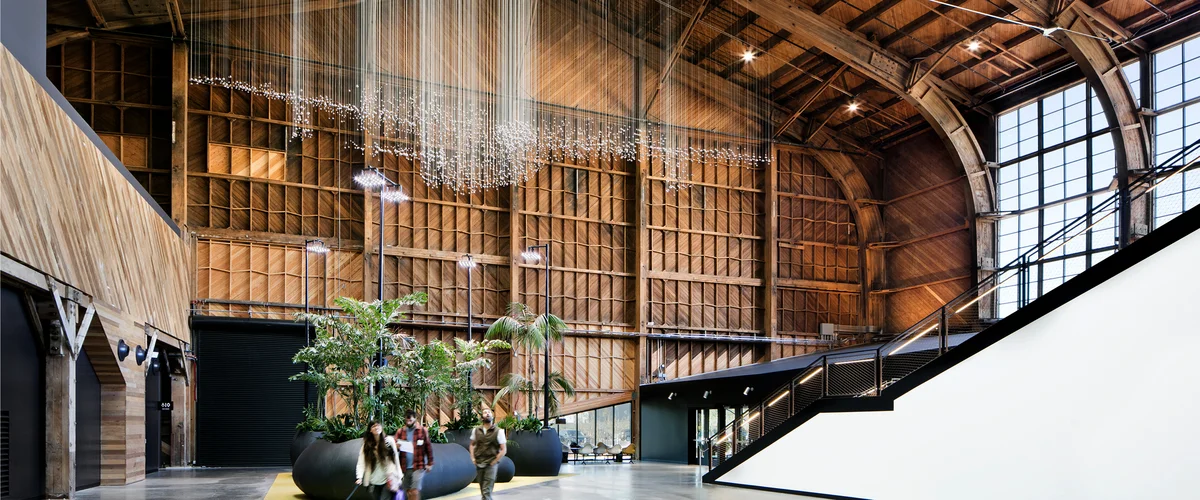 What do a flour mill, an aircraft hangar, a shipping terminal, and a 1960s suburban office block have in common? They're all historic structures that have been given new life as Google workplaces—and community spaces in some cases, too.
Known as "adaptive reuse projects," these renovations of existing buildings to serve new purposes are one way we're working toward reaching our goal of net-zero emissions across our operations and value chain by 2030. Adaptive reuse projects tend to use fewer materials, produce less construction waste, and have lower embodied carbon — the amount of carbon emitted during the construction of a building — which accounts for 13% of annual global greenhouse gas emissions. On top of those initial carbon savings, energy-efficient retrofits can cut back on operating emissions once a building is back in use.
"Turning legacy structures into code-compliant buildings requires patience, specialist knowledge, and a tolerance for the unexpected," says Michiel Bakker, VP of Workplace Programs, who oversees real estate sustainability. "These buildings also have unique qualities that help you see beyond obstacles, like architectural and cultural value, a great location, and something that's priceless — history."
Let's take a tour.
Bolands Mills: ingredients for success in Dublin
The 150-year-old Flour Mills building at Bolands Mills in Dublin is whirring back to life as a workspace for Googlers. There are also plans for a public ground-floor market hall that will reforge the historic site's connection to food.
"The Flour Mills is no conventional building. It's actually five buildings in one, which left an unusual mix of restricted and double-height ceilings and a patchwork of different floors. So we developed a variety of alternative work settings," Michiel says. "For example, a large hollow that used to house milling machinery has been converted into a bright, open atrium for people to gather and collaborate."
The building's original character shines through with restored stonework, exposed original timber and steel beams visible throughout. Vintage milling machinery, ledgers and other objects found during construction will stay on display. Even the original "Bolands Mills" type on the stonecut facade is repainted and resplendent again. Plus, there are upgrades that make the building water and energy efficient like low-flow faucets and toilets to conserve water, a ventilation system that converts ambient air into fresh air, and efficient lighting fixtures to reduce energy demand.
The milling buildings at Bolands Mills have been Dublin landmarks for over a century. The "Flour Mills" building is now embarking on a new life as a Google workspace with plans for a ground-floor public food market. Photo credit: David Dickens

At the Flour Mills, the large hollow where milling machinery once stood is now a large open atrium and social space for people from different teams to gather. Photo credit: David Dickens

Inside the Flour Mills, one of the original milling buildings on the Bolands Mills site, before construction. Photo credit: David Dickens
Spruce Goose: limber timber in Playa Vista
Google's Playa Vista office is in an aircraft hangar built in 1943 by legendary entrepreneur and film producer Howard Hughes. Hughes originally built the timber-framed hangar to construct his HK-1 Hercules Flying Boat, nicknamed the "Spruce Goose." The use of timber on a grand scale in Hughes' time was pioneering, though the material is becoming more popular in construction now thanks to its lower embodied carbon compared to other building materials.
Today, the Spruce Goose office is a modern building nested inside an epic wooden exoskeleton, similar to an upside-down ship's hull. "To restore the 'hull' to its former glory, specialists had to remediate the entire building, and deconstruct areas of woodwork, labeling, treating and replacing each piece," Michiel says. The wood motif at Spruce Goose extends outdoors too. "We planted hundreds of poplar trees around the Goose to help improve groundwater quality in this former industrial zone," Michiel adds.
Another feat was removing harmful chemicals from the corrugated steel exterior and putting it back into place. This was an essential part of preserving the building's history while bringing it up to modern standards.
The restored glue-laminated wooden interior of the Spruce Goose hangar, with the sculpture nicknamed the "Ghost of the Goose" in view. The sculpture represents Hughes' plane coming home to the hangar. Photo credit: Connie Zhou

Spruce Goose is a building nested within a building. Photo credit: Connie Zhou

The interior of the Spruce Goose hangar before construction on Google's Playa Vista offices began.
Pier 57: dropping anchor in New York City
Considered a marvel of modern engineering, Pier 57 is built on giant floating concrete blocks, or "caissons," instead of conventional piles. Vacant since 2004, this former shipping terminal is now a riverside destination for New Yorkers — with work and events spaces for Google, community classrooms, a public rooftop park and a major new food market.
Converting a cargo storage facility floating on water into a modern multi-use office and community space was no small challenge as the uses are dramatically different. But many of Pier 57's original features are still hard at work with a new purpose. The pier's historic 300-foot freight ramp is now an immersive digital display to welcome people to our event spaces. Freight openings on the north and south facades frame the pier's angled feature windows to show panoramic views of the water. The ground floor features a Discovery Tank that celebrates the site's maritime history and is open year-round to the public. Pier 57 also has long stretches of vegetated walls inside the building and extensive exterior planting, contributing to the health and wellbeing of people using the spaces.
"This is so much more than a Google office," says Michiel. "Pier 57 is a place for small local businesses to grow and for New Yorkers to get together over authentic local food. Being part of Pier 57's restoration was an opportunity to support this vibrant community while honoring the original design. Its metamorphosis is a testament to great design and architectural creativity."
The Marine & Aviation sign on the facade serves as a lasting reminder of Pier 57's industrial past. Pier 57 is considered an engineering marvel due to its innovative use of three hollow concrete caissons to support the main structure, rather than traditional piles.

The ramp at Pier 57 has come back to life as a visitor entrance to Google's event space that uses projection mapping to welcome people through immersive visual storytelling.

Now open to the public, Market 57 brings 17 new dining destinations to Pier 57, and will be anchored by a show-kitchen and event space from the James Beard Foundation.
237 Moffett Park Drive: a legacy of innovation in Sunnyvale
237 Moffett Park Drive (237 MPD) dates back to the 1960s, when it was home to one of the first-ever mainframe and supercomputer firms. Now it's a workplace that's embraced a different kind of innovation. It earned the mantle of the largest renovation project ever certified by ILFI in the world, showing what's possible with recycled materials.
"Reuse was a guiding design principle for 237 MPD — from the building systems in the walls, to art made with salvaged materials, to interior doors hewn from oak trees salvaged from recent wildfires," Michiel says. During construction, the project team also diverted 3,400 tons of waste (or 91% of total waste generated) from landfills by repurposing materials for other uses.
Being smart with material choices has allowed 237 MPD to make additional carbon savings on its foundation retrofit. The project team opted for lower-carbon steel and concrete where new materials were needed, reducing embodied carbon by 20% compared to equivalent renovation projects, according to a recent Living Building Challenge analysis.
"Our adaptive reuse projects are really a reflection of our values around community and sustainability," says Michiel. "We always want to be good stewards of the places where we operate, just as we strive to protect the environment and the planet. Those two things go hand in hand."
The Oculus skylight at 237 MPD creates a new courtyard and outdoor deck in the center of the building, great for taking a pause.

Salvaged and reclaimed materials are featured heavily inside and outside.

Construction on the Oculus skylight, designed to flood the interior with natural light. Photo courtesy of Michelle Kriebel, Lundberg Design.