A year of clean energy momentum in Europe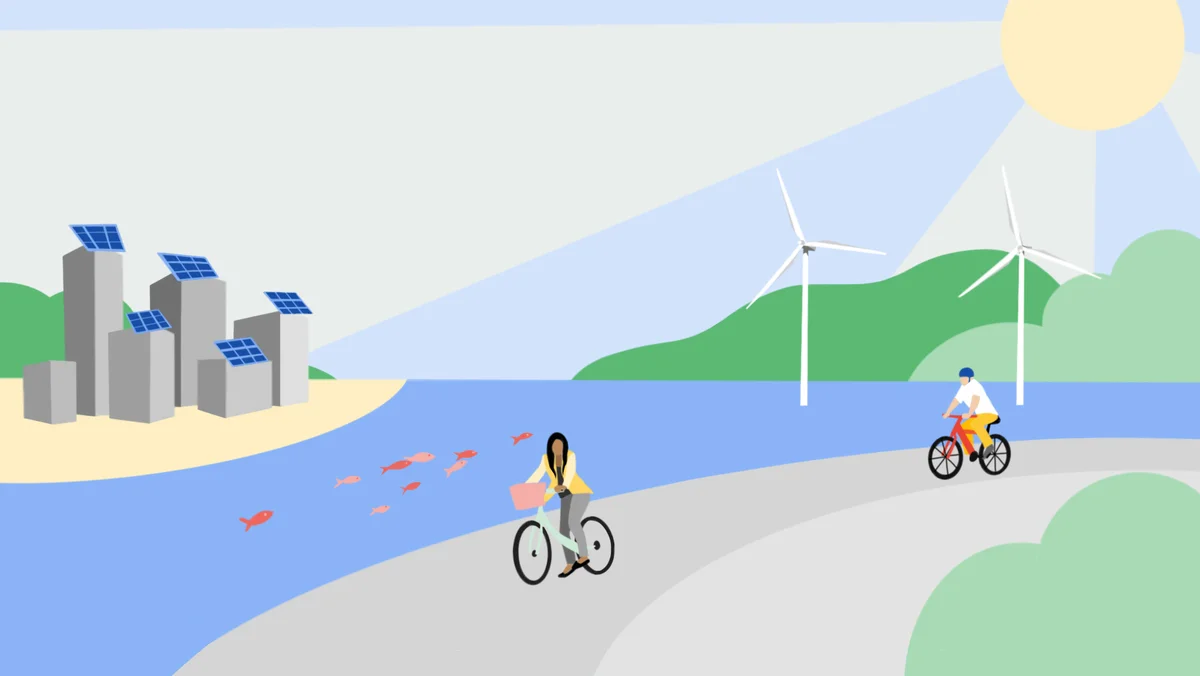 There's never been a more urgent need to transition from expensive fossil fuels to carbon-free energy sources. People across Europe are feeling the uncertainty when it comes to energy supply - and concern for the environment has rightly never been higher.
At Google, we're committed to being a helpful partner and to finding ways that we can make a meaningful, scalable impact. That means not only reaching our own goal to operate on carbon-free energy around the clock by 2030 - but helping create greener and more resilient electricity grids in the areas where we operate, and helping other businesses, people and governments to reduce their own emissions, too.
A cleaner cloud in Spain and the UK
Today, we're pleased to announce that in the UK and Spain, our cloud regions and offices are on track to operate at or near 90% carbon-free energy in 2025, thanks to two new clean energy projects that bring additional clean energy to the grid.
Since 2017, we've matched 100% of our electricity use with renewable energy annually — but this goes further, allowing the electricity consumed by Google cloud regions and offices in the UK and Spain to be matched with local, carbon-free sources of energy on an hourly basis.
This announcement is the result of our first-ever long-term power purchase agreements ("PPAs") in Spain and the UK: 100 megawatts of offshore wind from ENGIE in the UK, and 149 megawatts of solar energy from ib vogt in Spain.
These deals add new clean energy to their respective national electricity grids by supporting the construction of new wind and solar farms. They also help establish the UK and Spain as two of our cleanest cloud regions not just in Europe, but in the world, joining Finland, Iowa, Montreal, Oregon, and Toronto as regions operating at or near 90% CFE.
This is particularly exciting, allowing us to help more companies, governments and other organizations to digitally transform their operations in a sustainable way using Google Cloud. Cloud Customers outside of the UK and Spain will also be able to benefit by using our region picker tool to choose to run their workloads from any of our green regions (including Spain and the UK).

For customers like Rightmove, reducing the carbon impact of their digital infrastructure is an important sustainability target for the company. "Google Cloud's commitment to fully decarbonize its operations was an important factor in our decision to migrate services to the platform, as it aligns with our own targets to reduce our carbon emissions. This announcement demonstrates the effort they're putting behind reaching their target and in turn helping us with our net-zero journey," said Andrew Tate, Head of Technology Operations at Rightmove.
Javier Rodriguez Soler, Global Head of Sustainability of Spain's leading banking institution BBVA said, "We welcome this additional renewable energy project and Google's overall carbon-free energy approach. For BBVA, using Google Cloud's region in Madrid goes with reducing the carbon footprint of our IT operations and supports our trajectory towards sustainability."
A carbon-free future in Europe and beyond
These new milestones mark continued progress towards our goal to operate on 24/7 carbon-free energy by 2030, which will ensure that every email you send through Gmail, every question you ask Google Search and every YouTube video you watch is supported by data centers where the energy is matched with local, carbon-free sources on an hourly basis.
Since we began purchasing renewable energy in 2010, we've signed more than 25 wind and solar agreements in Europe to purchase nearly 2.5 gigawatts of renewable power — the equivalent of nearly 7.5 million solar panels.

This year, we turned the lights on at new clean energy projects in three European countries, including a first-of-its-kind battery project in Belgium, solar projects in Denmark, and wind projects in Finland. We have seen research from Technische Universität Berlin underscore the impact 24/7 Carbon-Free Energy goals can have on decarbonization and on creating a more resilient grid. And, just last month, we announced that Google would be joining forces with C40 Cities, a global network of mayors taking urgent action to confront the climate crisis, to launch a new 24/7 Carbon-Free Energy for Cities programme, which will support cities including Copenhagen, London, and Paris to develop and pilot scalable approaches to decarbonizing urban energy consumption.

Learn more about Google's 24/7 carbon-free energy commitment and how we aim to achieve a cleaner energy future for all.
Disclaimer: The information in this blog may contain projections, future estimates, plans, expectations, goals, and other forward-looking statements. Forward-looking statements are based on current expectations and assumptions that are subject to certain risks and uncertainties, which could cause our actual results to differ materially from those reflected in the forward-looking statements. Except as required by law, we undertake no obligation to correct, revise, or update any information included in this blog.
Metrics within this blog are subject to measurement uncertainties resulting from limitations inherent in the nature and the methods used for determining such data. The selection of different measurement techniques can result in materially different measurements. The precision of different measurement techniques may also vary. These metrics are not verified or assured.