How to grow a "living" building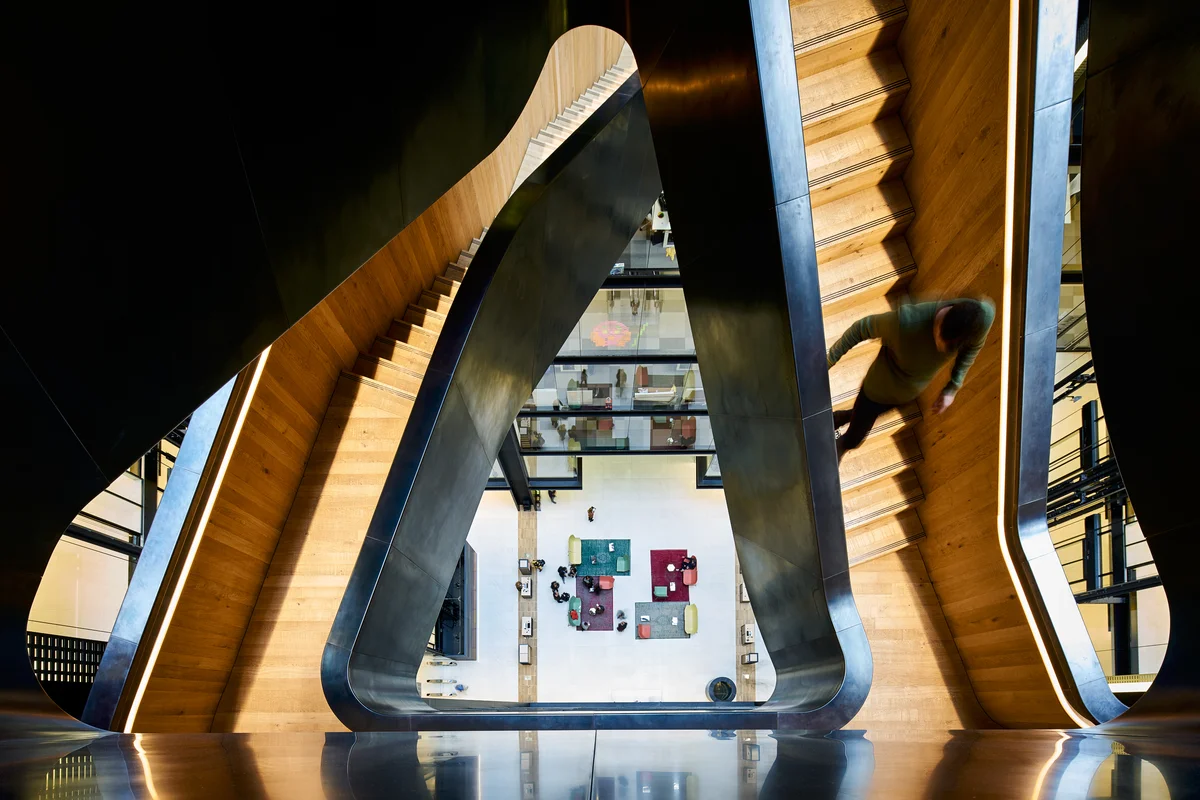 Andreas Gyr remembers his first car fondly: a 1982 Ford Escort, which had the gas parts ripped out and replaced with 17 golf cart batteries and an electric motor. "It had about a 15-mile range and it topped out at like 58 miles per hour," Andreas remembers. "I'd carry an extension cord around and plug it into friends' wall outlets to make it home." It might have been inconvenient, but it made him excited about the future. "It was different, it was hopeful, we charged it with solar panels!" he says. "I learned early adoption can be rough, but it's necessary to get to a future where sustainable options are the norm." 
Fortunately, he's kept that hopefulness, and that passion for sustainability. Andreas, who works on sustainable building projects for Google's workplaces, was recently presented the Living Future Hero award from the International Living Future Institute (ILFI). (Appropriately enough, he found out on Earth Day.) He received the award for his work on 6 Pancras Square in London (a rendering of which is shown above), which was the first ILFI Zero Carbon certified building in the world, as well as his work on the upcoming Bay View campus in Mountain View. I recently talked to Andreas about his award, his current projects and this crucial moment for his industry.
Let's start off with something basic: What exactly is a "living" building?
The core idea for living buildings was popularized by ILFI, and it's really about a building being regenerative—whether that's generating more energy than it uses, harvesting and treating water on site or diverting waste from landfill and reusing materials. On several of our projects, Google is implementing these strategies at a scale never done before. 
6 Pancras Square is the first ILFI Zero Carbon certified project in the world. What exactly does it take to be Zero Carbon certified? 
To achieve the Zero Carbon certification, we significantly reduced the operational energy used by the building, but we also looked at the carbon impact of the project's building materials—the carbon emitted in their extraction, manufacturing and transportation—and made reductions there as well. Project leaders Andy Martin and Nick Barr set aggressive sustainability targets, and pushed the team to deliver significant carbon savings across the entire project. We also used Google's operational carbon neutrality commitment and worked with Anna Escuer, Google's Lead for Carbon, to offset the impact of the building materials, ensuring the project was designed, constructed and operates with a net zero carbon impact.
A rendering of the exterior of 6 Pancras Square London. 
But this is not the top of the mountain. Long-term, the goal is to design, construct and operate buildings that are truly regenerative—that store more carbon in the materials of the building than is spent to produce them, that are powered by on-site or 24/7 renewable energy, that incentivize manufacturers and industry partners to produce low-carbon products and solutions and that have a positive impact on their surrounding ecology and community.
The Bay View campus is pursuing the ILFI Living Building Challenge Water Petal—what exactly is that, and how do you do it?
The goal is to produce more usable water on your building site than required to operate it. That sounds simple, but buildings use a ton of water. One way the Bay View team reduced water demand was by installing the largest geothermal heat pump system in North America for heating and cooling the campus. The system saves eight million gallons of water per year, in addition to a lot of energy, compared to a standard system.
 Bay View from the San Francisco Bay Trail, Photo: Chris McAnneny, Heatherwick Studio
The project will also treat wastewater on site and use the recycled water from that system for all non-drinking water uses, like toilet flushing and irrigation. Finally, we expanded our treatment plant so that in the future, the system can accept wastewater from neighboring buildings, treat it and return it as usable recycled water. That way, even though we have to take drinking water from the city to run our building and operate our cafes, we can provide at least that much water back into the system in the form of recycled water. 
Do you have a favorite building you've worked on?
Picking favorites is hard for me! I put four cereals in my bowl for breakfast. The King's Cross development project in London is going to be really cool. It's the first Google workplace in Europe that was designed and developed by our real estate team from the ground up. The green roof is going to be beautiful and part of the planting palette was selected in collaboration with the London Wildlife Trust, so it'll provide ecological benefit to birds, bats and bees in the area. 
What do you wish more people knew about sustainability?
Sustainability doesn't sit in a silo, separated from economic and social challenges. To create a more resilient and abundant future for the planet and for ourselves, we need to expand who's involved in shaping that vision. This is a really important moment, where we're talking about social justice and injustices in our culture. For the sustainability movement to succeed, its intersections with diversity, equity, accessibility and belonging must be integral to our values, how we build our teams and how we develop long term plans.