From food waste to tasty treats in Google's kitchens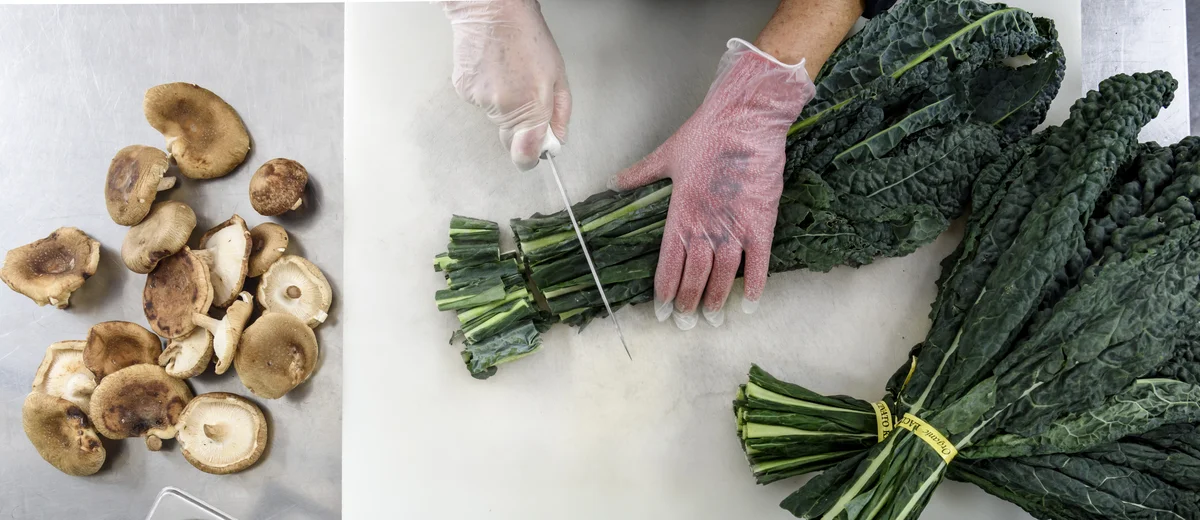 For Kristen Rainey, a carrot is more than a vegetable. It's the opportunity to cook "from root to stem" and make anything from salads and juice to ice cream and candy. Cooking this way helps combat food waste, an issue that affects everyone—particularly the 800 million people who suffer from hunger each year.
One third of all food produced for human consumption, or about 1.3 billion pounds of food, is wasted every year. Plus,  wasted food emits potent greenhouse gases when it decomposes. "The situation is a lose-lose-lose," Kristen says. "When you consider all of the resources that went into making the food that's ultimately wasted, it becomes clear that we have a problem."
Kristen, a Procurement & Resource Utilization Manager based in Google's Portland office, leads strategy to reduce food waste, water and energy in company kitchens and cafes. When it comes to food, they take a "circular economy" approach, meaning that they prioritize reusing ingredients and raw materials rather than buying new ones and tossing leftovers in the trash.
Using these strategies, Google has prevented six million pounds of food waste since 2014. Here are four strategies that made that happen.
1. Use technology to cut back on waste.
A LeanPath setup in a Google kitchen.
Google's offices partner with LeanPath in 189 cafes in 26 different countries. The system features a camera that takes pictures of the food waste items, a scale that weighs it and a tablet for a team member to enter additional information about the item.
This info then gets uploaded to the cloud, and those numbers allow Google to track and gain insights about food waste. Using this data, chefs are able to make adjustments in the kitchen, such as scaling back the purchasing of ingredients or teaching team members how to trim vegetables in order to utilize a greater percentage of the product.
2. Consider the ingredients.
So-called "imperfect" produce is often used in Google's kitchens.
When thinking of ingredients, Google's chefs make sustainability a priority. For example, many dishes can be made with imperfect-looking produce, meaning fruits and vegetables that might look misshapen or have slight discolorations, but are still just as delicious. They are also focused on finding innovative suppliers like CoffeeCherry, which creates flour from coffee bean byproduct, or Toast, beer brewed with leftover bread.
Chefs at Google also consider using the entire vegetable, from root to stem, and an entire animal when cooking meat. Whether it's using the skin of a sweet potato or carrot tops in a vegetable dish or using turkey neck and giblets for a stock or gravy, it's easy to utilize food that otherwise would have ended up in a landfill.
3. Get creative in the kitchen.
Inevitably, some food is going to be left over, but that doesn't mean it's hitting the trash. Scott Giambastiani, Google's food program manager based in Sunnyvale, California, says chefs in Google kitchens have come up with inventive solutions to repurpose food. They've used trimmings from leafy greens to make smoothies and the stems from those greens and root vegetables to make sauces like pesto and chimichurri. "All of these practices not only reduce food waste but they also enhance the nutritional value of the final dish," Scott says.
Google chefs also cook in small batches as they go, looking at crowd sizes and estimating how much to cook rather than preparing a large quantity at once. This practice, combined with careful planning of how many ingredients to purchase, prevents a good deal of food waste.
4. Don't just toss waste in the garbage.
If leftovers can't be repurposed into new dishes, that doesn't mean they always end up in a landfill. Google cafes make it a point to donate leftovers to local shelters and food banks, and compost whenever possible. They're also focused on ways to stop food waste before it starts, by encouraging Googlers to be mindful of how much food they put on their plates—and reminding them they can always go back for seconds.