Climate action in Europe: Moving from pledges to progress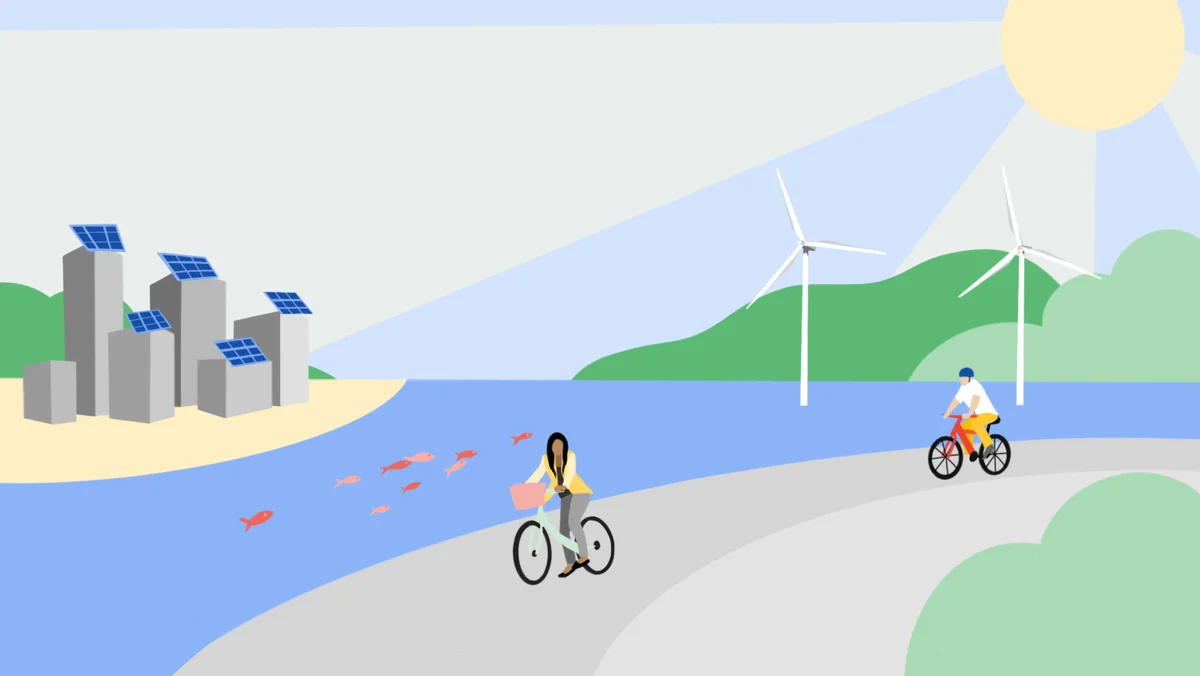 It's a challenging time for Europe. People, businesses, and governments across the continent are concerned about rising prices and increased pressure on the energy grid because of Russia's war in Ukraine.
The concern people are feeling is evident in the information they're searching for. The search term "climate anxiety" reached an all-time high in July 2022, and top trending searches, such as "save natural gas," "saving heating costs," and "save energy," show us that people want — and need — answers.
For more than 20 years, Google has been investing in making our operations and communities more sustainable. Building on the lessons and achievements from our first two decades of progress, in 2020 we launched our third decade of climate action — our most ambitious yet. We know that our responsibility begins with our own footprint, so our latest goal is to reach net zero across all our operations and value chain by 2030.
But no company, no matter how ambitious, can solve a challenge as big as climate change alone. One of the most powerful things we can do is build technology that allows us, our partners, and individuals around the world to take meaningful action.
It was with that sentiment in mind that we organized today's inaugural Google Sustainability Summit in Brussels, as a space for partners working across the climate space to forge new partnerships and deepen collaboration, share ideas and inspiration and jointly move from climate pledges to progress.
Sustainability has always been a core value for us. As CEO of Google & Alphabet Sundar Pichai put it at today's conference, "There is no time to waste. The crisis is impacting communities around the world, including those already facing deep challenges. At Google we share the EU's commitment to action and want to be a helpful partner in that progress."
For those who were unable to attend the conference, we thought we would share some of our key takeaways.
Digital solutions are instrumental for climate action
Research supported by Google and conducted by Implement Consulting has identified the sectors where digital technologies can make the biggest impact on facilitating energy and emissions savings. The results, released today, make us hopeful.
Digital solutions play an important enabling role for at least 20-25% of the reductions required to achieve a net-zero economy in Europe — equivalent to the total emissions of France and Germany combined.
The research also identifies four sectors that play a critical role in moving us from pledges to progress:
Transport, where digital tech plays a key enabling role in 60-70% of the needed CO2 reductions and helps to save energy
Buildings, with tech enabling 30-35% of the needed CO2 reductions, for example by saving energy and supporting the shift away from gas
Agriculture, where digital tech is in its early phase, but can play an enabling role in 20-25% of the needed CO2 reductions
Factories and supply chains, where tech enables 10-15% of the needed CO2 reductions
Building on an existing body of research, these insights suggest that emissions savings enabled by tech significantly outweigh tech's own emissions. For example, just two applications — videoconferencing and artificial intelligence solutions for building management — are already saving emissions comparable to those associated with all European data centers, while using a fraction of the computing capacity. That said, there is still the potential and need to decarbonize, and we as a digital sector continue to work on this.
Virginijus Sinkevičius, European Commissioner for the Environment, Oceans and Fisheries said during the conference, "In the EU Green Deal, digital technologies and artificial intelligence play a major role. They help us measure the effectiveness of our legislation, monitor pollution and climate change, and model solutions. They are key enablers in the green transformation."
Key piece of the decarbonization puzzle: 24/7 carbon-free energy
Another research study released today by the Technical University of Berlin, supported by Google, compares the impact of different clean electricity strategies in Europe. Traditionally, companies purchase renewable energy to match their annual electricity needs, known as "100% renewable energy matching." This has limited benefits for decarbonization.
Compared to this, Google's first-of-its-kind approach of hourly matching of carbon-free energy, known as 24/7 carbon-free energy (CFE), reduces significantly more carbon emissions — not only for the companies concerned, but the entire electricity system. This also spurs technology innovation for decarbonization.
Most essential of all: collaboration
Our work has taught us that many of the sustainability solutions that the world needs already exist. They've been researched, tested and piloted. It's the collaboration — between policymakers, climate experts, technology providers, business and individuals — that is needed to put them to use.
As Sebastian Copeland, award-winning photographer, adventurer and environmental advocate, told the conference, "We do not have the luxury of time. Technology is well on the way to offer a path to sustainability. But we need the public and private sectors, and public opinion for systemic and lasting change — and each can only move as fast as the slowest one."
We know people are looking for answers. They expect us to be responsible partners. They expect us to come together to find solutions and act. Together, we can — and must — move from pledges to progress. The time is now.